CARE PLANS
Efficiently manage your health by centralizing your goals, treatments, and objectives with Care Plans within the CareClinic App. Tailor them to match the simplicity or depth your condition requires.
Preload various treatment approaches for expedited daily check-ins, as they automatically populate for your convenience during updates.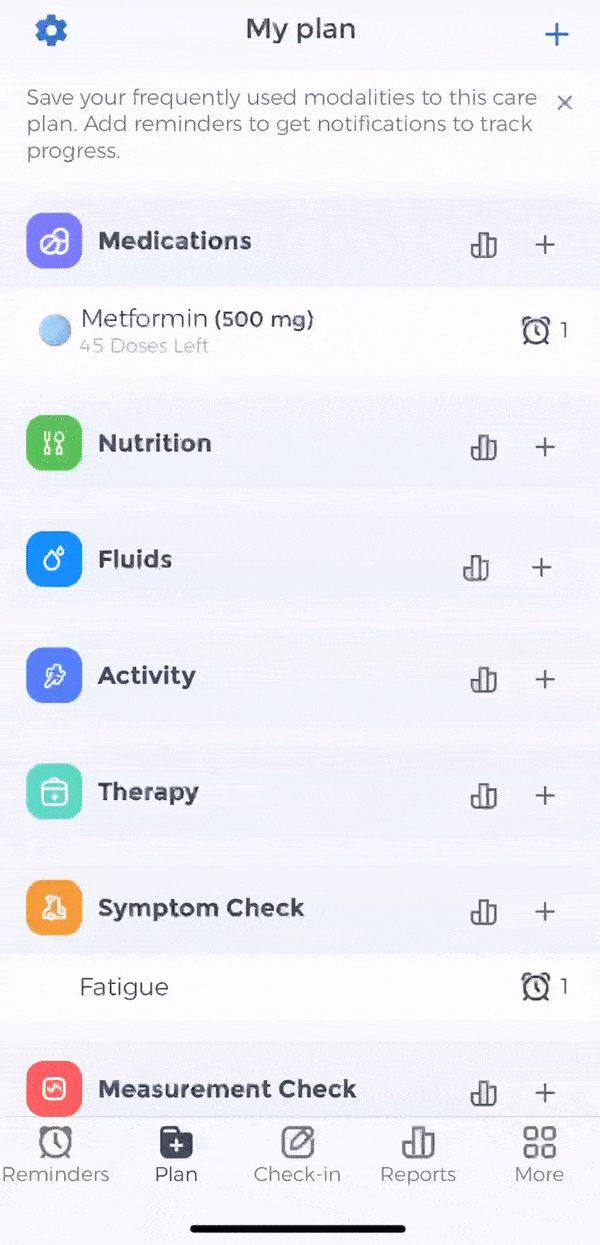 Saving medications and other modalities in your Care Plan allows for quicker check-ins.
Tap Here to Launch Your Care Plan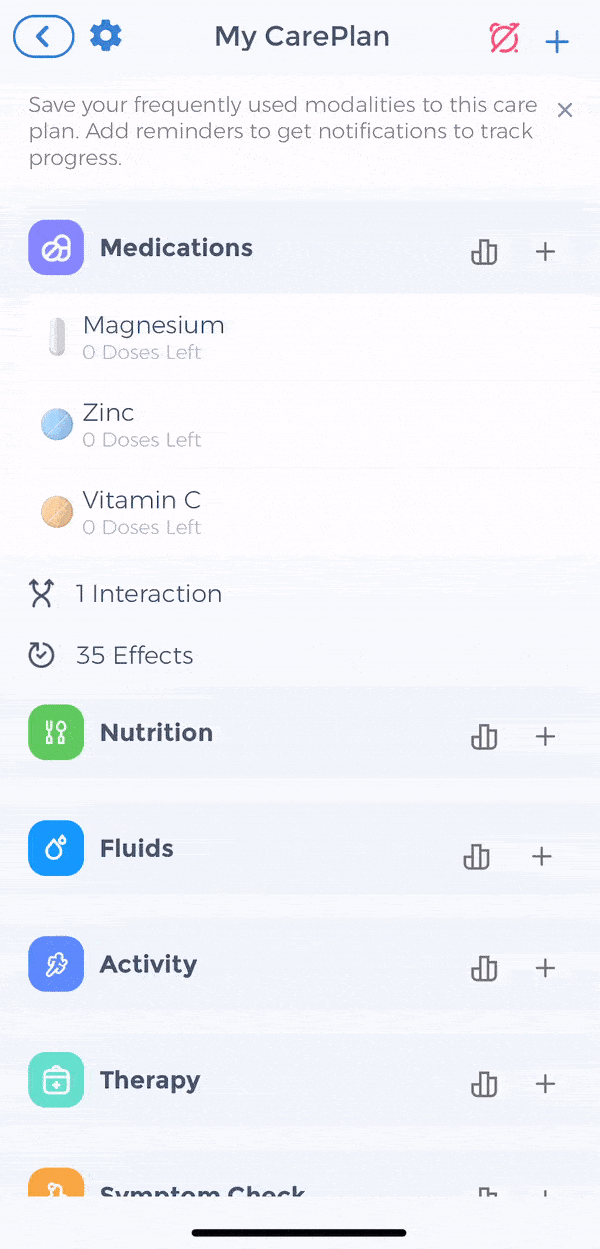 Pro Tip: If you are using standard names for supplements you will also get to see Effects and interactions below your medication list (always consult your HCP).
See the full list of treatment modalities that can be added to your Care Plan:
Medication and Supplements
Activities
Symptoms
Measurements
Fluids
Food
Weather
Mood
and even Therapies!
Tap Here to Launch Your Care Plan
Care Plans empower you to seamlessly orchestrate your treatment, manage medications, track health progress, and adapt goals, encapsulating a holistic approach to your health management journey.
Next, we will discuss how to get the most out of reminder notifications.
FAQ
Q: Do Care Plans support multiple conditions?
A: Yes, you can tailor individual plans for different health conditions within the app.
Q: Can I share my Care Plan with my doctor?
A: Yes, Care Plans can be exported and shared for professional review and collaboration.
Q: Is there a limit to the number of treatments I can add?
A: No, you can add as many treatments as necessary to comprehensively manage your health.
Q: Can I modify my Care Plan if my health situation changes?
A: Definitely, Care Plans are designed to be flexible and can be updated anytime to reflect changes in your health status.
Q: Are there privacy controls for sensitive health information in my Care Plan?
A: Yes, CareClinic prioritizes your privacy, offering controls to manage who can view or access your health data.
Q: Is there guidance on creating an effective Care Plan within the app?
A: The app provides prompts and suggestions to guide you through setting up a comprehensive Care Plan.
Jump to:
Care Plans
Reminder Notifications
Trackers & Check-ins
Modules
Health Integrations
Logs & Reports
Health Insights
Export & Share
Health Pathways
Goals & Streaks
Additional Tips