It's time to look at your data objectively to determine how you've progressed!
See how Logs and Charts help you spot patterns and triggers you may not be aware of.
They enable you to go to your health care provider and discuss new treatment options that may work better. It is also a way to hold yourself accountable.
LOGS & CHARTS – WHAT TO KNOW
✅ Ability to search your history for a specific treatment (name of medication) or modality (medications, activity, etc)
✅ Edit or Delete a check-in entry by tapping it
✅ Your data is sorted by day, then by descending order (most recent treatment at the top sorted by treatment type)
✅ View & compare charts between various modalities (Medication & Symptoms as an example)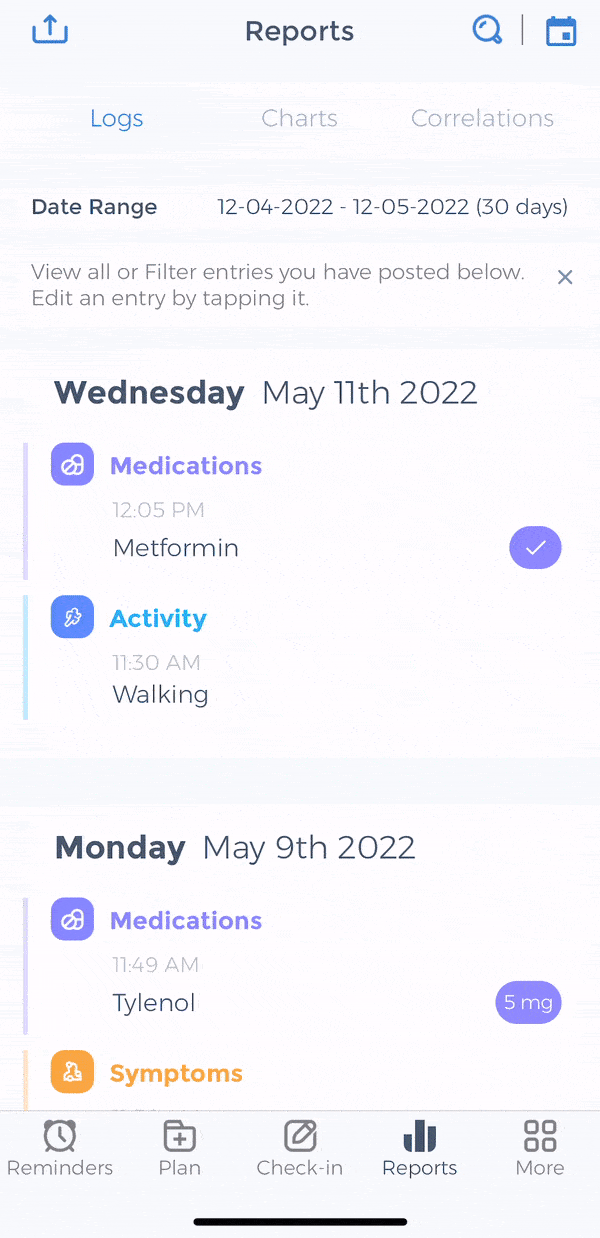 Pro Tip: You can hide specific treatments on the chart by tapping the label on top. e.g. Tap one of the medication names among many to hide it.
Correlations helps identify trends between multiple treatment modalities.
*Remember this is not medical advice and you should always consult your HCP to confirm any correlations discovered.
Tap here to view your Reports!
Next, we will discuss Insights so you can spot specific patterns related to symptoms, bowel movements, and others in a more granular way!