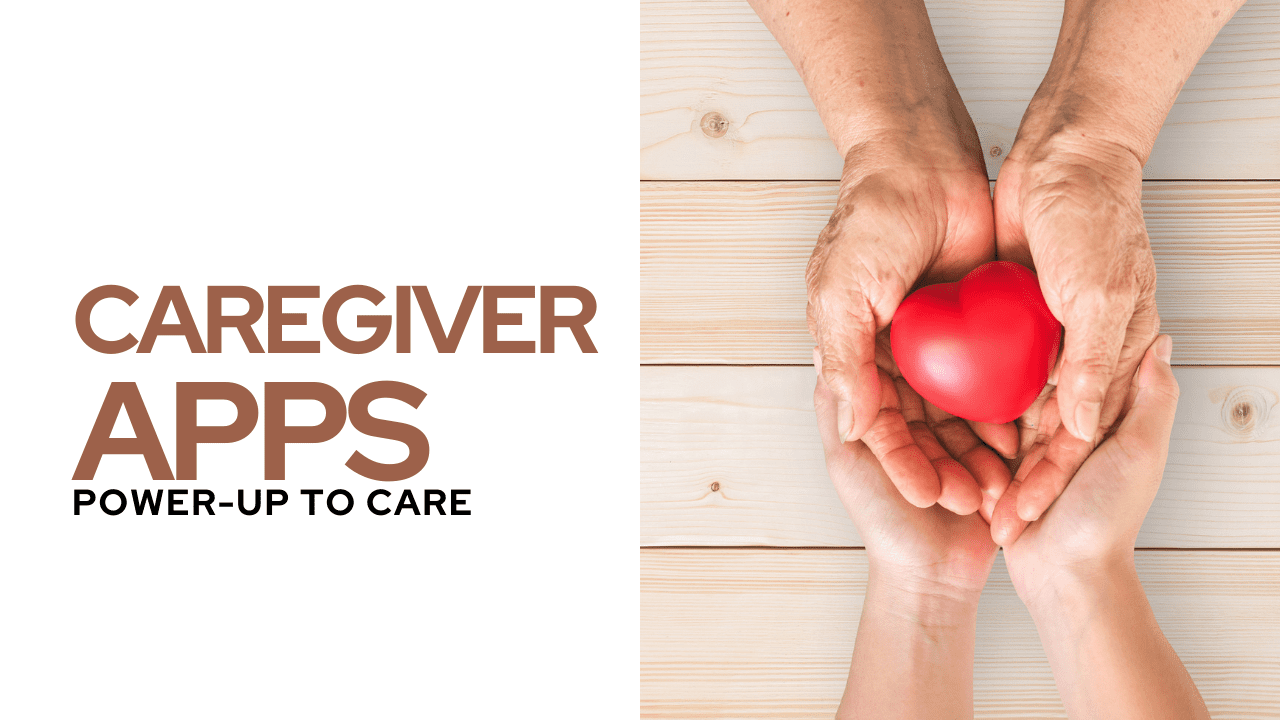 The most basic unit of society is the family. Caregiving is the activity or profession of regularly looking after a child with special needs or a sick, elderly, or disabled person of a family or amongst friends. Similar to other developed nations, the dependent population in need of caregivers is increasing in northern America. Caregiving in the U.S. 2020 (R) update states that more than 20 percent of Americans are caregivers, considering their support to anyone in the last 12 months.
In other terms, a more significant population of Americans takes care of a family member or a friend with a severe health condition. This study also reveals different varied experiences and situations encountered by the caregivers and the impacts on those caregivers in the United States. Caregiver apps are now in demand to help caregivers.
Caregiving is the term often associated with seniors to help them have better lives and their families. This should encompass all health – physical, mental, emotional, social, and spiritual care. Any person providing or seeking this type of care to have an improved lifestyle is considered under this umbrella.
Taking responsibility for looking after a family member or friend through their disease or disability is challenging and, at times, stressful. Even though caregiving is a labor of love, it can cause a lot of stress. Being a caregiver, you need to dedicate your time and schedule your activities accordingly. Since accidents and diseases are debilitating, it is always great to know the aspects of caregiving.

The Transformative Role of Caregiver Apps in Enhancing Caregiving
With the advent of digital technology, caregivers are now given the possibility to record every aspect related to their dependent's health with the help of smartphone apps. Health apps such as CareClinic can be used as a medical tracker, among other things. They are meant to assist one with health management, reducing a lot of stress associated with caregiving.
In the background of the current pandemic, caring for family and friends became the most important thing we had to do. Recognizing and supporting the caregivers is the need of the hour to keep going. Learning about being an effective caregiver will let you take better care of yourself too.
Why is Caregiving Important?
With aging, every person who lived independently until a certain age starts realizing physical health and cognitive skills deterioration. Meanwhile, some individuals might need support and care for various other reasons from a very young age. These conditions impact their mental health, leading them to various mental health issues such as depression, anxiety, and mood fluctuations which eventually affect their lifestyle.

Now they would realize a need for dependency to support them in day-to-day activities, manage their records, track their symptoms, and help them emotionally maintain their quality of life. Such support given by the caregiver helps them to battle the challenges happening in their life concerning aging and other chronic ailments. The support to help your loved one live a better life is the reason why caregiving is so crucial to anyone's life.
Caregiving is about having patience and empathy to help people in their most vulnerable states of life. The goal of caregiving should be designed and scheduled by the caregiver to improve and make a difference in the life of a caretaker.
Different Types of Caregivers
There are different types of caregivers (can be a doctor, nurses, guardian, or family members). All of these can be tracked within the CareClinic module themselves. Below we explain why your caregivers should be added to the app and how to give them access to your information and keep them informed through your circle of care. (E.g. incorporate screenshots/videos to showcase possibilities/performance).
Impacts of Caregiving
Though caregiving is emotionally rewarding, often it is stressful. The core value of providing care to loved ones is excellent quality in all the caregivers. But a shift of roles and emotions is always inevitable. The physical stress and depth of caregiving contribute to the emotional and physical stress of the caregiver.
Resultant stress may impact experiencing noticeable changes in one's own personal and health. Following are a few challenges faced by caregivers.
Living with the person you are caring for
Social isolation
Financial challenges
Demand more time for caregiving
Lack of skill to address the problem
Lack of choice except for being a caregiver
Following are the signs of the stress factors that are observed while performing the role of caregiver
Feeling overwhelmed and are constantly worried
Feeling tired often
Getting too much sleep or not enough sleep
Gaining or losing weight
Becoming easily irritated or angry
Losing interest in activities
Feeling sad
Having frequent headaches
Abusing alcohol, drugs, and even prescription medications
Tips to Overcome Caregiver Stress
Accept Help
Think of ways you can get help from others with a list of options to give them a choice to figure out how they could offer help. Do not hesitate to ask for help when you feel you feel tired, stuck, or helpless. If you stress yourself out, you will find it difficult to properly take care of your loved ones.
Focus on what you can Provide
No one is perfect. No one can do anything and everything. The person does best only to the best of their abilities. Distinctly identify what you can provide to the caregiver and focus only on that instead of feeling guilty for not being able to deliver the impossibilities. Taking up too much on your plate will spoil everything. Rather, focus only on what you can handle.
Set Realistic Goals
You might encounter situations where you have to carry out tasks that might look overwhelming to you. Break such large tasks into small tasks and set realistic goals rather than thinking and visualizing a significant outcome at once.
Get Connected
Get connected to the people and community to have good social health. Take your loved ones along with you to participate in a social circle at least once a week. Getting them involved would help them to relieve their stress, loneliness and to look up a hopeful tomorrow.
Allocate Personal Time
Spend at least half an hour for yourself to focus on your personal goals in life and have self-time. Use the CareClinic app guide for self-care and take care of yourself.
Set Personal Goals
Establish a good sleep routine, having a healthy diet pattern, etc., are good examples. Sticking to what you plan is more important. Starting a routine might be difficult at first, but you will get used to it with time and practice. Read more about setting a routine here.
Meditate
Meditation often reduces stress levels. Try to meditate 20 minutes a day, at least five days a week. Read articles on gratitude journals, mental health journals, and mindfulness for more information on how to take care of your mental health.
Technology & Caregiving – What's the Match?
Every person's life matters. It is not just the air they breathe; it should also be the quality of life they lead before they leave that matters. This carries a great significance for society and the coming generations to understand what exactly matters in life and what they should look up to. If the act of caregiving is so stressful, then it will have a very negative impact on society.
With the developing technology, the advancements should help make a better quality of life both to the givers and takers, reducing stress and enhancing quality. Today, many caregiver apps in the market allow us to deal with many features like medicine reminder help, emotional health, apps dealing with dementia support, etc. These all serve with the focus of an individual's needs and focus.
Though there are many caregiver apps today, the salient features of an app will make the app unique. In this blog, I would like to discuss the features of the CareClinic app as an example.
What is a Personal Caregiver App?
The caregiver app helps caregivers to manage different aspects of care that overwhelm them. Those apps let you maintain a record of important information, track your appointments, remind about medications or special care, log your activities, keep yourself updated with new notes or instructions. Simply put, caregiver apps let you stay in touch with family and friends you care for. Expansion of caregiver app space is adding more and more features to help you face challenges with ease. To serve the purpose, they offer a broad range of features, including symptom checkers, emergency alerts, medication reminders, diary entries, logs for nutrition and diet, activity tracker, therapy monitoring, etc.
Who Should Use a Caretaker App?
When a family member offers caregiving to the person in need of care in the family, they often feel a sense of doing something out of love. It brings a genuine satisfaction of knowing that their loved one is getting excellent care, personal growth, and increased meaning and purpose in their life. All the caregivers who want to give the utmost care to their loved ones without missing a single detail will benefit from these apps. Also, any senior who wants to manage their self-care without losing track of their activities would find these apps helpful.
Why is Remote Management Critical?
No person can be available all the time with the ill or elderly. There are a few up and down situations for the caregiver that demand distancing from your loved ones, at least for a short time. To the observer of the changing pattern during this period, remote management is vital to reduce stress at both the caregiver and the loved ones. Remote patient management helps track ease of data, ability to deliver a higher quality of care, lower costs, and higher efficiency. It also enhances peace of mind and daily assurance. It reassures improved support and education.
CareClinic Leveraged as a Caretaker App
It is merely impossible to keep everything stored in our memory. We will not be able to remember everything happening around us, to us, and within us. When time flies, we tend to forget things. Tracking your health is essential and valuable for everyone. With aging, severe illness, and disability, keeping items in memory becomes yet impossible. When it comes to caregiving and expectations, recording your activities involved in caregiving is a must to achieve your goal of getting pregnant.
Out of many apps now available, the CareClinic app provides a one-stop solution to caregivers. It serves as a self-care app for the caregiver to monitor the health of yourself and your loved one. Create a self-care action plan, and add medications, supplements, diet, physical activities, and therapies you engage in. You can even set a healthcare team that manages your loved one's health. Finally, add your physician, support worker, other caretakers, and family members to keep them in the loop.
Measurements
CareClinic app gives you the power to track measurements of chronic diseases like diabetes. This feature helps the user to keep track of the measures of basic physical measurements (height, weight, BMI, etc.) to the daily variant values (e.g., blood sugar, blood pressure, etc.) to measurements with long intervals (e.g., thyroxine level, cholesterol levels, etc.) and maintain a log of it to track it regularly and attain good treatment by producing the required data.
Diary Entry
The diary entry feature lets you make entries about your daily life. Use the app's diary entry feature to track day-to-day activities or events you encounter. You would have realized how important to keep daily activities followed if you have dealt with people with diminished memory due to disease processes or aging. Memory might sound simple when we talk, but in reality, keeping days in memory is complex.
Caregiver apps provide support to people with dementia. For example, the dairy entry feature helps you enter the details about your daily life activities, just like your old-school diary. These features allow the user to track day-to-day activities they involve in and help them understand how they influence their physical and mental health.
Managing Dependent's Symptoms
Caregiver apps provide support by providing a symptom tracker. For example, the symptom tracker feature in the CareClinic app lets you add symptoms you are experiencing. This is done to identify the reasons behind the worsening of the symptoms or the progress of the treatment. You can start tracking them if you experience any of the symptoms related to your illness. For example, suppose you have any medical conditions or medications. In that case, you can start tracking your symptoms before seeking medical attention and compare how well the therapy relieves you from symptoms after visiting the doctor's office.
This is strongly supported by evidence-based with thorough information on a wide range of medical conditions, with symptoms, risk factors, treatments, and correlation to find the conditions that can be looked into. In addition, a symptom tracker helps seek medical attention on time before worsening the symptoms, which might lead to complications.
Tracking Pill Intake & Patient Reminders
This feature lets the user add medications and supplements to the tracker and set reminders. Never forget your medications – including your multivitamins and calcium with the CareClinic app. Pill tracker reminds you on time to have your medicines on time and refill them before running out. This will help you to track the medications and doctor's appointments. In addition, you can carry the medication history with you so that you can quickly review or exchange information whenever necessary. Feel free to have a look at our blog article on pill tracking.
Activities
Use this feature to track all activities you are involved. CareClinic's activity tracker lets you identify any actions that worsen or relieve moods and symptoms. You can figure out which activities help improve those symptoms and which don't. If you suffer from non-specific symptoms like fatigue, you can identify them quickly by reviewing your activities. You can look back to see if there are any correlations between your symptoms and any activity you may have participated in.
How Caregivers Can Manage Patients' Nutrition
CareClinic offers a nutrition tracker, which helps you maintain your diet log. When you are going through challenging times as a dependent, it is essential to keep tracking food to ensure adequate nutrition is taken for your loved ones by executing the diet plan and monitoring the nutrition intake.
Meanwhile, this nutrition tracker would help modify food habits and make you take control of them. If you have a specific diet suggested by changing food habits, you can follow the diet plan and reflect on helping your loved ones live a healthy life.
Sleep Log
CareClinic app provides a feature to log your sleep. You would have noticed the disturbances occurring in sleep patterns as we grow old. These disturbances relate to sleep patterns due to reduced activity and various mood swings and shifts, and restlessness. This feature helps in tracking the sleep pattern and analyzing the responsible factors for the outcome. The report feature of the CareClinic app could provide a more organized and graphical representation of correlations between sleep and other factors.
Therapy
Keep a record of therapies you may be receiving. Maybe you are seeing a specialist or even your family doctor. You can record all your appointments so that you never forget something.
Reports
Reports are another great feature in the CareClinic app. It can provide a lot of perception into your lifestyle. It considers your logs in the diary, nutrition, activities, symptoms, etc., and subsequently generates reports to show the association amid those entries. This connection would be helpful to learn more about yourself and your caregiving requirements.
This blog on caregiver app is a guide to introduce the need for caregiving and the usefulness of a caregiver app. Still, you should always seek medical advice if you have any concerns about your loved one's health status, symptoms, etc.
Using an all-in-one app like CareClinic can help you lead a healthy life by getting into the habit of tracking and sticking with the challenges and demands created by being a caregiver.

Latest posts by Swathi Mamudur
(see all)