The simplest way to track symptoms on your Apple iPad, iPhone, Android of Web!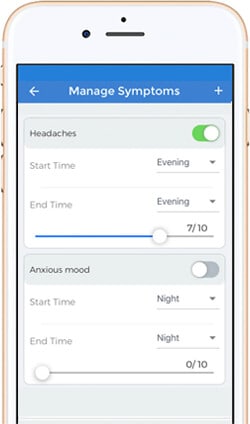 Symptom Tracking Made Easy
CareClinic comes with the most advanced symptom tracker ever created. Alongside tracking nutrition, medications, physical activity you may also track your health symptoms.
There is no need to hold on to a bullet journal or print template pdfs. Use the mobile app to track your symptoms on the go! CareClinic enables you to easily track symptoms of chronic illness, pain, IBS, MS, Lyme, Menopause (PMDD), depression or any other illness.
You may record as many symptoms as needed, set the time you felt the flare up and post the symptom to your journal quickly.
Download the Symptom Tracker from the App Store Below:
Select from a list of symptoms and record them as part of your journal entry as frequently as you need to.
Additionally, help your care provider make more informed decisions about your diagnosis and treatment based on your symptom log. Record your daily values including sleep, energy, weight and others or add your custom field to track what matters to you.
Feel good knowing that your information is stored safely and can be accessed only by you. You may also use our web app if you prefer to input your information on a larger screen and using a full keyboard. 
Your symptoms can be viewed in Charts or Log format. The correlations report makes it easy to determine if your symptoms are a result of consuming certain food, or allergies, or other health factor that you may have recorded automatically!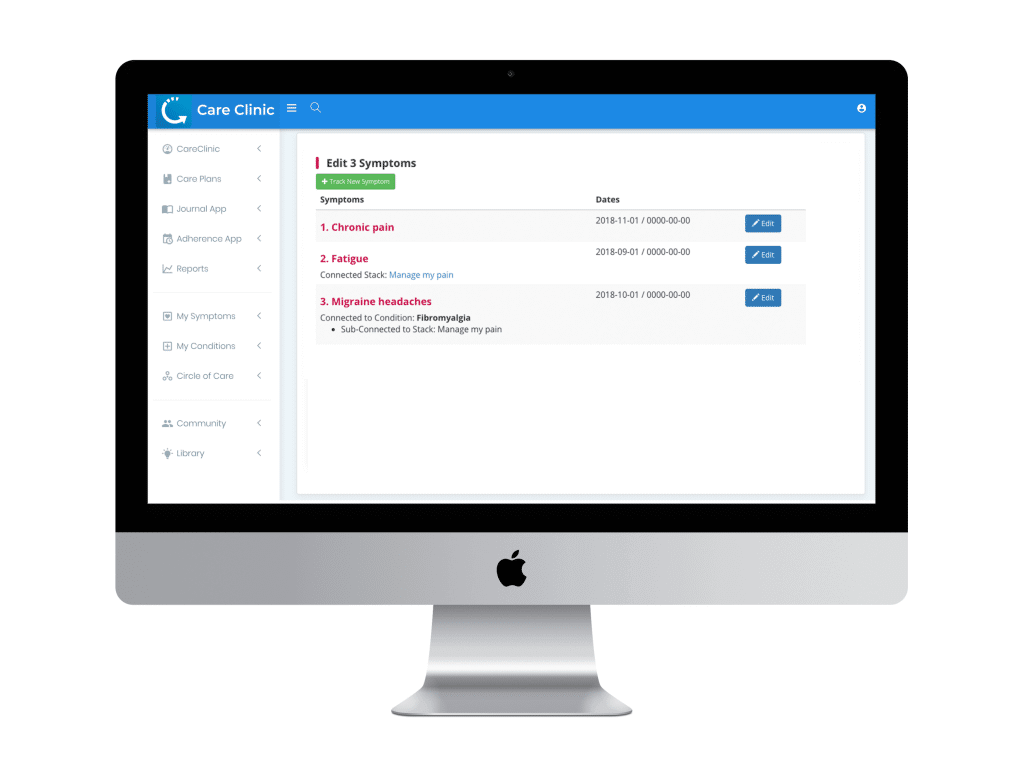 Personalized Symptom Tracker
Add a start and end date to your symptoms and use it for reference as part of your personal health record.

Some of the most common symptoms to track are: Headaches, Fatigue, Brain Fog, Depression, Anxiety, Lack of motivation, Migraine, Inflammation, Memory problem and insomnia.
Use advanced functionality to connect symptoms with specific care plans or chronic conditions to remain better organized. Use the app as your digital diary.
Symptom Reports & Correlations
Have access to an array of tools such as a Journal, Calendar and Reports with Charts that can help you discover triggers or help you stay on track to minimize symptoms based on your care plan. Share the reports automatically with members in your CareTeam or print them as needed.
Do your best to potentially minimize symptoms based on what you learn from monitoring your health. We use advanced machine learning algorithms to alert you of triggers you may not be aware of.

View Correlation Reports, Charts and Logs of how your treatment is progressing with ease on mobile or web.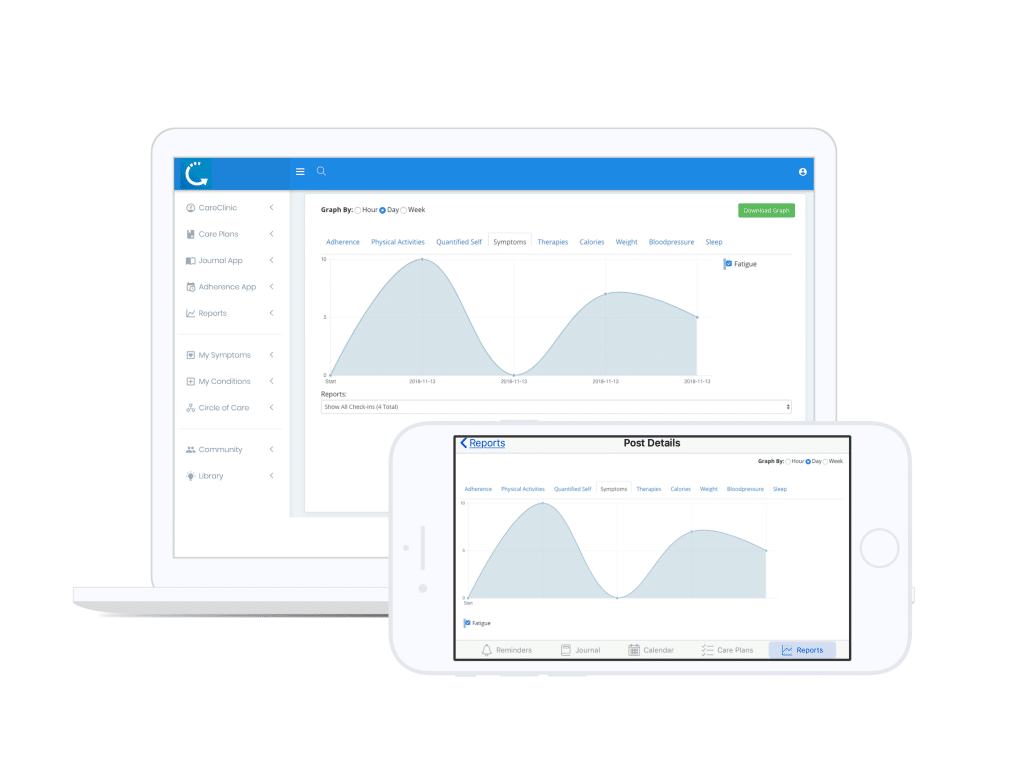 CareClinic's symptom tracker can be used to track any symptom that are predefined or personal to you. Some of most common health issues being tracked include:
Track Symptoms Of:
Angina, Arthritis, COPD, Depression, PMDD, PMS, Fibromyalgia, Crohn's, Rheumatoid arthritis, Autoimmune diseases, Nutrition/Food sensitivities, Mental health, Chronic Pain, Diabetes, Lupus, IBS Symptoms, Lyme disease, and ADHD among others.
The Best Part? It's "Symple"!
+ Track an unlimited amount of symptoms in the free version of CareClinic mobile app.
 + Your data belongs to you, and is automatically synced securely between the web and mobile app.
+ You can easily print, share  or save your symptoms report as a PDF from the web app.
Available on every platform: iOS/ iPhone and iPad, Android Phone or Android Tablet and on the web.