A health diary can be used to track anything related to health quickly. CareClinic is flexible enough to work as a health diary that can be used to track anything that is important to you or your family.
CareClinic's health journal provides a rich interface where a user can share notes or write down anything related to their day-to-day health or chronic conditions in one place and view it at a later time on a calendar or combine the diary with other health concerns such as mood, depression, anxiety, stress, physical activity, sleep, medication and more.
Below we demonstrate how one can start using the health diary functionality within CareClinic to keep track of health. Bare in mind we will show screenshots from the mobile version of the app and the web version, which both sync with each other.
Posting to your Health Diary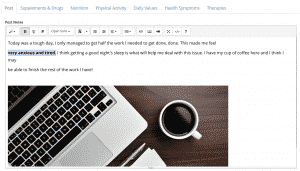 Once this post is saved, it will be visible in the Reports section, where you can view it when needed.
Along with your post, other metrics related to your health are automatically recorded as well (if they were entered).
Remember, what gets measured, gets improved, so it is wise to enter other information along with your diary entry so it can make more sense down the line.
Health Diary Reports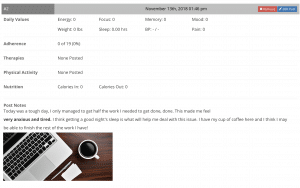 Once this is done, you can also see which days you made an entry in your health diary by going to the calendar section.
This helps you measure your adherence or how often you post to your diary.
In the example below, there were previous check-ins to the diary so you can see them on the calendar as well.
Health Diary Calendar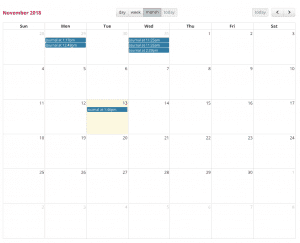 At this point, you can see that this user is not consistent in their entries, but is making attempts to journal as much as 3 times a day.
The calendar will also show check-ins to other modalities as well such as physical activity, therapies, medication adherence and nutrition that has been logged.
The diary can sync with Apple Health and Google Fit as well so all your data remains synced throughout all your apps.
Health Diary Mobile App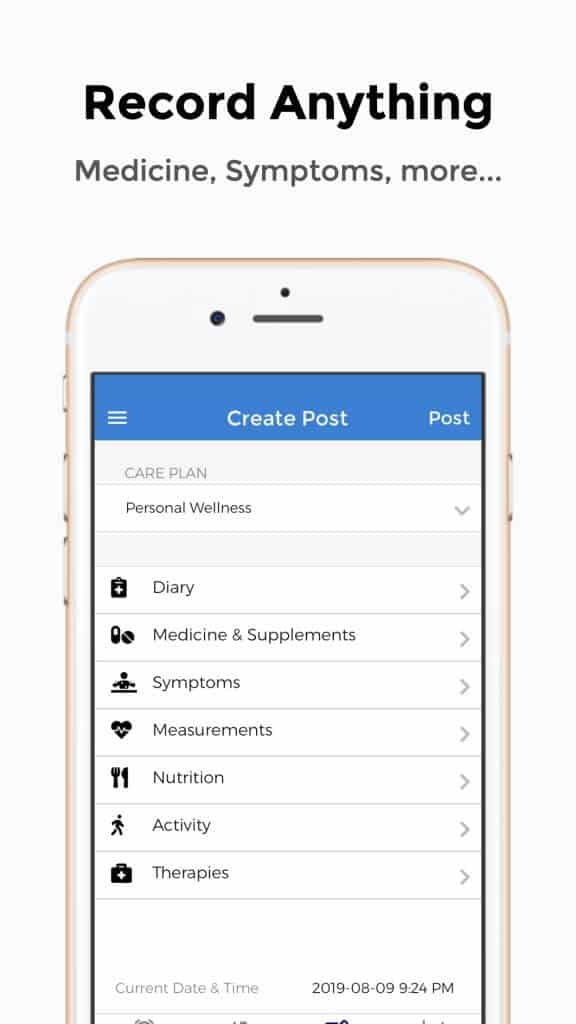 Journaling in a mobile app is quick and doesn't require you to carry your laptop or a traditional pad and paper.
CareClinic enables you to track the following:
Health Diary – Unlimited amount of notes and pictures regarding anything related to your health. That can be searched at a later time.
Medicine & Supplements Taken or Skipped
Symptoms Experienced
Biometric Measurements such as Blood Pressure, Sleep, Energy, etc.
Nutrition for recording certain foods you think cause a flare-up
Activities such as certain exercises that could be required by a physiotherapist or chiropractor
Therapies – Session notes and general recording of which therapy you engaged in.
All these modalities enable comprehensive tracking of one's health in one place. This means you do not need to download a calorie counter app, a fitness app, and a separate journaling app and then try to make sense of all the data.
We automatically compile all data and provide beautiful reports that can actually be used to determine things such as the effectiveness of your current treatment, or your overall mood over a period of time, any correlations that may exist in your care plan and much more.
Please see some of the screenshots below to better understand why CareClinic is the best solution for journaling your health and the reports that can be created by tracking health the right way.
If you are ready to get started, you may download the app for Android or iOS (Apple) by clicking here.

Asher
Asher is the Founder of CareClinic. He is passionate about fixing health care and routinely hosts a self-care podcast with experts in a variety of health fields. He intends to use his skills to make managing health easier for everyone by leveraging AI to address the deficiencies in the current healthcare system.