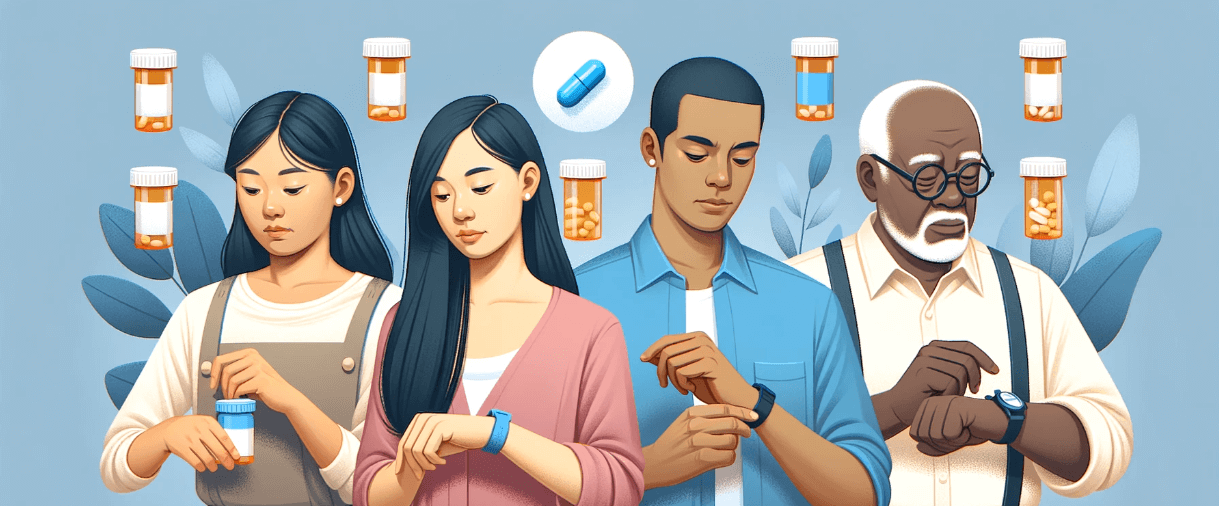 People living busy lives can be forgetful, especially when it comes to taking their medication. A pill reminder can help people keep track of their medication schedule and ensure that they never miss a dose and stay on track. A pill reminder App can send reminders to a person's mobile device or email to make sure they remain adherent to their medication or health regimen.
Why Choose a Pill Reminder App for Medication Management?
Skipping medication doses often occurs due to forgetfulness or a busy schedule. Utilizing a pill reminder app like CareClinic (download by tapping the banner below or clicking here) ensures that you adhere to your medication schedule.
CareClinic is available on Apple's iPhone (iOS), Android devices, and on the web. The App does not stop at just reminders, it is a comprehensive platform that enables you to manage your entire treatment. Whether for an acute issue like a fever, a chronic condition, or for vitamins and birth control if need be. If you have already downloaded the app, you can click here to learn how to set up pill reminders within the App.
Advantages over Calendar and Alarm Clock Apps
Another reason to choose an App over a calendar, a simple alarm, etc is for the ability to set up more complex forms of alarms such as for when your medication may require cycling doses or titration or if it has on-off periods. Being able to set up advanced reminders (which are push notifications on your phone), along with being able to mark parts of your treatment as taken (to review and confirm adherence) is the primary reason patients, doctors, and others seek to use a Reminder App to manage this part of their health.

Advantages over Pill Boxes and Dispensers
Digital apps offer several advantages that traditional pill boxes or medication dispensers can't match. Firstly, unmatched portability ensures your reminders are always at your fingertips, whether you're traveling for business, pleasure, or simply at home. Secondly, the level of customization that these apps offer caters to the individual complexities of your treatment.
From setting reminders for different types of medication, vitamins, and supplements to even tracking biometrics at designated times, the app is adaptable to your specific healthcare needs. Lastly, the inclusion of data analytics in the form of logs and charts enables you to monitor your adherence in real time. This data can be invaluable when shared with your healthcare providers for a more tailored treatment plan.
What about pre-packaged medication systems?
One way to improve prescription adherence is to use a pre-packaged system, such as a blister pack. However, a blister pack is only good when you remember to take it. Your strategy might focus on improving medication compliance by never missing a dose. However, if you forget to take the medication entirely, the presentation becomes irrelevant. That's why you also need a reminder solution. It helps you remember to take your medications, whether three times a day or twice, and it's always available.

What is the best Pill Reminder App?
Although a generic question, CareClinic is ranked as the #1 most downloaded, trusted, and safe Medication adherence App on Android (regardless of brand, Google, Samsung, etc). and for iOS with integrations where reminders can also trigger on Apple watches. It is constantly updated, clinically validated, and provides flexibility in managing your condition no matter how complex. The steps needed to get going are simple:
Input your medications, treatments, and upcoming medical appointments; the app takes over from there. It reminds you to take your medication and notifies you of upcoming doctor visits. The App also helps log your symptoms and side effects, creating an invaluable record for your healthcare provider. You may also enable remote management if you are a caregiver to an elderly person or want to monitor patients remotely using the CareTeam module (more details below).
Supported Conditions for Comprehensive Care
ADHD
Alzheimer's Disease
Arthritis
Asthma
Cancer
Crohn's Disease
Dementia
Diabetes
Mental Health Conditions (Depression, Anxiety, Bipolar Disorders)
Heart Disease
HIV/AIDS
Lyme Disease
With CareClinic, you're not just getting a pill tracker; you're investing in a comprehensive health management system for free (with some additional paid functionality also available). The symptom and side-effect tracking feature offers added value, enabling a more nuanced conversation with your healthcare provider. This data can directly influence treatment adjustments, leading to potentially better outcomes.
Managing Multiple Medication Regimens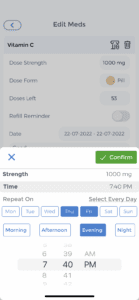 Chronic conditions require ongoing medical attention and limit activities of daily living.
1 in 2 adults has at least one chronic disease.
1 in 4 adults has two or more chronic diseases.
86% of all healthcare dollars are spent on people with chronic conditions. Due to these reasons and more, there has been a gradual increase in people taking multiple pills at the same time.
Polypharmacy is defined as the concurrent use of multiple drugs to treat a single condition or multiple conditions. When four or more drugs are taken, it is referred to as high-risk polypharmacy. With the increase in chronic disease and an aging population, the prevalence of polypharmacy will continue to rise and so will the complexity and forgetfulness.
For effective medication management, especially if you're taking multiple pills, create and regularly update a list of your medications and their purposes. Use the Notes feature within the Care Plans section of the CareClinic App to manage this effortlessly.
Helps manage birth control pills
it is estimated that nearly half of all pregnancies are unplanned. Many of these pregnancies occur because the woman did not take her birth control pill as directed. Birth control pills are most effective when taken at the same time every day.
An app can help you keep track of your birth control pill schedule and ensure that you never miss a dose. With CareClinic, you can easily set a reminder for it to arrive discreetly, or use the snooze option if you forget. Enter how many pills you have and receive reminders for when it's time to get a new prescription.
Great for Caregiving: Manage Kids, Family, and Seniors
CareClinic is used by families, the elderly, doctors, and nurses. CareClinic ensures that patients take their medication as prescribed by their doctor. The app also provides an easy way for family members to check on the progress and vitals of their loved ones remotely.
Studies have shown that seniors not taking medication accordingly have resulted in a higher frequency of hospitalization. This is due to a poor recollection of prescribed pills, a lack of knowledge on which pills are needed, and inconsistencies as to when pills need to be taken have indicated a higher frequency of hospitalization.
Importing Pills and Getting Started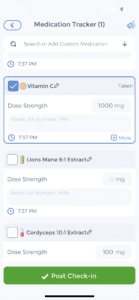 Let's answer a few more detailed questions regarding the CareClinic app that you may have below. Regarding inputting entries, the types of schedules the app can handle, and how the app goes beyond a typical pill reminder in helping you track things that all influence your overall wellness which may include total bathroom trips, nutrition, physical exercise, and sleep.
Different Types of Medication Schedules
Whether your regimen involves taking pills multiple times a day, daily (once a day), or weekly, the app manages those reminders with ease. It also supports more complex routines, like cycling through different medications or varying dosages on specific days. So, whether you have a straightforward or intricate medication schedule, CareClinic offers a comprehensive solution.
PRN means "as needed." This type of schedule means that you only take the medication when you're experiencing symptoms or pain. This could be for a headache, trouble sleeping, anxiety, nausea, etc. PRN schedules can be tricky to remember, so having a reminder can be very helpful. CareClinic allows you to easily input PRN entries through the Check-in screen and then tap on Medications and select any medication you have taken as needed.
What Type of Medication Treatments Can Be Managed?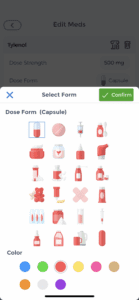 Vitamins
Herbal supplements
Over-the-counter medications
Prescription medications (RX)
Digital therapeutics
These can be in any form including:
Pills
Tablets
Capsules
Liquid
Injections/IVs
Patches
Suppositories
Ointments/creams
Powder
How to import medications into CareClinic
You can also easily input your pills onto CareClinic by taking a picture of your prescription or of any pill bottle. This will allow the app to quickly analyze your medication and input the correct data and dosage.
Quickly select the exact type, color, size, and strength of any medication or supplement you may be taking.
Set reminders for the treatment you just added, whether it is weekly, daily, or even hourly reminders. Have full flexibility as to what to take and when.
Take it a step further and record the side effects, purpose, and effectiveness of individual drugs or your entire care plan.
Input the doses on hand to activate refill reminders or to just keep track of your inventory. Refill reminders trigger when you are low on doses, which is calculated not on the number of medications but rather the size of each dose.
Setting reminders ensures that you are aware of the medications you are taking and note down any side effects they might bring.
How to Setup Pill Notifications and Reminders
You may customize reminders and notifications that pop up in many ways. Some less-known features include receiving email reminders as opposed to push notifications. Keep in mind if you have a wearable device such as an Apple watch these reminders will also show up directly on your watch as well. Below we answer a few more common questions regarding notifications:
What if I miss a reminder?
To enhance adherence, you may receive pill notifications in a variety of ways. Reminders may be Marked as Taken, Snoozed, or Skipped. By marking pills as taken, we keep a comprehensive log of your activities to be reviewed at a later date. At any time, you can pause reminders on any device and later resume them without having to re-enter the reminder details. No longer taking a pill? No problem. Set an End date for the medication to keep track.
If you're busy, can't access your phone, or have a cluttered notification center, activating "Persistent Reminders" solves the problem. This feature re-sends the reminder every five minutes until you tap it and mark the medication as taken, skipped, or snoozed. Talk about persistence!
Are alarm sounds included?
Yes, there are many different alarm sounds (or ringtones) that you can select from to help you remind yourself to take your pills, or just give you a general notification. You can also select to only vibrate or enable the default system sound for notifications as well.
What about privacy and security?
We take your privacy and security seriously. All data is encrypted locally on your device and in transmission. You can even password-protect or use biometrics (such as fingerprint or face verification) in the app if you choose. We also do not sell or share any of your data with anyone.
CareClinic also can provide "generic reminders" which can be useful if you need to be reminded of your medications but do not wish for your mobile device to render the name and strength of your medication within the notification itself.
What else can CareClinic do?
As a complete wellness app, CareClinic ships with many "Trackers & Modules". As you may guess, Trackers are a great way to "check-in" and longitudinally record data to review and act on. Some of the Trackers we currently have are:
Symptom Tracker
Mood Tracker
Food & Diet Tracker
Fluid Tracker
Therapy Tracker
Physical Activity Tracker
Measurements & Vital Signs Tracker
Stool Tracker (with timer and bristol stool scale)
Sleep Tracker (with timer and factors)
Factors Tracker for tracking environmental factors or quickly jotting down ADL's
"Modules" are a way of safely storing your medical data in one source for easy accessibility. CareClinic has many modules such as:
My Care Team: Automatically share all your data with your care team or monitor your own dependents
My Reminders: Set reminders for anything such as medication refills, pills, appointments, symptom checks
My Goals: Set goals and see how you are progressing in charts and logs
My Appointments: To set appointment reminders
My Care Plans: To track your entire treatment
My Conditions
My Immunizations
My Pharmacy
My Labs & Reports
Medication Library
Exercise Library
Health Integrations
Health Assessments and Forms
Guided Care Plans
There are many more modules available and we're constantly adding more!
Symptom Tracking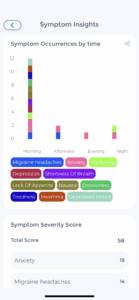 In addition to tracking your pills, you can also track your symptoms and discover correlations. You can easily track how frequently you feel a symptom and its severity and compare it to things such as nutrition, sleep, weather, and other factors.
If you've been diagnosed with hypertension, some symptoms you may experience could be:
Severe headache
Nosebleeds
Shortness of breath
Vision changes
Chest pain
Tracking your symptoms in CareClinic can be helpful because you can then discuss your findings with your doctor and objectively see how your treatment is progressing. You can also set "symptom check reminders" to remember to record values so you can see a more visible pattern emerge in logs and charts.
Log Measurements (Blood Glucose, Blood Pressure & Others)
The Measurement Tracker allows you to log any measurement (such as blood pressure) that may need to be stored as part of your treatment. You can record measurements as frequently as needed and chart them alongside any other tracked value such as medications to determine their efficacy. Remember all trackers allow for reminders to be set, as such you can set a reminder to log your heart rate, pulse, or blood sugar at any time.
Health & Accessibility Integrations
CareClinic syncs with Apple Health and Google Fit to automatically import your data. This saves you time from entering the same information again along with not making any mistakes. CareClinic also integrates with Siri and Siri Shortcuts on iOS to help you quickly automate entire flows directly through voice!
FAQs
Can I export my medication reminder history?
All data entered into CareClinic can be easily shared electronically with caregivers or be printed in PDF or CSV format from the Logs screen. Each line is timestamped and has the name of the medication, dose, and all other relevant information. This is dually applicable to other treatment modalities that you may have recorded as well such as symptoms and physical activity.
Can I get this app through my pharmacy like CVS, Rexall or Rite-aid?
CareClinic works with numerous partners that provide the full version of the App to their customers. The free App for those who do not have a referral code should suffice for most people. You can also ask your pharmacy to contact us if they would like to learn more.
Can CareClinic manage multiple time zones?
You may manually change or adjust your time zone if you are traveling to make sure you continue to take your drugs at the right times regardless of where you are or will be.
What are lady pill reminders?
This refers to birth control pills with reminders that include on and off cycles, missed or skipped pills, and refill reminders. The birth control cycle is based on a woman's menstrual cycle and typically involves taking a pill at the same time every day for three weeks, then taking no pills (or placebo) during the fourth week.
A lady pill reminder can help remind women when it is time to start or stop taking their birth control pills, ensuring they stay on track with the cycle. By helping to make sure women remember to take their medications as prescribed, a lady pill reminder can help reduce unwanted pregnancies and maintain reliable contraceptive use. In addition to contraceptive reminders, the app also offers reminders for other health-related tasks for women, such as taking vitamins, undergoing health screenings, and getting mammograms.
How do I analyze my medication history?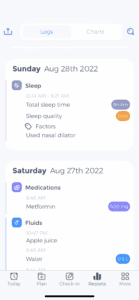 After each check-in you may view your Logs which is a timeline of when, how, and why you took each medication. Your logs contain details from all your medication reminders that you Marked as Taken along with details from all other trackers. Your logs help provide additional insights so you can quickly answer questions such as:
How many times did I take my medication? (and in what time frame?)
What was the average dosage?
Did I skip any doses? (and on which days?)
Was there a time when I was more or less compliant?
What were my peak and trough levels?
Do I need to adjust my dosage or schedule?
Is the medication leading to additional symptoms?
Viewing your charts will enable to you get a visual representation of how you or a dependent has been doing along with providing you with built-in additional Insights and the ability to Compare different modalities… such as Medication and Symptoms, Medications and Sleep, or even Symptoms and Nutrition. Charts include Correlations to clarify their meaning, alerting you to strong correlations in your treatment that you can discuss with your provider.
What is recall bias and why is it important to know?
Recall bias is a type of cognitive bias that occurs when people recall information in a way that is biased or distorted. For example, people might remember an event in a way that is more favorable to them, or they might forget details that would make them look bad. This can lead to inaccurate memories and false beliefs.
This bias persists when you attend a doctor's office and are perhaps asked about your routine or medication adherence. CareClinic keeps you accountable based on your logs and helps you build healthy habits.
Build Healthy Habits
CareClinic's Care Plans feature helps you to develop and stick to a routine by breaking down your daily tasks into manageable steps for all modalities, not just daily medication reminders. This way, you can focus on building healthy habits one day at a time.
CareClinic supports acute, chronic, and subacute conditions and works especially well for those who require managing a complex regimen. Whether you're traveling or at home, CareClinic helps you manage your medications and assists in optimizing your health goals. CareClinic is available for free on iOS and Android and has thousands of five-star reviews.
It is more than just a medicine reminder app, the CareClinic App helps you manage your overall well-being! Try it for free today by clicking here.