A smart companion for any condition.
Improving health outcomes requires thinking beyond the pill and operating beyond the doctor's office. More than just a pill tracker, CareClinic enables healthy habit change and enables you to remain accountable. Manage acute, chronic, and preventive medical care in one fully integrated platform for iOS and Android.
Track your medications and symptoms in seconds
Use the trackers you need to manage your health and check-in with your current state. Record a journal entry with photos, physical activity, vitals, nutrition, or just medications and symptoms. CareClinic makes it easy to quickly log what's happening and keeps you in control.
Track your daily weight, sleep, blood pressure, energy levels, weight, pulse, pain, temperature, and mood. The logs created through check-ins generate charts and insights which enable you to quickly see how you've done and determine triggers.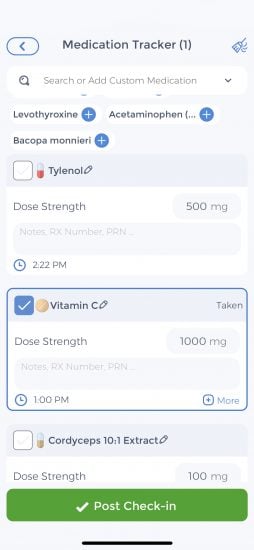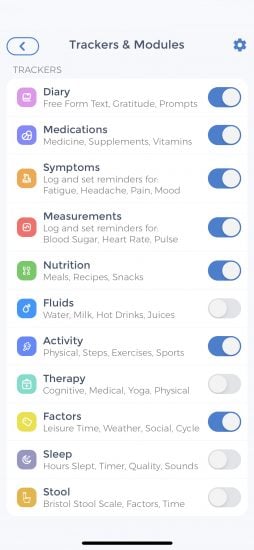 Your journey personalized with AI from the first tap
Our initial focus was to help people manage their mental health including anxiety disorders, depression, bipolar disorder, PTSD, and OCD. CareClinic now leverages AI to support over 3,500+ conditions and disorders, including RA, Lupus, MS, Diabetes, Psoriasis, Crohn's, IBS, Fibromyalgia, COPD, Migraines, and Chronic Pain.
Our AI customizes treatment journeys within the app from the first engagement adjusting specific trackers, modules, and treatment modalities making the process of managing your health simple.
You are not alone, keep your care team informed
Your caregivers play a large role in helping you manage your health. Help present insights in an easy-to-read format that can speed up the decision-making process for your care team.
Not only does the My Care Team functionality provide greater visibility about your current condition and treatment but you can communicate securely within our platform and get feedback quicker on your treatment.
Teams with 8+ caregivers get 88% more help. Use CareClinic to as one central location to save your support team's information for reference for yourself and your family.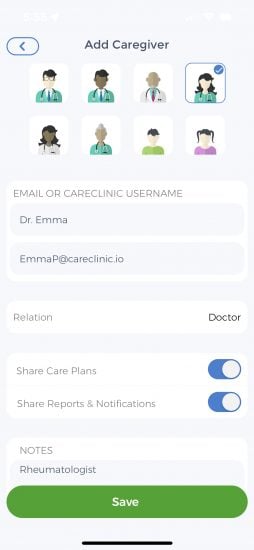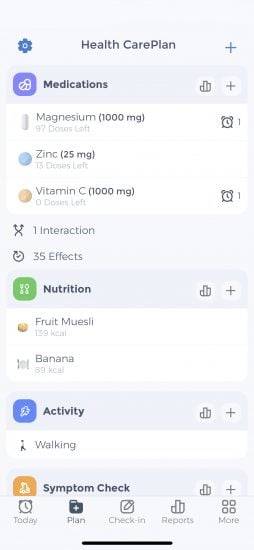 Simplify and keep track of your entire treatment centrally
Your care plan for optimal health goes beyond the pill. Store all aspects of your treatment in your Care Plan. Experience rapid check-ins when you have your routine saved in one place.
Quickly answer any questions that come up regarding dose strength, nutrition or activities you have scheduled by having the data available in the Plan tab.
Schedule more than just medication reminders
Set reminders for upcoming appointments with caregivers, symptom and measurement checks, or other modalities.
Choose from 10+ reminder tones. Adjust reminders to different timezones as needed and add generic reminders for additional privacy and much more.
Don't miss appointments and details with calendars
Use the calendar to get a quick glimpse of upcoming active and inactive reminders, your adherence, journal entries, symptoms and changes made to your care plan.
The interactive calendar allows you to search past adherence and even add notes directly on the calendar.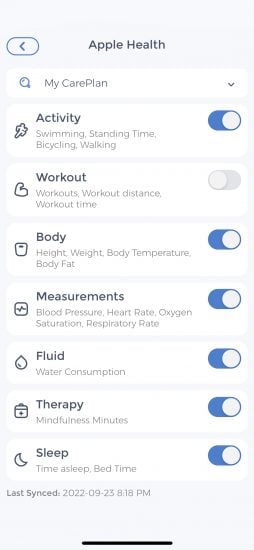 Integrates well with wearables and more
There is no need to keep vital health data in many different apps. Bringing it all together helps you understand your well-being over time, giving you better insights to share with your car team.
CareClinic syncs with Fitbit, Apple Health, and Google Fit. The Apple health integration allows for many wearable devices to share data that can then be imported directly into CareClinic.
CareClinic also integrates directly with Siri so you can say "Medication Tracker" and have it open for your instantly. There are many more commands to try to make it easier for you to track your health quickly. Remember you can also setup system shortcuts to automatically complete a routine for you within CareClinic as well.
Charts that are easy to gain insights from
Charts & insights provide a visual glimpse as to how you are doing and unlock answers that may not have been obvious. View insights for specific modalities such as symptoms or stool tracking to get even more granular level data about your health.
Determine correlations and triggers automatically when comparing multiple modalities. Use it as a starting point for a discussion with your doctor.
Treatment logs to help you answer questions
Logs that provide the details you need for the next follow-up. Easily find information your doctor asks for and review it yourself to better understand how you are doing.
With the ability to filter, view summaries, exporting logs and search, find anything quickly and remain accountable.
Pathways
Assessments
Modules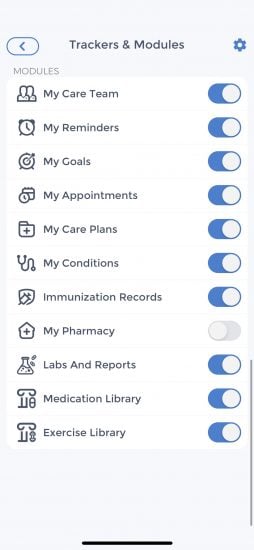 Functionality Overview

Care Teams
Easily enable caregivers to view your treatment progress remotely.


Reminders
Manage Reminders for Medication, Symptoms & Measurement Checks.


Care Plans
Keep your treatment details in one place. See Interactions & Effects.


Appointments
Save dates for yourself or a dependent or share with your team.


Check-Ins
Record Symptoms, measurements, medicine, nutrition, activity, therapies and notes periodically.

Integrations
Automatically sync your data from wearables, Apple Health or Google.


Reports
AI-powered Charts, Logs, Correlations to make sense of your check-ins.


Goals
Set health goals for yourself and view you progress over time.


Library
Built-in medication and exercise library.


Immunizations
Securely store vaccination records for yourself or dependents.


Symptoms List
Keep a log of all your conditions & symptoms for reference.


Secure
Password-protected app keeps your data private and encrypted.