In the United States, 6 in 10 adults have a chronic disease. Conditions such as heart disease, cancer, chronic lung disease, stroke, Alzheimer's disease, diabetes or chronic kidney disease represent leading causes of death and disability. Two-thirds of the people in America have been prescribed medicine for such conditions but, according to recent statistics, more than 50% fail to take their treatment as prescribed. This is why providers and patients need to consider medication monitoring solutions to improve medication adherence.
Medication non-adherence is a major issue, being associated with a poorer health outcome and an increased risk of premature death. From another perspective, it is linked to significant healthcare costs, which could have been avoided. It is clear that medication should be taken as prescribed but things are not as simple as they seem. Self-monitoring might be the right solution to increase medication adherence. (R)
CareClinic, a health app to monitor your medication

CareClinic is a health app which was developed for those who are suffering from a chronic condition or more, offering the possibility to monitor one's treatment in an effective manner. The application, with a simple and intuitive interface, helps ensure the necessary medication adherence. You can use it to record your medication, and the progress made accordingly.
Suffering from multiple medical issues, you might be struggling to follow your treatment accordingly. The failure to meet the medication intake is associated, however, with a higher risk of drug resistance. It can also accelerate the progression of a disease and cause additional health complications, leading to death if no measures are taken. Healthcare systems also benefit from medication monitoring, as the overall costs associated with the treatment are reduced. (R)
Why self-monitoring?
Just because you have been diagnosed with a chronic condition, this doesn't mean that you cannot stay in control of your health. Thanks to applications such as CareClinic, one can monitor medical symptoms at home, as well as the treatment prescribed for the associated illnesses and the progress made. One can also rely on such applications to record additional health information, including vitals, blood pressure and blood sugar.

As it was already mentioned above, self-monitoring is associated with a higher medication adherence. The application can send you reminders for the various treatments you are taking, so that you never forget to take your medication and stay in control of your health. Once you have this kind of support, you will also have peace of mind and feel able to concentrate on other areas of your life. (R)
Within the application, you can add a care team, including family members or friends. They can offer additional support when needed, especially when it comes to treatment monitoring. The CareClinic health app allows for a complete documentation of your health status, helping you recognize the areas of treatment where improvements could be made.
Medication reminders for increased adherence
Many people find it challenging to deal with a complex treatment regimen, failing to take their medication according to the given instructions. With the CareClinic health app, one can set up reminders for each drug in particular, including the dose, frequency and any other useful information. The app will send push notifications, and there is also a snooze feature to be used.
Entire treatment plan in one place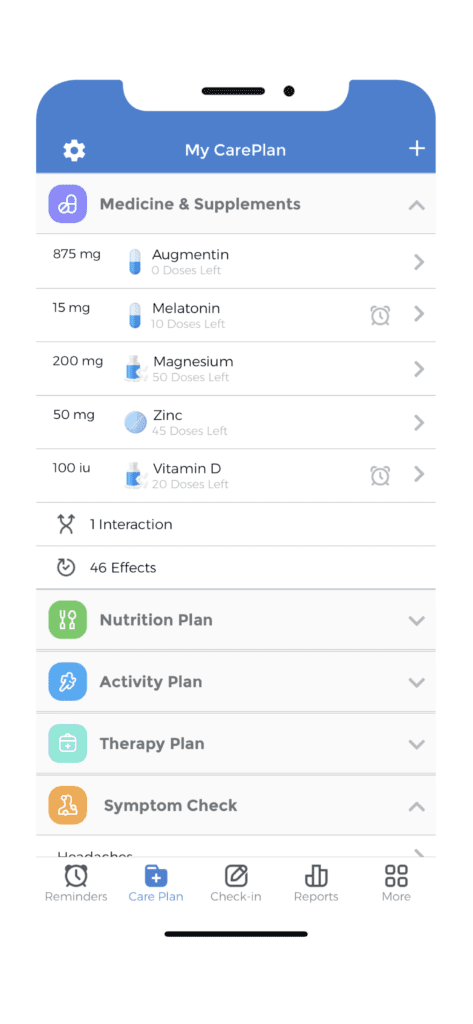 When you suffer from more than one chronic condition, it is only normal to be prescribed multiple treatments. By using the CareClinic app, you can record all of your medication in one place. You can add your prescriptions, as well as over-the-counter remedies and mention the details for each, such as the type of treatment, or even add refill reminders (recall to order prescriptions).
Health apps facilitate the self-monitoring process, which in turn increases the motivation to follow treatment as prescribed. Regardless of the condition you are suffering from – hypertension, diabetes, anxiety, depression, rheumatoid arthritis, multiple sclerosis, infection or heart disease – you can use CareClinic to keep track of the medication you are taking.
You can use the application to view the schedule of each medication so that you know for certain when you should take it (and in what dose, as confusion can arise from having to take multiple medications in different doses). Aside from actually getting treated for your condition, you will also prevent unnecessary complications that might arise from infrequently-taken treatments. Even the most basic treatment can be dangerous, if it is not followed to the letter.
Advantages that come with using health apps such as CareClinic
When you use an application such as CareClinic to monitor your medication, it becomes easier to stick to the treatment regimen. You will finally be able to take your medication on time, and according to the instructions of your physician. Moreover, the application will allow you to analyze your medication usage history and keep track of the medication adherence.
As part of your chronic disease management, you can organize a list of current and past medication, adding it to your CareClinic profile. Do not look at this just in terms of medication monitoring. Think about the fact that self-monitoring is an opportunity to improve your overall quality of life. You can be involved in health-related decisions, prevent complications and minimize healthcare costs.
Once you become a regular user of this app, you will no longer find it a challenge to stick to the treatment regimen. You can add information on how the medication should be taken, potential side-effects or adverse reactions. Of course, you can track not only prescription medication (regular intake) but the one that might be occasionally taken.
Keep you
If you have more time available, you can organize a medication database within the application. This will be useful for locating and adding different types of medication, contributing to the simplification of even the most complex treatment regimen. As a result, the medication database will help you adhere to your treatment, improving your health and quality of life.
It might also interest you to know that the application will create monthly records, based on the information you have introduced (regarding symptoms, treatments, health measurements, etc.). You can then export and share these monthly reports with your doctor(s), pharmacist(s), caregivers, family members or other healthcare professionals involved in your care.
How to use the CareClinic health app for medication monitoring
The first thing that you need to do is create a profile within the application. Once you have done this, you can add the conditions you are suffering from, with the associated symptoms.
You can now create your care plan, following it in order to reach your health goals.
Within the plan, you can add all of the treatments you have been prescribed, including medication and supplements, therapies etc.
Let's say you have been prescribed Adderall. You can add it to your treatment plan with a simple click.
Below the actual medication name, the application will provide suggestions on similar drugs or supplements that can be taken.
You can add any other medication to your profile. Be sure to specify the dosage, measurement unit (mg for example) and frequency of taking (1-4 times per day).
You can edit the medication choice even more. For instance, you can choose the dose form and color, mention the total dose you have available, the start and finish of the treatment, as well as add your own notes about the medication in question.
You can mention the consumption frequency – daily, weekly, variable – and set up reminders accordingly.
The changes made to the treatment plan can be reviewed at any moment.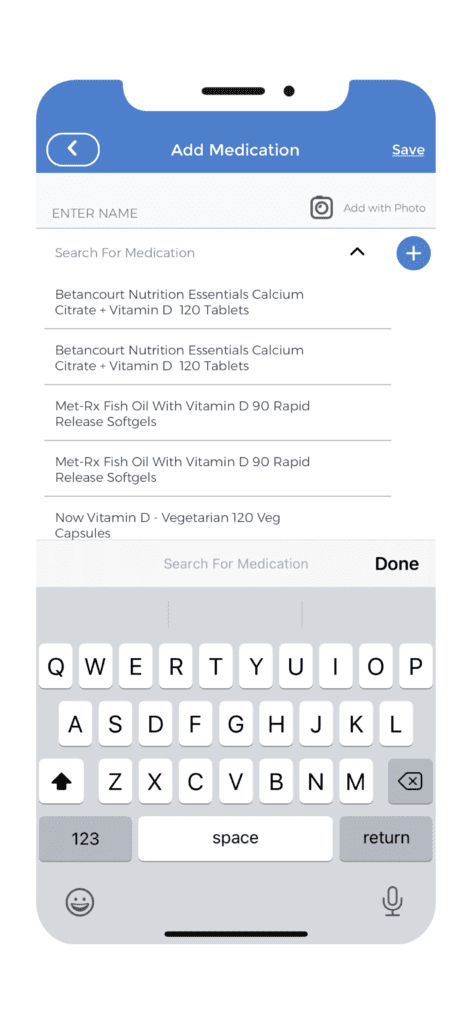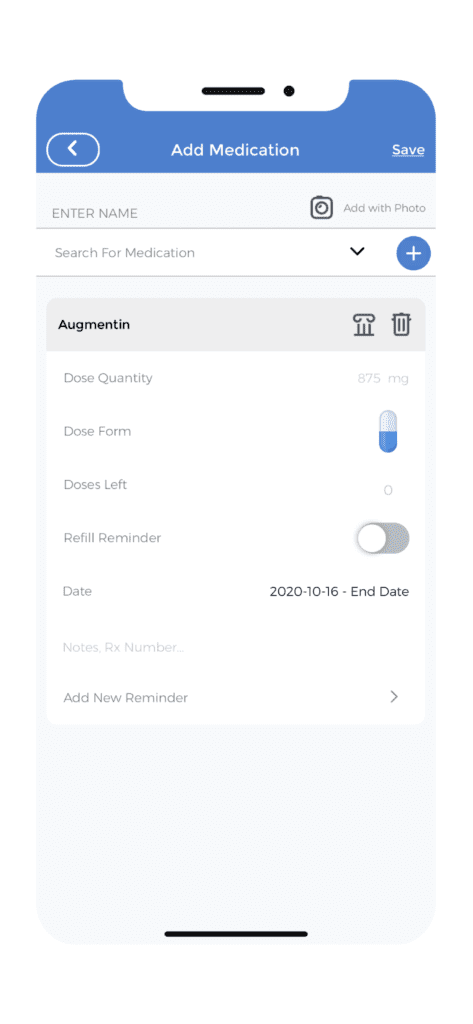 The issue of medication adherence
Healthcare systems have battled the issue of medication adherence for a long period of time, as non-adherence is damaging for both the patients and the system itself. Statistics show that only 50% of those who have been prescribed treatment for chronic conditions adhere to the said prescription. The percentage is even lower in developing countries.
Digital health, together with innovative smartphone solutions, might be able to improve adherence, studies say. The need for applications such as the one of CareClinic is obvious, as more and more healthcare specialists complain of patients failing to adhere to the prescribed medication. This is seen as a significant obstacle to improving one's health, leading to adverse outcomes and higher healthcare costs (especially whereas chronic conditions are concerned).
There are a number of factors which contribute to poor medication adherence. These include reduced health literacy, the inability/incapacity of patients when it comes to becoming involved in decisions regarding their own treatment and the prescription of complex medication regimens. There are communication barriers between doctors and their patients, with side effects or adverse reactions being often misunderstood.
People who suffer from chronic conditions are often treated by multiple physicians, which also increases the risk of non-adherence. The limitations regarding office visits and the reduced access to the necessary health care are contributing factors as well (R).
Statistics about medication adherence show worrying numbers
Poor medication adherence is associated with increased morbidity and death. From a financial perspective, the costs linked to non-adherence amount to approximately $100 billion per year – 10% of the total healthcare costs (2005).
Statistics show that between 50% and 80% of those who are treated for hypertension are non-adherent to the medication regiment. According to the World Health Organization, the lack of adherence is considered to be the leading cause of the inability to ensure blood pressure control. In turn, this is associated with a higher risk of heart attacks, stroke and prolonged hospitalization. The adherence to the prescribed treatment, on the other hand, is associated with a lower risk of life-threatening complications.
Medication Monitoring in populations
The adherence to other types of medication, such as statins and antiplatelet agents, is also reduced. Between six months and one year after the diagnosis, 25% – 50% of the patients discontinue the treatment. After a period of two years, the rate of non-adherence reaches 75%.
Improving the rate of adherence to the prescribed treatment for chronic conditions, such as hypertension, diabetes or heart disease, is not only beneficial for the individual but also for the healthcare system. Patients should become more involved in the decisions regarding their own health, and health literacy should be a priority for all countries.
In conclusion, medication adherence can be increased through self-monitoring and patient education programs. Health applications such as CareClinic can be more than useful, helping those who have been diagnosed with a chronic condition manage their treatment in an effective manner.
It is also essential for healthcare professionals to communicate more openly with their patients, inquiring about the treatment progress and concerns one might have. An involved patient can feel more in control with regard to his/her own health, showing an obvious interest in medication adherence.