Tracking Chronic Illness
Pain is a universal experience. When we feel pain, usually it dissipates quickly, within a few hours or sometimes a few days. However, many people around the world live with pain everyday, and have been doing so for years. These people have chronic health conditions. You might know someone who lives with a chronic illness. You yourself might even have a chronic illness! The subject of this article is to discuss how tracking your chronic illnesses might be helpful for living 
Who Needs to Track their Conditions?
If you or a loved one has been diagnosed with a chronic illness you will know all the reasons as to why it is crucial to consistently track and monitor on-going conditions. 48% of the US population is currently suffering from one or more chronic conditions and it is only expected to rise for the foreseeable future (see chart below). CareClinic functions as a chronic illness tracker by allowing a user to track their entire treatment with all modalities (symptoms, physical activity, nutrition, etc) no matter how complex.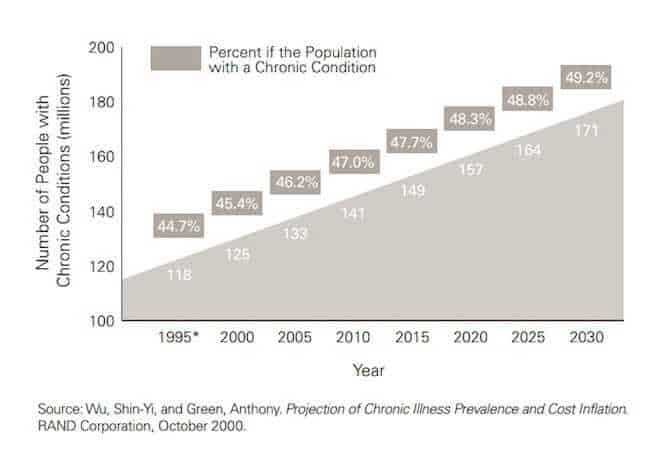 CareClinic was designed for patients with Chronic diseases, we have made the platform robust and versatile to track and manage many different conditions effectively on the web, Android and Apple's iPhone.
What is CareClinic?
Briefly, what is CareClinic and how might it help? CareClinic is a mobile app that tracks all aspects of your health. It is unique in that it has multiple sections to track different aspects of a healthy life. These include symptom tracking, body measurements, nutrition, exercise, and a health diary. Most apps concentrate on one of these specialties only, however CareClinic does it all in one place! 
Some of the functions of CareClinic that are useful to chronic illness patients include: 
Symptom tracking, including measures of pain intensity
Medication and supplement reminders 
Nutrition section to keep track of dietary restrictions and food intake 
CareClinic might very well be the perfect companion for those suffering from chronic illness. 
Why Should You Track Chronic Illness'?
Now that we've introduced a way to track your chronic illness, it is important to understand why it useful to do so in the first place. What are some benefits of tracking your chronic illness?
Helps you adhere to your plan more efficiently, so you know what's working and what's not and why. Sometimes we all need a reminder, whether it's to take a pill or a supplement, or stretch and complete some physical therapy.  
It could lower your costs and save you time – For example, you can avoid purchasing unnecessary or excess medications, or extraneous doctor's appointments. As a side note, did you know that chronic medical conditions cost the US health system 75% of its health care budget? 
Find triggers for your symptoms – Discover correlations that you didn't know existed so you can better manage your health. If you utilise CareClinic to its full potential, you should be able to track your diet and nutrition. We all know that the food we eat has major effects on our health and wellbeing, and for patients with chronic conditions this is even more true. Maybe there is something that you're eating that is actually negatively affecting your health experience? 
Reliably report your symptoms and health experiences with your doctor at appointments. There is no longer a need to rely on your memory when reporting your symptoms to your doctor! Keeping a mobile record is simple and easy, and can be taken on the go. 
Develop solidarity in your ability to persevere with your illness. One of the hardest things about a chronic condition is the toll it takes on your mental health. Track your experience so you can look back on your progress when times get tough. Seeing all the good and bad days you've been through should empower you to keep persevering through the pain. 
Clearly, there are many reasons why tracking your chronic illness could be beneficial. CareClinic might be that solution you're looking for!
How To Track Your Chronic Illness
You might be wondering why you should use CareClinic to track your chronic illness over other alternatives. Certainly, there are many apps out there that can assist you with chronic illness tracking. However, we believe that CareClinic has a number of unique functions that really improve the patient experience.
CareClinic allows you to track specific symptoms, record current interventions and all other environmental factors that affect your health. With enough logging, you may view correlations in reports to better understand how different factors influence your health.
The main problems with managing chronic conditions are: Physicians may lack important patient-reported data which impedes proper care, CareClinic bridges this gap. Below we list the most commonly tracked chronic conditions on our platform.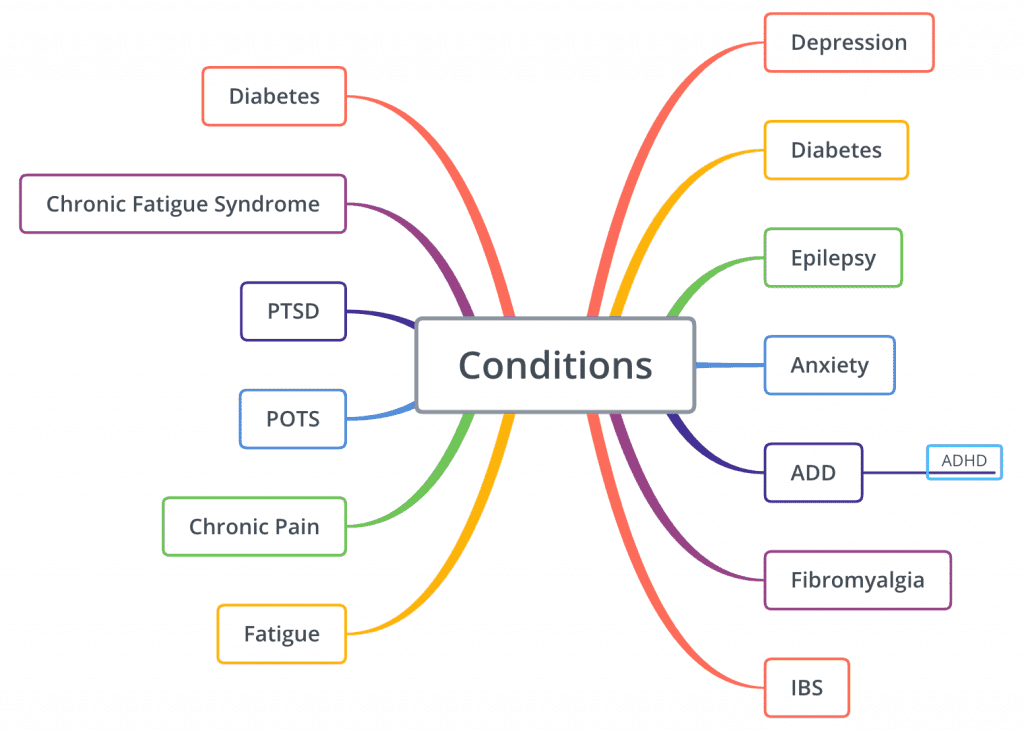 In addition to this, CareClinic features multiple functions together in one app. Other apps normally serve one purpose alone, such as a nutrition tracker or an exercise app. However, CareClinic removes the need for carrying multiple apps to keep track of your health. Keep all your information together in one centralised location, instead of hopping between different apps! This is one of the main advantages of CareClinic, in that it performs the functions of multiple other apps in one place.
Now that we've discussed a few advantages of using CareClinic, you might be wondering how you actually get started on the app. Not to worry – below we've detailed the steps required to get started, specifically for the case of a person suffering a chronic illness.
7 Steps to Get You Started using Chronic Illness Tracker App
Download CareClinic, create an account and fill in all the preliminary information. This includes your body measurements and other personal details
Add Your Chronic Disease also once you signup
Record your interventions (Treatment) in your private Care plan, this encompasses your medicine, natural remedies, physical activity, therapies, and even your diet.
Record Your Symptoms when they flare up, along with activities, biometrics
Remember to set reminders for your pills which helps you adhere to medicine safely by reminding you of which medicine to take at the right time and with the right amounts
Find correlations in the reports, see what's working and what's not
Print your reports for a caregiver with more accurate details of your health
This may seem overwhelming at first, but with our user-friendly mobile apps (also available on the web) we make it as easy as possible, see an example initial symptom entry form. After it is added for the first time, you can quickly select your symptom and adjust the levels in your journal posts (which acts as your private net diary).
Track your chronic disease using built-in care management apps such as our clinically-validated journaling platform, a reminder system, reports, and our circle of care app known as CareTeams. CareTeams also enables real-time data monitoring and allows for remote monitoring of your treatment if needed.
Get Started with self-care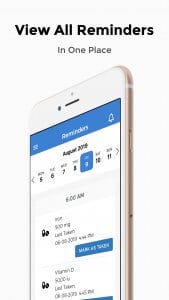 CareClinic provides value-based care which bridges the patient-physician gap by ensuring adherence to care plans between visits, which is beneficial for everyone.
Our vision for the future is that your care provider will find this data incredibly useful and provide more precision-based medical interventions that can help you manage your health more meaningfully.
Our platform assists in self-monitoring by using reminders, rendering useful reports, and keeping everyone in the loop. All of this has proven to improve outcomes and potentially reduce symptoms over time. We encourage you to try CareClinic out for yourself, it is free to start, click here.