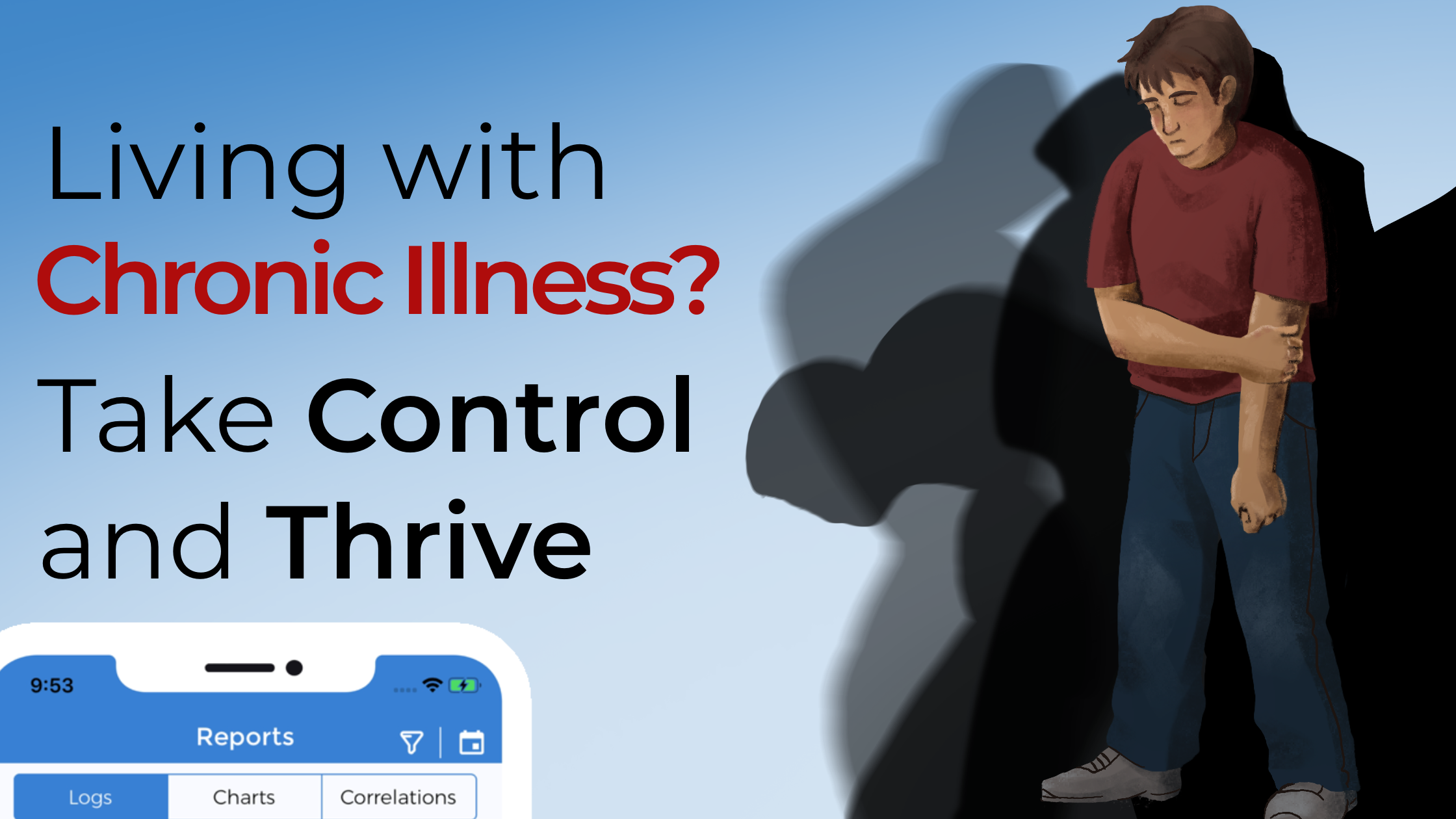 48% of the US population is living with at least one or more chronic illnesses. This number is vastly increasing over time and as a result, the US Health system allocates approximately 75% of its annual budget to chronic medical conditions alone. This strongly indicates that the healthcare system must adapt effective chronic illness management practices to monitor conditions. A chronic illness symptom tracker can be extremely useful for monitoring and managing chronic illness. Such apps also allow patients to share their progress with their healthcare provider.
Benefits of managing chronic illness
Tracking one's chronic illness can help patients adhere to their treatment plan. Patients are are able to see for themselves what aspects of their treatment plan are working well and which are not. Moreover, they are able to view the reasons for why certain aspects are working using recorded daily data.
Tracking your chronic illness can also lower costs and save time. As mentioned, chronic medical conditions cost the US health system 75% of its health care budget. Tracking can allow patients to identify and implement beneficial lifestyle changes that may prevent worsening of their condition.
Furthermore, patients are able to identify potential triggers and relievers for their symptoms. Tracking your symptoms and habits on a daily basis can allow you to discover correlations. Increased knowledge about what helps and what does not can allow patients to better manage their health.

Importance of patient engagement
Increased patient engagement is associated with better health outcomes and increased quality of life. Chronic illnesses are long-term medical conditions that often progress gradually over time in severity and scope. In order to have the best quality of life, it is important to stay informed about your illness. Therefore, it is important that patients are more proactive, adopt sustainable lifestyle changes, and collaborate with their healthcare team.
Individuals with chronic illnesses face many obstacles in coping with their condition. This is because traditional healthcare systems often do not meet their needs for effective management, psychological support and information. Moreover, there is often a mismatch between the needs of patients dealing with chronic illness and healthcare systems that are primarily designed for treating acute illnesses.
Issues that chronic illness patients face
Chronic illness patients must often cope with

symptoms and disability
emotional impacts
complex medication regimens
difficult lifestyle adjustments
physical, psychological, and social demands of their illness without much help or support from medical care (coping at home, outside of the hospital/doctor's office)
learning to be self-managers of their disease
identifying credible resources for information about their illness and obtaining helpful medical care
Tracking chronic illness empowers patients to become self-managers and collaborators with their healthcare team. Patients become more informed about their health and have a better understanding of their illness. Therefore, they are able to assist their care team in identifying which management strategies and treatment options work best for them.
How does tracking your chronic illness increase patient engagement?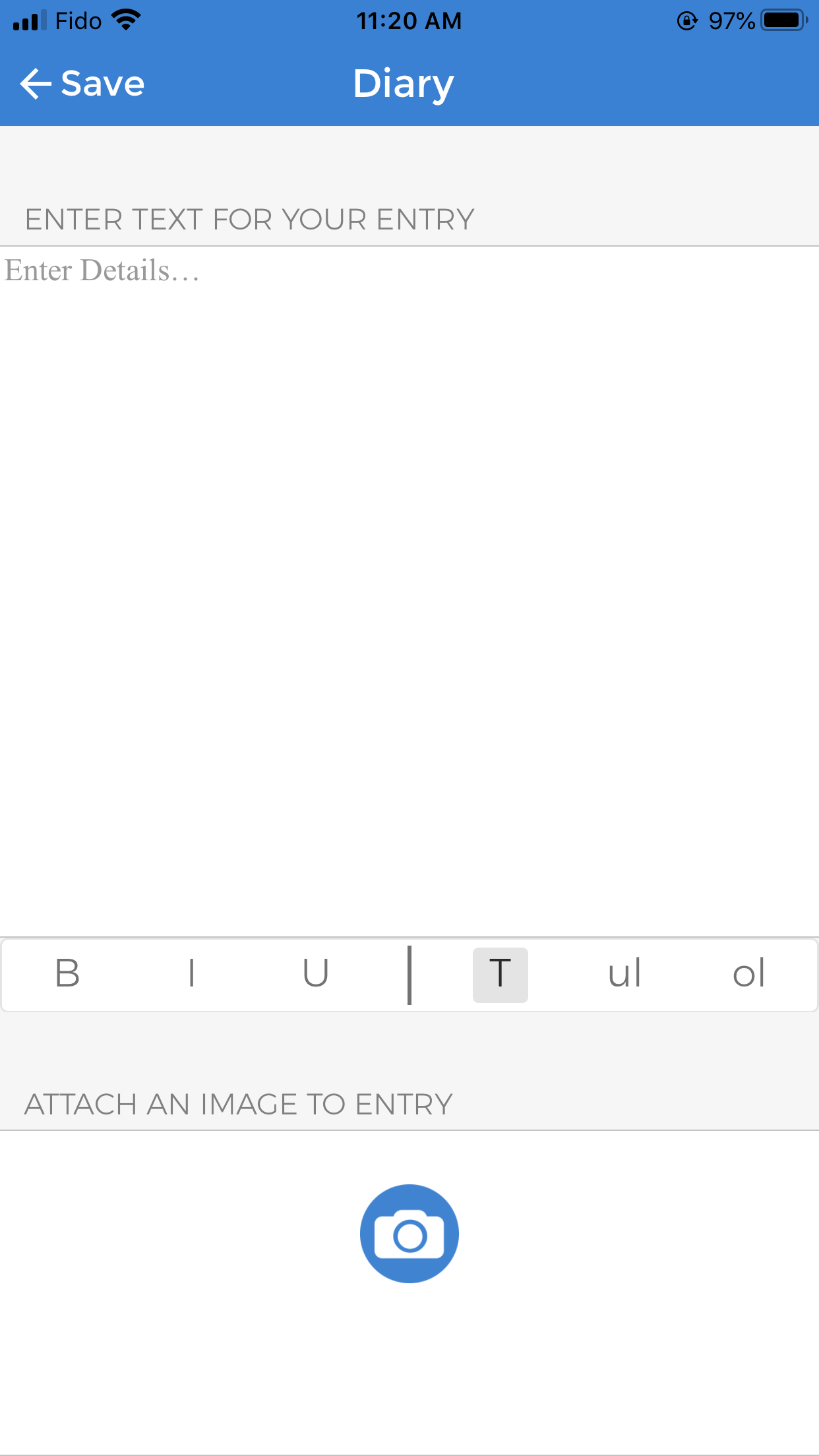 Tracking one's chronic illness and its related symptoms allows one to stay informed about their health. It allows patients to understand what is happening with regards to their body and why.
Patients can learn about what works best for them in terms of management and coping strategies. In this way, they will be able to identify the most effective treatment options for them and subsequently adopt sustainable lifestyle changes.
With this detailed information about their health in hand, patients can share valuable information about their well being with their healthcare providers. This allows for collaboration and reduces feelings of being alone in their journey. Furthermore, this approach to healthcare can be extremely effective in reducing depression and feelings of loneliness that are often associated with managing a chronic illness.
Through tracking their health, patients become more informed about their medication regimen and its effects. Moreover, they are able to see for themselves which medications and specific therapies are working and which are not.
Keeping a health diary along with tracking daily symptoms allows patients to become more mindful with regards to their well being. In this way, patients become more aware of their emotions and how their experiences are affecting their mood. Using a chronic illness symptom tracker ensures that patients are doing regular checkups with themselves.
Use of technology in managing chronic illness
Chronic illness symptom tracker apps like CareClinic empower patients to learn more about their health. In this way, patients are able to effectively manage their symptoms. Technology has revolutionized the healthcare industry. For instance, healthcare apps have made it easier for patients to become more involved with managing their healthcare. While healthcare apps do not replace key in-person interventions facilitated by healthcare professionals, they can aid in improving one's personal health management and knowledge about their health. Health apps for dealing with chronic illness assist individuals in identifying potential risk factors and relievers that are associated with their symptoms.
Most importantly, technology has been a key contributor for the push towards personalized medicine. Personalized care plans can be curated on these online platforms specifically for the patient and their health journey. In this way, patients are able to easily collaborate with their healthcare provider to design care plans that work for them. This approach to medicine can aid in the management of existing chronic conditions. This approach can also alert patients of potential ailments, delay complications or positively prevent the development of a chronic illness.
Benefits of using a chronic illness symptom tracker
Self care is vital for effectively managing a chronic illness. Chronic illness symptom tracker apps provide patients with a platform to track and monitor their conditions on a day-to-day basis. This ensures that they adhere to their prescribed treatment plans. Down the line, this can reduce potential costs associated with improper health management. Patients can also improve their knowledge regarding their personal health and become more aware of warning signs or triggers that are associated with their health conditions.
Patients can become more aware of their symptoms and potential irregularities. They are able to easily share this information with their physician. Therefore, physicians have access to valuable information about their patients and are able to alter treatment plans accordingly. In this way, physicians can work with patients to tailor chronic illness treatment plans that are personalized and manageable. Furthermore, the app allows for patients to record detailed notes about their symptoms and other aspects of their health on a day-to-day basis.
CareClinic, a free app for managing chronic illness
CareClinic is a free online platform that enables users to actively respond to their chronic illnesses. Users and their healthcare provider are able to create flexible and adaptive care plans. Patients can also track and manage all physical and psychological aspects of chronic conditions conveniently. Patients should record any symptoms and changes in their health. Users of CareClinic should also take note of which aspects of their treatment plan are working for them. Aspects of health that may be tracked include physiological changes such as blood pressure and heart rate, physical activity, and diet.
CareClinic is an all in one healthcare management tool and allows users to track all aspects related to their wellness in one place. With only one tap, all information pertaining to your personal chronic illness care plan is available! The app is an extremely convenient way to oversee your health conditions.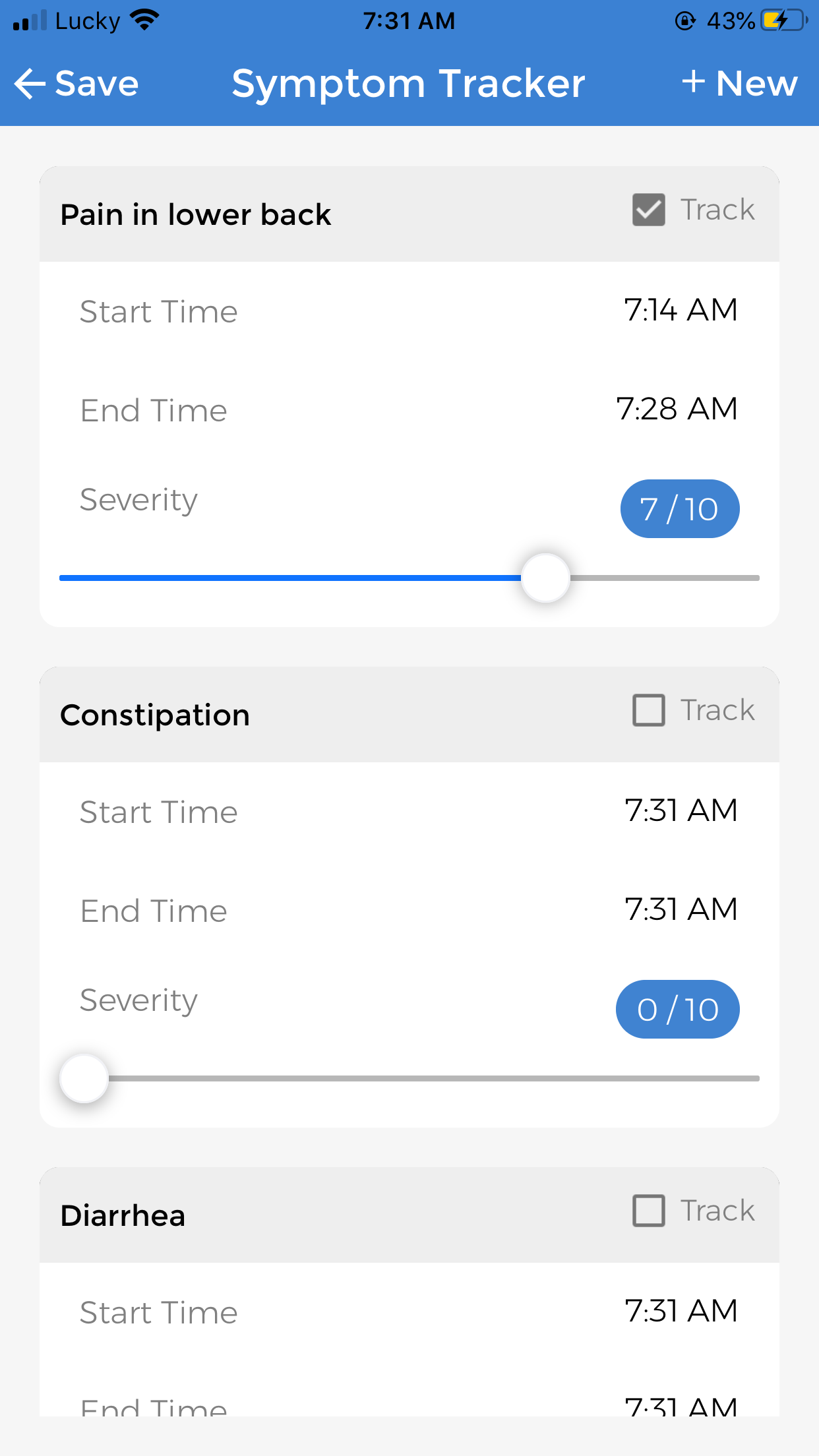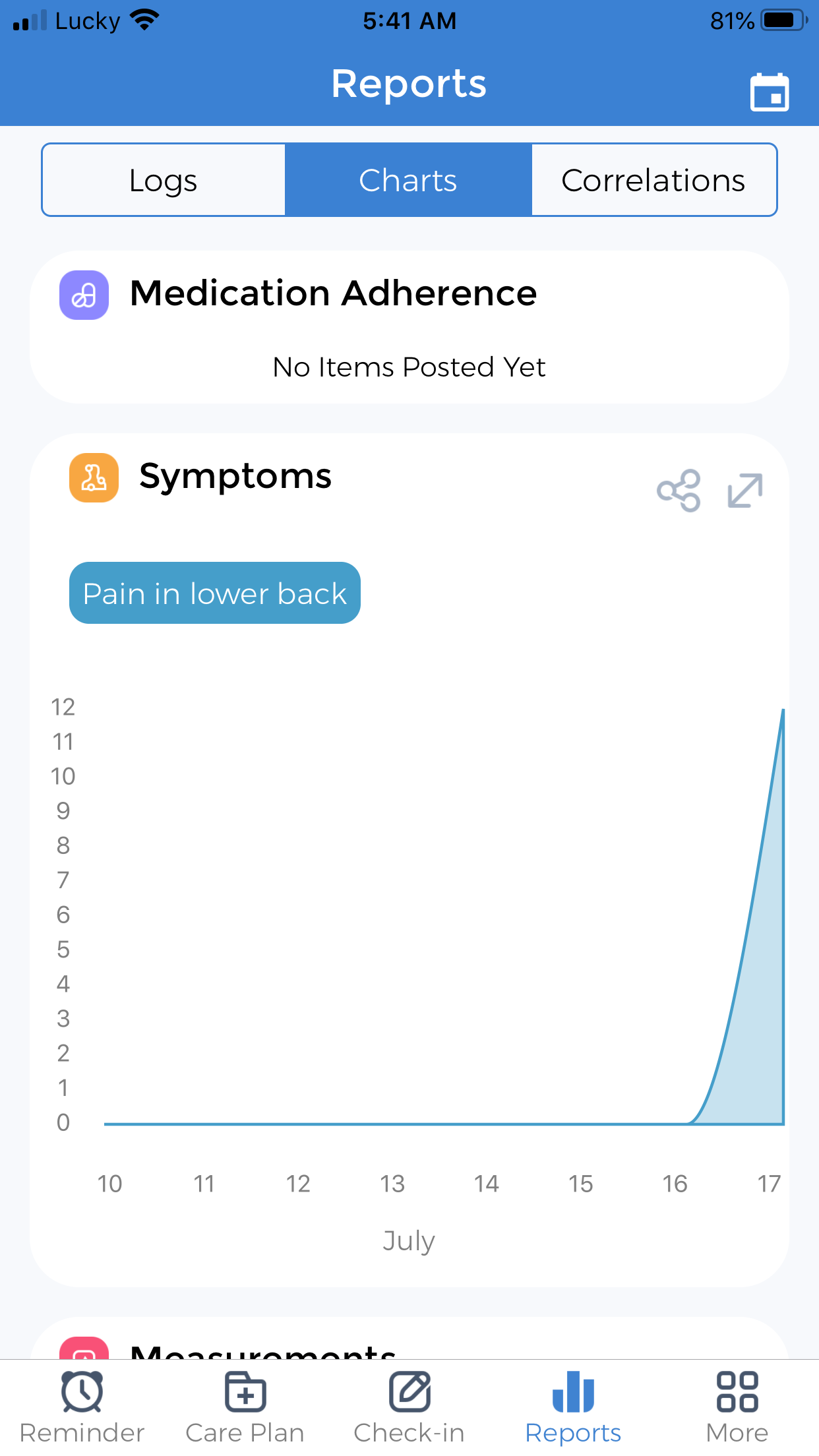 Chronic illness symptom tracker apps increase proactiveness
Effective tracking of ongoing symptoms, treatments and external environmental conditions can play a significant role in your overall well being. By recording these various factors, patients have the ability to assess potential triggers and/or correlations based on the interactions between these factors. Therefore, patients become more informed about their own health and are better able to collaborate with their care team.
CareClinic provides patients with an opportunity to take initiative and be in charge of managing their own health. The platform works to bridge the gap between patients and physicians. Physicians rely heavily on patient-reported data in order to effectively treat chronic illness and devise personalized care plans. With the help of CareClinic, patients can easily track and record vital information pertaining to their illness on a daily basis. Patients can present this data at their next doctors visit or share their reports with their physician via the app.
Technology has enabled patients to be proactive and play a more involved role in their diagnosis and treatment plans.
How to use a chronic illness symptom tracker
CareClinic allows patients to track specific symptoms, record notes about their therapies and make note of any environmental factors that affect their health. Patients can use this data to identify correlations between certain lifestyle habits and their symptoms. Users are better able to understand how different factors influence their health.
There are various key issues with managing chronic conditions. For instance, physicians may lack the necessary patient-reported data. This can be a huge obstacle to obtaining proper and personalized care. To address this issue, the CareClinic app bridges the gap between patients and physicians by providing an easy platform for patients to make their own notes and records about their health.
CareClinic is a useful chronic illness symptom tracker app. Some of the most commonly tracked chronic conditions on CareClinic include:
diabetes
chronic fatigue syndrome and general fatigue
post-traumatic stress disorder (PTSD)
postural orthostatic tachycardia syndrome (POTS)
chronic pain
depression
epilepsy
anxiety
ADHD
fibromyalgia
irritable bowel syndrome (IBS)
Steps to start using a chronic illness symptom tracker app
After signing up, add your chronic disease
Record the medications that you use and any interventions in your Care plan. You can include your medicine, natural remedies, physical activity, therapies, and even your diet.
Record your symptoms when they increase or decrease. You should also include any associated activities or triggers.
Remember to set reminders for your medicine which helps to ensure that you are taking your medications at the right times and in the right dosages. You can also set reminders to ensure that you take certain medicines at the right times and in the right amounts
Find correlations in the reports. Therefore, you can see what is working and what is not from the simple graphs and reports created by the app.
Share or print your reports for a caregiver or your doctor. These reports provide them with more accurate details about your health and progress.
Easy to use online platform for managing chronic illness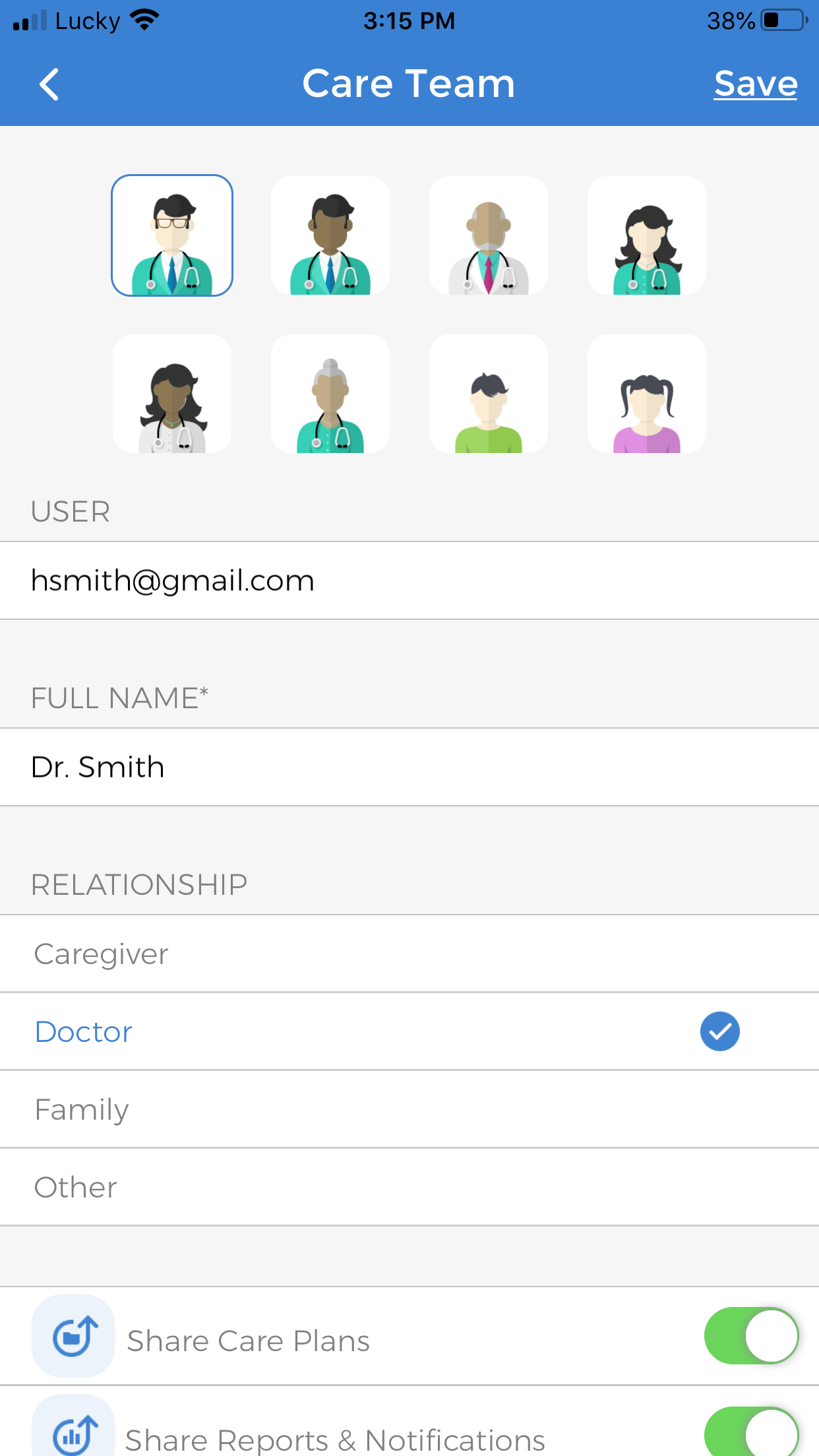 While this may seem overwhelming at first, CareClinic's user-friendly platform makes it as easy as possible to track all aspects of your health in one space. For instance, you can add symptoms that are specific to you and track them daily. After adding a symptom to track for the first time in your Care Plan, you can quickly select your symptom in the Check-In page. You can also adjust the severity levels in your journal posts (which acts as your private net diary).
Track your chronic illness using CareClinic, your all in one healthcare management app. The platform includes our clinically-validated journaling platform, a reminder system, and easy to read graphs and reports. You can also add your caregivers to the app and share your health information with them. Finally, CareTeams enable real-time data monitoring and allows for remote monitoring of your treatment if needed.
Chronic illness symptom tracker app promotes self care
CareClinic allows patients to easily record data and information about their chronic illness. The app provides value-based care which bridges the patient-physician gap by ensuring adherence to care plans outside of the doctor's office or hospital. Furthermore, self-management apps like CareClinic allow patients to engage in proactive behaviours and take control of their health at all times.
Our vision for the future is that your care provider will find this data incredibly useful and provide more precision-based medical interventions that can help you manage your health more meaningfully. This data is also extremely useful for developing treatment plans that are personalized and work for you. Furthermore, apps like CareClinic allow one to take into account their lifestyle and daily habits. Increased knowledge about one's daily activities allow for patients to better identify triggers and relievers for their chronic illness symptoms.
Our platform assists in self-monitoring by using reminders, rendering useful reports, and keeping everyone in the loop. All of this has proven to improve outcomes and potentially reduce symptoms over time. Therefore, we encourage you to try CareClinic out for yourself. The app is free to download on iOS and Android by clicking here.
Medication reminder and tracker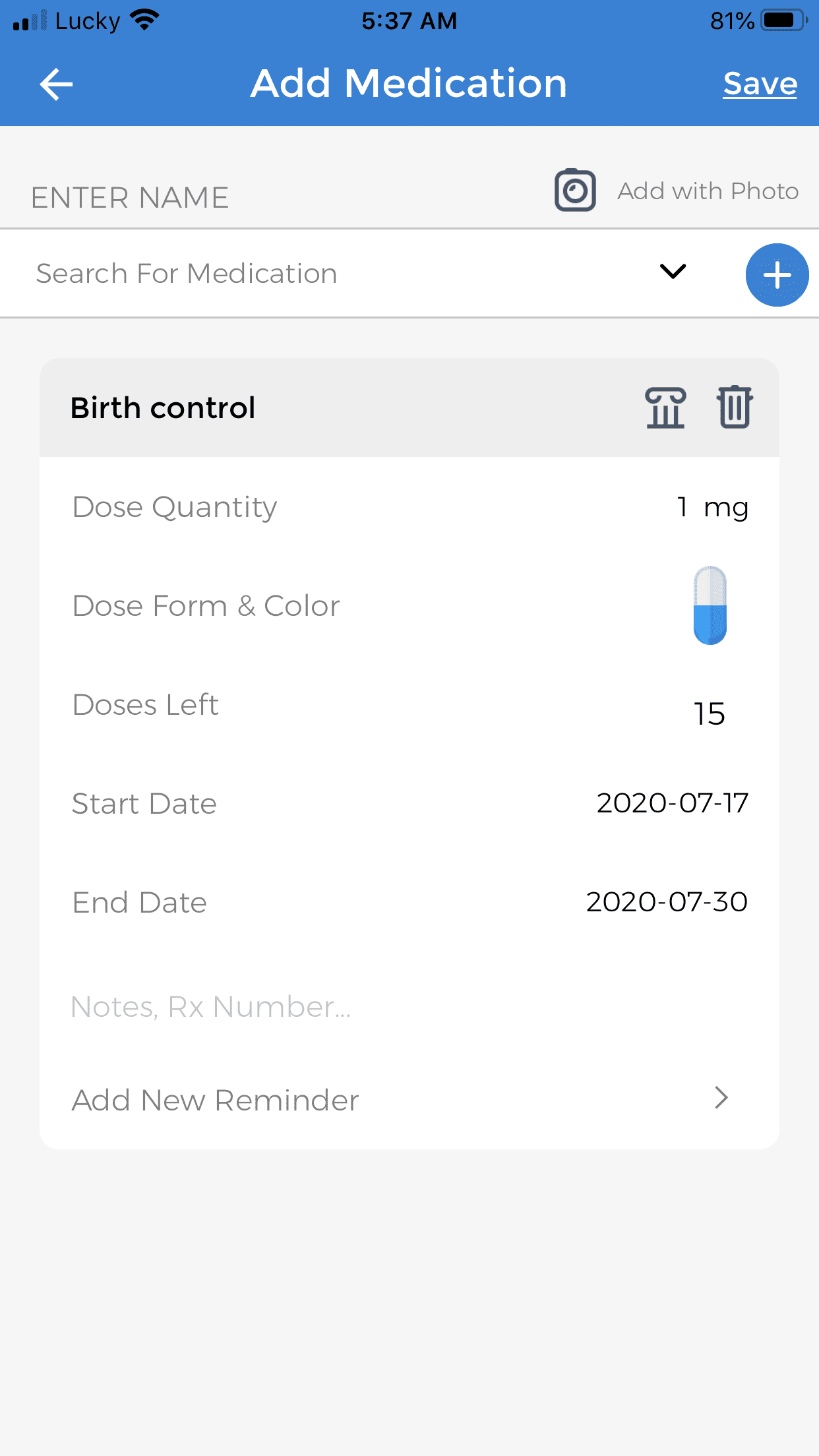 CareClinic is a comprehensive tool for adequate medication management. It allows you to bring together your medical information, health data, and ongoing treatments. Therefore, you can remain informed about all aspects of your health.
CareClinic can be used as a pill lid tracker, alleviating the stress and task of manually timing your medication intakes. Furthermore, it highlights potential drug interactions and offers a health journal to document different aspects based on your personal diagnoses.
The application is available for free and can be used on various smartphones and even computers. It complies with the current privacy laws and safeguards your medication information. Moreover, the app seamlessly performs through a sleek and innovative user-friendly interface. CareClinic can assist both patients and physicians in improving medication management and adherence to complex treatment plans.
The CareClinic health app allows you to log not only your medication but also useful health measurements. You can also record your weight, blood pressure, blood sugar, insulin and other values. Such information is important for those living with chronic conditions, such as hypertension, diabetes, cancer, depression, anxiety, multiple sclerosis, HIV or Crohn's disease.
Try out CareClinic today for managing chronic illness
CareClinic's health management platform can assist patients in increasing the chances of successfully managing their chronic illness. Moreover, chronic illness symptom trackers allow for patients to manage their health in more efficient ways.
The CareClinic app delivers the pinnacle of convenience, as an all in one health management application which delivers health solutions right through one's phone. The simple-to-use app has easily navigated functionalities designed to suit every patient's needs.
CareClinic's all in one health management app can help track, manage and improve health outcomes for patients dealing with chronic illness and related symptoms. Furthermore, the easy to use functionality allows for patients to track their symptoms, mood and use of medications daily.
The simple to use measurement input methods allow for patients to easily check-in with the app daily. Their care-team is also able to communicate with patients through the app. In this way, doctors can be notified and be kept up to date on their patients 24/7.
Patients can also use the app to keep track of exactly how they are feeling at all times. Through the app, patients will be able to trace the source of their symptoms. No longer do patients have to rely on gathering notes, asking friends and family, or gathering their memories to describe their pain. Reports created the app will also assist physicians by providing them with detailed notes about their patient's health.
Patients can easily track anything related to their chronic illness on their phone. They are also able to connect with their trusted care-team in order to stay safe all the time.
Here is a quick video about how you can use CareClinic to manage chronic illness:


Latest posts by Alexandra V.
(see all)