Lupus can be defined as an autoimmune disease, which is primarily characterized by the hyperactivity of the immune system. What happens is that healthy tissues are attacked by the body's own immune system, affecting major organs (kidneys, heart and lungs), but also the joints, blood circulation and skin.
According to the World Health Organization, there are at least five million of people diagnosed with lupus (different forms). The condition is most often diagnosed in women, especially those at childbearing age. However, lupus is encountered in men and children as well. Using a Lupus Symptom tracker app (such as CareClinic) can greatly lower any cognitive burden and help you manage your treatment more effectively.
Why should you consider an app for tracking the effects of Lupus?
The symptoms caused by lupus can vary tremendously from one person to the other, and even from one period to the next. You can use CareClinic's app as your lupus app, keeping track of the different manifestations you might experience over the course of time.
The health tool can be used to record the presence of a skin rash, along with its characteristics (color, texture and how far it has spread), as well as arthritis-like symptoms – joint pain, inflammation and stiffness. You can mention the periods when you felt more tired than usual, had difficulties concentrating or remembering information.

Moreover, as lupus is known to cause skin sensitivity to the sun, you can record such problems as well. Other manifestations – oral ulcers, chest pain with breathing, fever with no known cause, general discomfort and hair loss – can be recorded in the health journal of CareClinic. You can then share all this gathered data with your doctor and reach better treatment strategies.
Upon trusting the CareClinic app as the lupus android app to track symptom changes, you will feel less stressed during your doctor visits. We all know that the time for each appointment is limited and, in a state of panic, you might forget everything you wanted to talk about.
The application, which is also available on iOS, can be used to record all of your manifestations and even more. In fact, the lupus app iPhone version has the same features to offer and it is just as complex as the one available on the other platform. Both versions are free to use.

If you are wondering how to track your lupus symptoms, you should consider CareClinic as the answer to your question. For each of the manifestations, be sure to record the day and time, as well as the type of symptom (fatigue, pain in your joints, muscle spasms, etc.).
In case of pain, you should rely on the rating scale to record how severe it was. Do not hesitate to use descriptive words for your symptoms; for example, you can mention a throbbing headache or a stabbing pain in your joints. As for the characteristic lupus rash, you can mention its color and size. It will also be useful to specify the location of each symptom (rash on your face, a frontal headache and so on).
Monthly health reports – monitor your condition effectively
Health reports are generated on the basis of your entries, allowing you to get a complex perspective on your overall health. You can see spikes in different manifestations, such as pain, fatigue or skin rashes, and identify potential triggers. Moreover, you can arrange a calendar to contain all of your appointments and receive reminders for these as well.
Better Understanding Your Condition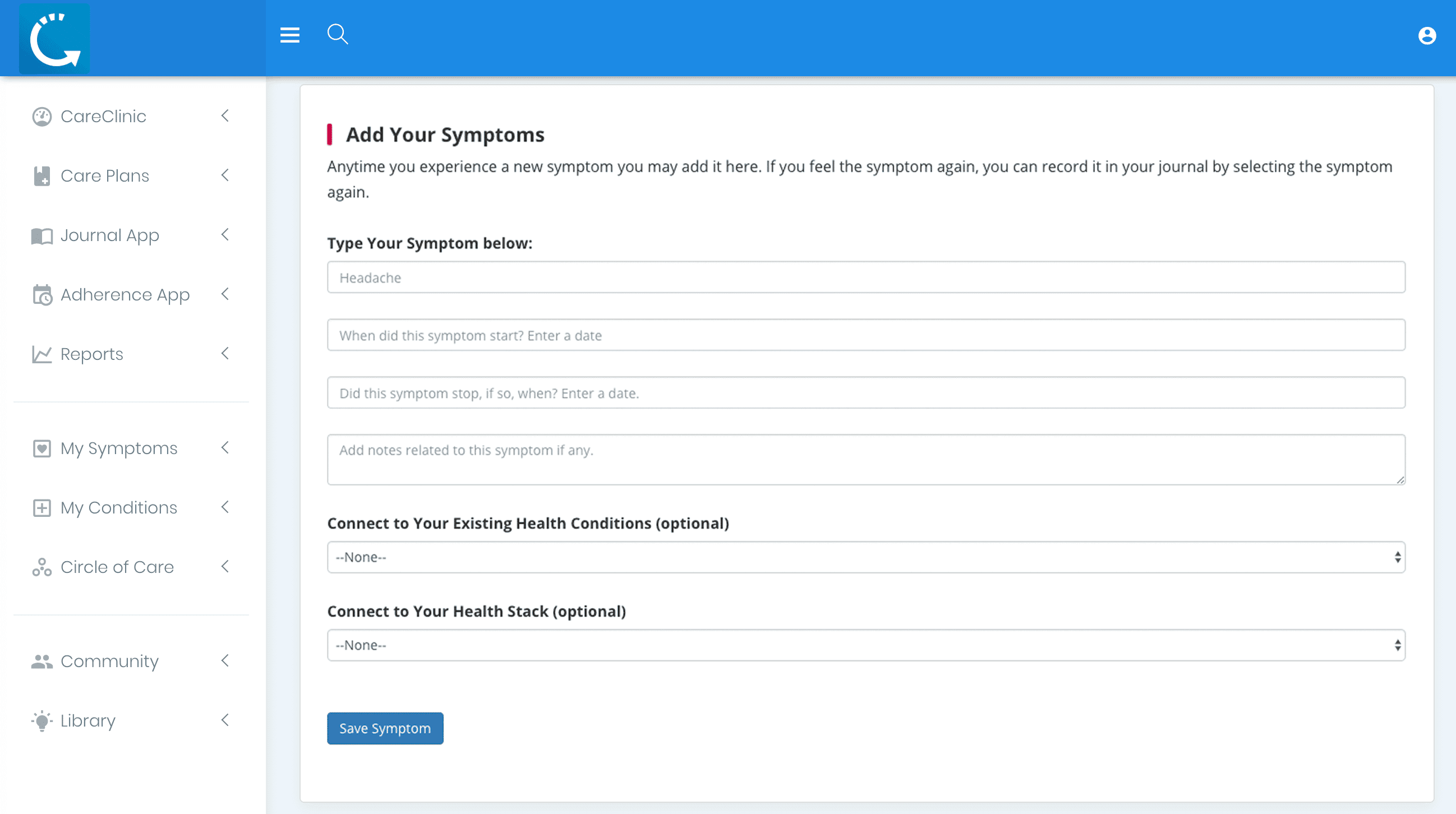 The lupus symptom tracker app can make your life easier, allowing you to gain a better understanding of your condition. As you will use CareClinic to track your symptoms, you will also begin to notice certain particularities. You can record changes in your health and make journal entries about the impact they had on your life.
The CareClinic app also comes with a journal, in which you can make notes about your condition and your emotional manifestations. Many people find it therapeutic to write about their illness, not to mention these journal entries can serve as a chronological reference.
The general idea behind this application was to offer lupus patients with an effective way to manage their condition. Apart from being able to record symptoms, one can also use the pill reminder feature and even add medical records to the application. It is possible to add information regarding the current diet and level of physical exercise as well.
Preventing flare-ups with the lupus log app
People who suffer from lupus present a higher risk of skin manifestations, with the rash being the most common. You can rely on CareClinic's app as your lupus log app but also enter additional information, such as the UV index for each day. In this way, you will know when sun exposure is more dangerous, reducing the risk of skin flare-ups.
As you will use the application as a medication log, among other things, you will be able to also enter the different side-effects your medication has caused. You can then go to the doctor and use these logs to request a change in your medication. Together, you can find the best treatment solutions, especially in terms of medication (what works and what does not have a positive result on your manifestations).
With each new medication, you can record the day and time when the treatment started. Be sure to mention the clear name of each drug, as well as its strength and dose. This will be useful information for future references and potential adjustments to the treatment plan.
One of the major benefits of CareClinic's app is that it allows you to track symptoms over any period of time. You can use your own entries to identify patterns and the way you felt from one day to the other.
For example, you might find not that difficult to remember your head hurt the previous day. However, it will not be as easy to recount how many days included headaches and how severe these were. With the health journal, you can easily refer to such data. Having the ability to track multiple modalities is what makes CareClinic an effective Lupus symptom tracker.
The pill reminder, helping you stay on the right track with your medication
As lupus is an autoimmune condition, the treatment mainly consists of immunosuppressive drugs. The doctor might prescribe different corticosteroids or hydroxychloroquine, as well as methotrexate in various doses. Depending on the severity of your lupus manifestations, you might find yourself having to follow a complex treatment plan.
CareClinic can be indeed considered as the best lupus app, helping you stay on the right track when it comes to your medication. You can organize reminders for each type of medication and receive notifications at the desired time. If you have difficulties following these notifications, you can also activate the snooze feature and keep on receiving alerts until you have actually taken your treatment.
You can add details about the right dose and the frequency with which the drug must be taken. In this way, you will ensure that you have taken the medication at the right time and also in a correct manner. Living with a chronic illness can be difficult to remember all your medication; CareClinic comes to the rescue, with its highly-useful pill reminder.
Period tracking, an important issue to consider
As lupus is a common condition diagnosed in women of childbearing age, it might be useful to use CareClinic to also keep track of your period. This will offer additional information to your treating physician, aside from the medical records and tracking of various manifestations.
By noticing the changes associated with the menstrual cycle – for example, some women feel more tired or experience soreness – you can identify additional patterns and find a more suitable treatment. The doctor might decide to adjust the treatment plan in order to minimize the flare-ups associated with menstruation.
Other features worth knowing
People who suffer from chronic conditions have to pay a lot of attention to their general well-being. The CareClinic app can be used for diet monitoring, among other things. You can rely on it to track your food intake, recording the foods that make you feel better or, on the contrary, worse (as well as make sure you are getting enough calories/you are not overeating). Moreover, you can use the application to follow a balanced diet and maintain the best possible state of health.
The application also allows you to record your physical activities. You can opt for simple activities, such as walking or climbing stairs, using CareClinic to keep track of your level of activity and general progress. Once again, the journal will be useful to identify activities that worsen your condition, as well as those that are beneficial.
A brief summary of lupus symptom tracking
As you have already read above, immunosuppressive medication is regularly prescribed to those who have been diagnosed with different types of lupus. Belimumab is one of the most recent medications to be indicated for the management of systemic lupus erythematosus.
Due to the psychological and social impact of this chronic condition, patients are advised to opt for cognitive behavioral therapy. This can help them find the best coping strategies, reducing the intensity and frequency of emotional manifestations (stress, anxiety, and depression).
Get started with CareClinic to make managing Lupus better for yourself, your caregivers and your loved ones, by clicking here.


Latest posts by Alexandra V.
(see all)