What is Self-Care?

In our eyes, self care is the act of engaging in proactively maintaining good health (preventative) or taking actionable steps in improving one's own health. It is also an album by Mac Miller, but listening to it can be part of your self care plan! Below we touch on how you can use a self-care app
Selfcare can be seen as a 360 degree approach to being healthy. It is a state of complete physical, mental, and social well-being, it is something you need to figure out yourself as well.
Improving one's health is not strictly restricted to fitness and exercise. It is a series of good habits and things that bring joy into your life and improves your overall quality of life (QOL).
To achieve a high quality of life, one must do things that not only makes them happy but those that bring meaning into their life.
One of the cheapest and most therapeutic things one can do based on recent research is keeping a gratitude journal (more on this later) or maintaining any type of diary (yes it is not just for teenage girls anymore — much like adult coloring books —). When all of these habits are compiled into a plan, it is referred to as a care plan.

Composing a Care Plan for your Life
CareClinic is the simplest way to maintain a self action care plan. If you haven't already done so, start by creating a free account by clicking here. Now follow these 3 simple steps to help you figure out what to put in your plan, how to track it, and to monitor your journey.
1. List Your Essentials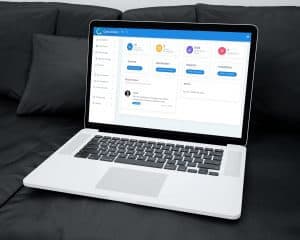 Add your medication & supplements you need help taking, once added you can add reminders and we will send you reminders within the app or via email.
Add your physical activity, what are the exercises or sports you engage in? Add them to your list and add reminders for the days you do them.
Remember, these reminders come with a "Completed" button so you can be held accountable. Speaking of accountability, make sure to add "CareContacts" or members to your "CareTeam" which will allow your friends and family to either see your progress towards a better you.
If you would like to really be held accountable to your plan, you can set them to get emails when you fail to follow through with your plan — this type of support is great for building habits quickly!
Add your nutritional plan, what are the foods that you should and should not eat, quickly build out your list of "suspect" or "good foods". Biohackers (a new term used to describe that want to optimize human performance) add suspect foods that they learn about so they have a quick reference of what they should or should not eat.
Add your therapies & biohacks, this includes things like CBT, Low level laser therapy, or any other thing that you need to partake in for one reason or another.
2. List Your Good-to-Haves
Now that we have the essentials set, let's add things that are good to have, here are a few things that you may want to add:
Cooking, Baking
Meditation, Mindfulness
Social time and interacting with others
Writing in your self care journal
Add water in-take reminders to your nutrition list, or bulletproof coffee, or kombucha, kefir, whatever it may be.
Feel free to add other activities you enjoy, is it listening to music, dancing, playing an instrument, playing a sport? Add them to the desired category, no need to add a reminder for these, these are done when you can.
Use your plan as a reference, the calendar below your care plan automatically updates your reminders below (and later on will show your adherence to your self care plan).
3. Post To Your Journal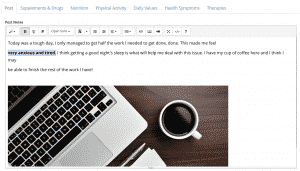 Did you know writing in your journal can improve your immunity? (ref) It can also improve your cognition (IQ), help your wounds heal at a faster rate, lower stress, and increase confidence?
Questions you want to answer daily, such as: "What was I grateful for today?" "What made me laugh today?" "One good thing about today was when ?" "What is one thing I can help someone else do?"
Tips on journaling: Sometimes it may not be clear what to write about, but the only way to really figure out what to write about is to start. Don't overwrite, do not spend more than 20 minutes.
Keep in mind CareClinic works on mobile and the web, so no matter what device you may be on, you can write in your diary… not having access is no longer an excuse, unless if part of your care plan includes "less screen time".
This may all sound too good to be true, but journaling is the most cost effective way to be more mentally and emotionally happy according to Dr. Pennebaker (written in his book: Opening Up: The Healing Power of Expressing Emotion).
What's are the next steps?

The next step after saving your care plan is to consult a professional that can look it over and confirm the items you entered are 'safe' or a good start. Some people you may consider talking to include integrated medicine doctors, nutritionists and dieticians, chiropractors & fitness trainers.
It is good to divide your plan into 4 major categories: Physical Self-care, Psychological, Emotional & Spiritual, Workplace.
Additionally, now is the time for you to start tracking symptoms if any and find triggers and correlations, luckily we make it by showing charts and our advanced algorithms can bubble up issues it thinks you may find useful (not a replacement for medical advice).
CareClinic is available on desktop and through your mobile browser, additionally, you can also download the CareClinic app for Android or iPhone, iPad (iOS) through the app store.
If you are ready to get started, click here.
Printable Self Care Assessment Worksheets
Sometimes, you may just need printable copies of a self care wheel or care assessment worksheet, fret not, if our app is too much initially, you can download the charts below:
You can also look into the self care wheel, or self care assessment worksheet. We have provided one that we designed, click the image below to download it.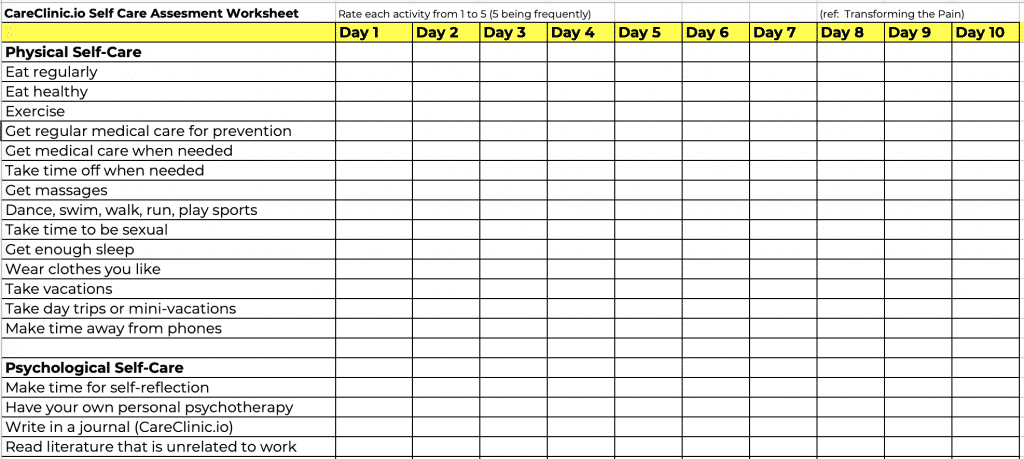 The worksheet can also help in coming up with activities, tips and ideas you can track on the app as well! Please contact us if you have any additional questions or suggestions.