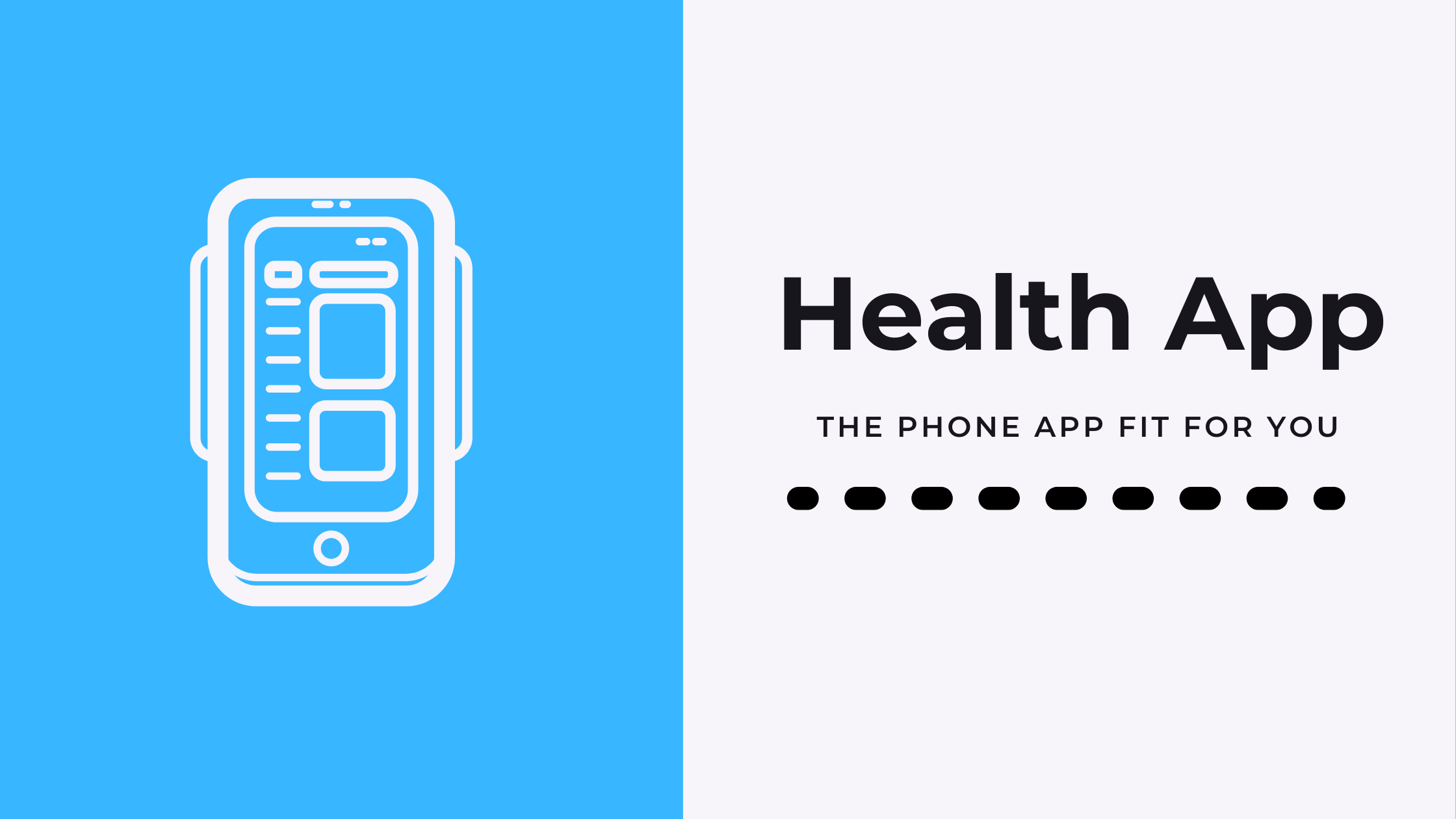 There is no secret that health apps and fitness trackers have been on a tremendous rise recently. Social media ads and TV commercials have been marketing the use of technology for health tracking. You have heard of the Samsung or the Apple watch, meant for those who want to monitor their health goals. The primary focus of attention the last few years has been on activity level and diet.
Some of us are more inclined to engage in activity, track our health status and work towards a healthier lifestyle. For others, the motivation is lacking. It is like when you were younger, and you were told to eat the brussels sprouts or vegetables. You were told the nutritional value, but just could not bring yourself to like the taste. Regardless, you eventually realized that a balanced diet with fruits and vegetables maintains a healthy body.
In addition to a balanced diet, maintaining a good activity level is also key for maintaining a good health status. There are many phone apps available that monitor your hydration, heart rate, blood pressure, medication and activity. Choosing the right one comes down to which one suits your goals and is comfortable for you to use.
When it comes to a disease or health condition, nothing is more important than monitoring your health status. In fact, even if you don't have a health concern, it can't hurt to be aware of your health status. You can't always guarantee your health, but you can make the right choices to lead a healthier life.

Health Apps
Health apps have been created to lower the overall health costs. With the rise in health concerns, health apps are meant to help patients take preventative measures for healthy living. It not only benefits the patient, but also reduces costs for healthcare providers. Another benefit of health apps is to help both the patient and physician gather information effectively. It makes it easier for the physician to log data related to the patient's health condition and connect them with the right resources. This can also help reduce wait times for the patient as information is collected in a timely manner.
So, looking for health apps in the app store isn't too difficult. There are quite a few options available on the market, like Samsung Health. Many health clinicians in the industry have also created health apps that can help you easily track your health progress. One of them being CareClinic. Let's look into these two apps to determine which one would be best to help you reach your healthcare goals.
But first, a little background on the two companies perspectives on health apps.

Samsung Health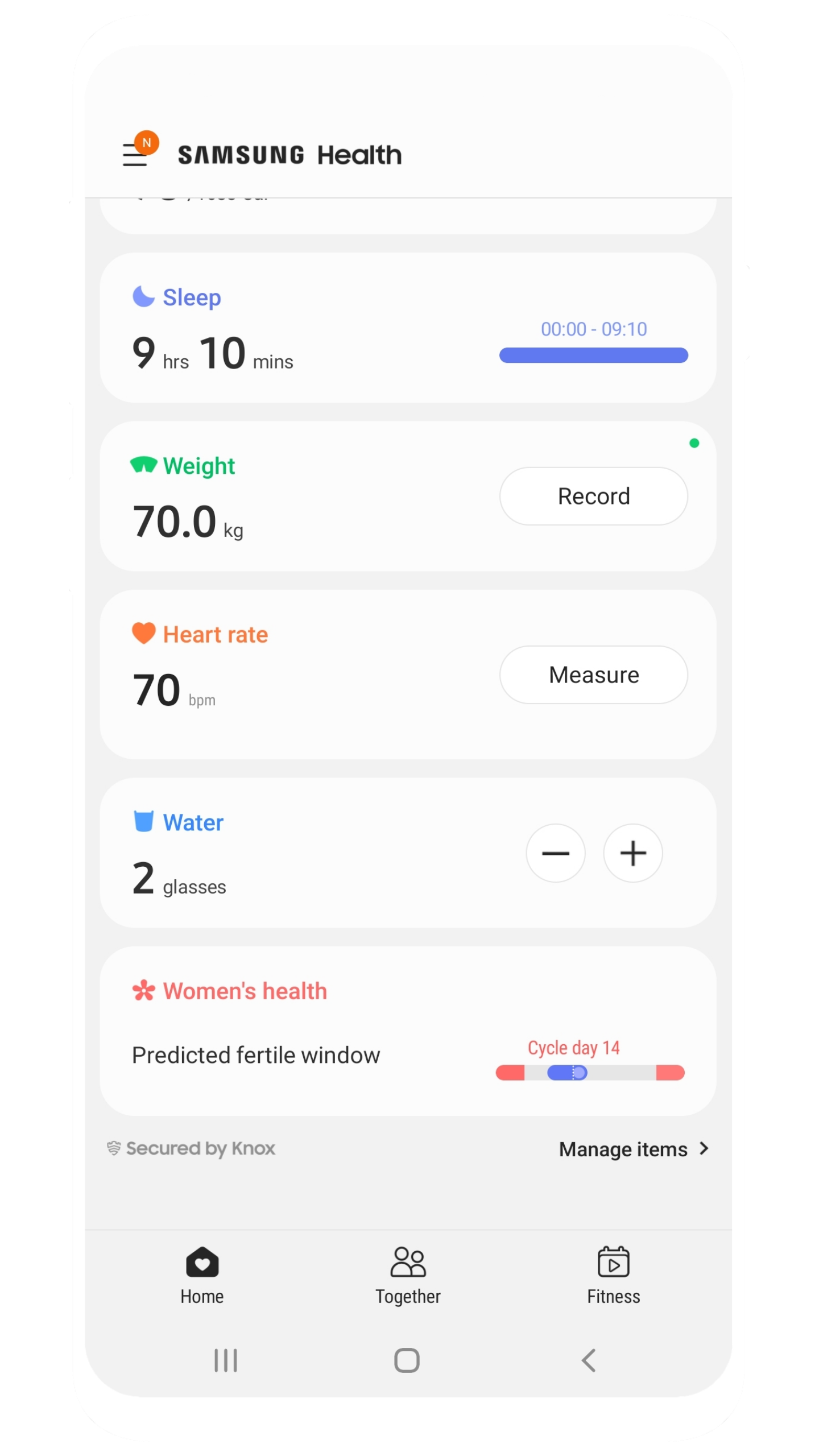 Back in 2017, Samsung had launched Samsung Health. Samsung Health is essentially a health monitoring app to track your activity level and health scale. According to their website, it records and analyzes your daily habits and activities to maintain a healthier lifestyle. It looks at your stress level, eating habits, sleep cycle, diet and physical activity level. You can sync this phone app to your fit watch as well. There is also the option of competing among your friends for step count and other fitness goals. We can see that the Samsung Health app is pretty customizable to suit your health goals.
CareClinic
Created by a team of health experts, CareClinic's goal is simple. They aim to engage the patient to proactively manage their health conditions. They are data driven and put a emphasis on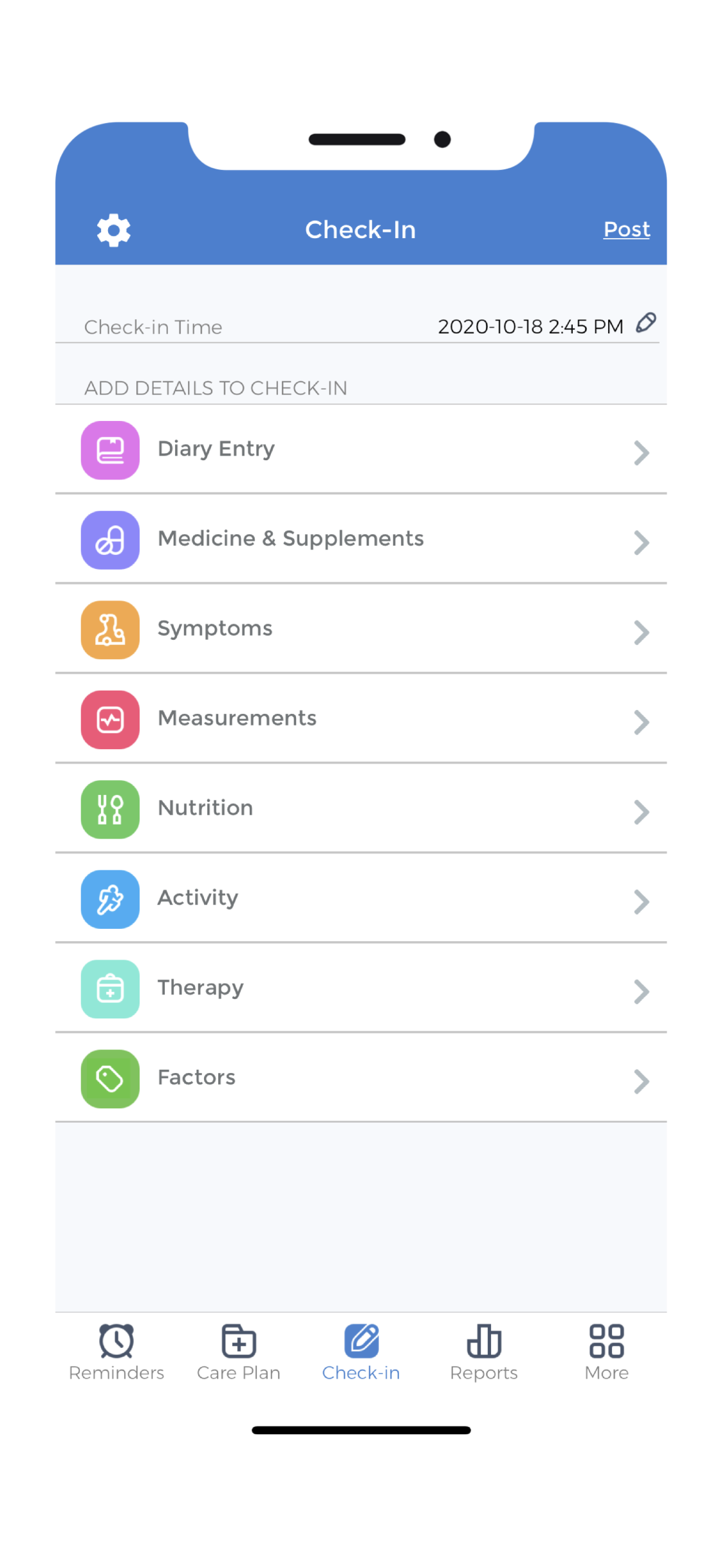 healthy outcomes. We will discuss the features in more detail throughout the article. Some key features include activity tracker, symptoms, medication, treatment reminders, journaling and sleep tracker. There are also care plans available for you to browse and purchase. Additionally, there is an option to connect you to a physician or physician assistant. The team at CareClinic includes physicians and specialists in order to give you real-time updates and guidance for monitoring your health progress.
Now that we have a bit of a background regarding the approach to health apps, lets explore their unique features. Features are different characteristics of the app that you can use to help track your needs. What can these applications offer you when it comes to monitoring your health goals? To determine the health app that suits your needs, it's a good idea to examine their features.
Activity Level
Activity level measures the amount of physical activity or exercise you perform daily. It is advised by doctors to get at least 30-60 minutes of physical activity every day. This range differs depending on your health condition, as advised by your physician. When it comes to measuring your activity level both Samsung Health and CareClinic have an easy to track feature.
Before you start any exercise, it is always advised that you consult a trusted physician. This will allow you to identify workouts that aim to strengthen your body.
Activity Level: CareClinic
In the CareClinic app you can add suggested exercises to your care plan. As shown, you can add sets for the exercise, monitor the calories burned and include notes. In the notes section you can describe how you felt while performing the activity. If there was any pain? If you had to deviate from the original activity? What time you performed the activity? These are some starting points for you to jot down. If you are performing the activity as a type of treatment, include any advice the physician may have told you. In the exercise library, you will find that activities have been categorized by muscle groups. This makes it easier for you to navigate through the list of activities and make your selection.
Once you have performed your activity, you can mark it "completed". By checking this off, you can later view your activity level the reports section weekly. This might also help you determine which activities relieved stress, and which caused pain.
Activity Level: Samsung Health
In Samsung health you can similarly record your activity level. Under the exercise section, you are able to select or input your preferred exercise. There is also a section to link you to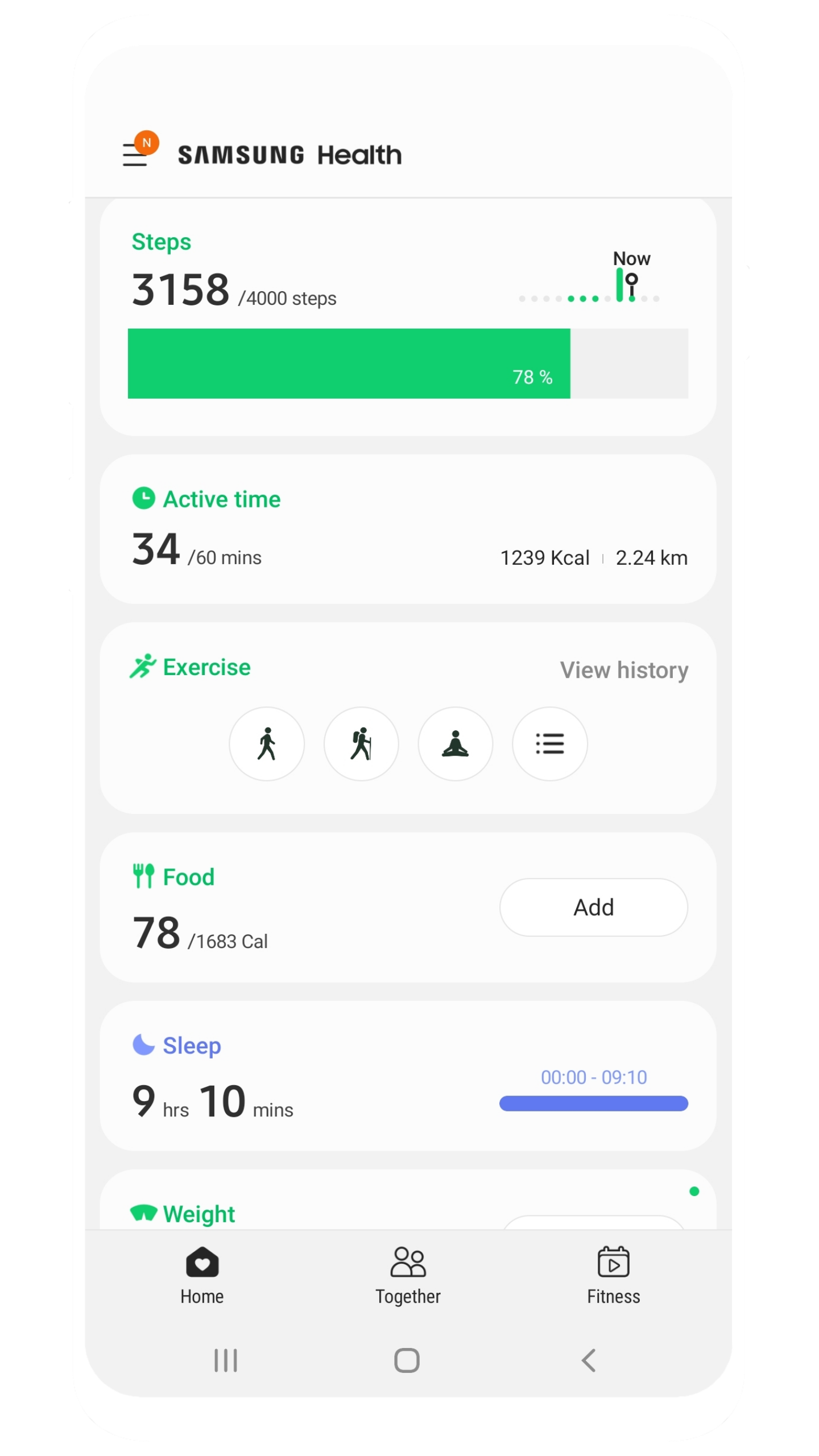 YouTube videos that you can follow. If you are hiking, running or walking, it will track your steps and average you calories burned. For workouts like yoga or Pilates you can set a stopwatch to record your time spent doing the activity. Like the CareClinic app, you can also select from suggested workouts to add to your plan.
One thing is that you won't be able to record how you felt after performing the activity. This might make it difficult to monitor the effectiveness of exercise. Especially if you are trying to monitor the effectiveness of the exercise on relieving your pain or stress.
Diary Entry
A diary entry can help you revisit your day. It gives you a great opportunity to reflect on what happened to you. You are able to track your progress or plan out your day. It can also be a good way for you to document and vent out your emotions or frustrations.
In the CareClinic app you have the feature to record your day and attach a photo. In this function you are able to record your mood, keep track of your thoughts and write reflective thoughts. Keeping a diary is one way to help you manage your thoughts and actions. Additionally, there are prompts available for you to journal. Personal reflection, awareness, values, thoughts etc. If you want to write but don't know where to start these prompts are excellent ways to guide you. If you want to learn more about journaling, check out these articles on the CareClinic website or app.
At the moment, the Samsung Health app does not offer something similar to a diary/journal feature.
Medicine and Supplements
To maintain a healthy body, you might be taking some medication or supplements. The CareClinic app has a Medication and Supplements feature to keep you on track. This function allows you to keep track of your medication. You can check the "taken" box once you have taken your medication. You can include information such as dose quantity, dose form, doses left, a refill reminder, your prescription information and reminder. There is a frequency option available as well, in case you take the same medication more than once in a day. Moreover, if you have some notes regarding when to take the medication (i.e., take with food, take in morning, etc.), you can include that here too.
Symptoms
From time to time you may experience side effects of medication or a treatment. Monitoring your symptoms is a great way for you to identify health concerns. It is also great for monitoring how successful specific treatments or medications are for you.
The symptom tracker in the CareClinic app helps you manage the severity of a specific symptom. You are able to draw parallels with other treatments and medications. When you track your symptoms, this can help you inform your physician better. You are also more aware about your health condition. This makes it easier for you to become more in control of managing your health condition.
Nutrition
Whether you are watching your weight or managing a health condition, nutrition plays a vital role. Following a balanced diet will help you lead a healthier and happier lifestyle. Depending on your concern and other factors such culture, diet or accessibility, you may consume varying foods. Regardless, the food groups remain the same for everyone. According to the nutrition source from Harvard, maintaining a healthy weight is important for a healthy lifestyle. A healthy weight can lower your chances of other diseases such as diabetes and other health concerns like asthma (R).
In the CareClinic app, you can track what you eat in a day. You can record the time you ate, what you ate and the nutritional details such as calories, protein and carbs. If you are avoiding certain foods that clash with your medication you can make note. For some people eating citrus foods can increase joint pains. If you something similar happens to you, be sure to document it in the notes section.
In Samsung Health there is a similar function. You can save custom meals and add that when you log your meals. You aren't able to log the nutritional facts on your own, the app summarizes it for you. If you at out at a restaurant, you can search for your order in the nutrition section. There is a chart to help you monitor either your caloric or macronutrient intake weekly or monthly. This can be pretty convenient when trying to manage your weight and nutrient intake.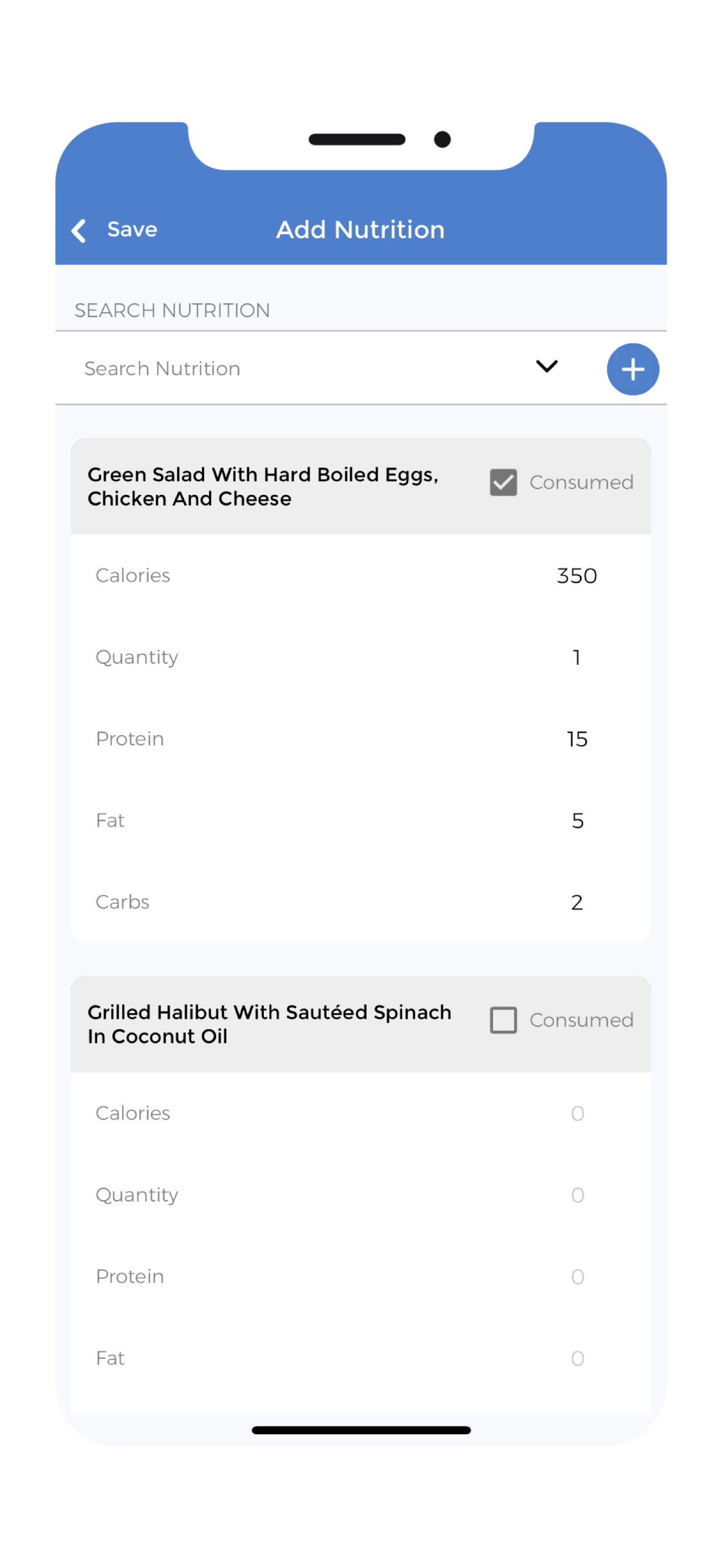 Water Consumption
Approximately 60% of our body is made up of water. The main function of water is to help regulate our temperature and maintain cellular and biological functions. This includes carrying oxygen and nutrients, lubricating joints, dissolving nutrients and keeping our tissues moist (R).
In Samsung Health you are able to record your daily water consumption. You can connect this feature to your smart watch and customize your desired intake of glasses.
Therapy
Therapy is usually advised as a means of health remediation. There are many types of therapy. There is holistic, chiropractic, psychodynamic, chemotherapy, breath meditation etc. Depending on the health concern you want to resolve and what your physician has recommend you may invest in therapy.
In CareClinic you are able to select the therapy and set a reminder for your session. Once your therapy is completed, check the "completed" box and add any general comments to the note section. Comments can be how you feel about the session or any noticeable changes in your body.
In Samsung Health there is no therapy option. However, they offer subscriptions and guided meditations. There are a variety to choose from, including breathing meditation and reflective meditation.
Measurements/Lifestyle
Both apps offer a place to record blood pressure, body water (%), weight and sleep cycle. In the CareClinic app you can record your mood, pain, energy levels (activity levels), attention and memory level. The Samsung Health app allows you to record your blood glucose levels, sleep hours and heart rate. They also offer guided sleep stories and resources to help you fall asleep. For more details you can analyze your sleep score including your REM cycle.
The CareClinic app allows you to include factors related to your digestion, the weather and your overall mood. You can add different categories to your home report depending on your interest. You can also track your period cycle. Under the symptoms section you can also log your period related symptoms. Samsung Health allows you to log your menstrual cycle and provides a fertile window and next period date. You can also log your physical symptoms and mood. Samsung Health also offers a premium service to offer detailed forecasting and comparative analysis of your menstrual cycle.
Additional Notes
CareClinic offers you a variety of care plans that will guide you to a healthy lifestyle. Depending on your health concern, you have access to physician approved guidelines. If you ever have a question or concern, you have access to connect to a physician or physician assistant. Once you have updated your Care Plan, be sure to post it. This will allow you to monitor your reports throughout the week. You can set reminders to help you stay on track.
Samsung Health allows you to pair the app with other accessories aside from a smart watch. This includes some weight scales, blood pressure monitor, blood glucose monitor, bike sensor, and activity level trackers. Another available feature is to share your exercise progress and invite your friends to compete with.
There is no charge for downloading each of the apps. Although, you are able to upgrade or add subscriptions within the apps for a fee. Both apps connect you to different resources which work to help you reach your healthcare goals. They share articles, videos and plans aimed at your specific health goals. Samsung Health and CareClinic work to encourage and focus on leading a healthier lifestyle.
Final Thoughts
I found that the Samsung Health and CareClinic applications are both really good apps. They are easy to use, contain a variety of features and have an aesthetically pleasing layout. Feature on the apps are customizable. You add and remove features you don't want to use. Another thing to keep in mind is that Samsung Health is meant for Samsung devices only. Not all Android devices can pair with Samsung Health so be sure to check that. The CareClinic app is compatible with both Android and Apple devices.
That being said Samsung Health overall is aimed at being a fitness tracker. If you are looking for something to manage chronic pain or health conditions, the CareClinic app is best. You are able to monitor your symptoms, set reminders for treatment and medication and track your health progress. You gather full insight on the activities that benefit you in managing your symptoms. The app connects you with clinician approved care programs and guides. The many features optimize your ability to take control of your own well-being. If you are a caretaker or have a caretaker, you are able to connect them directly to the app.