Maintaining a daily food diary app can help you quickly reach your health or weight goals. Our daily diet plays a major role in affecting not only our weight but also the way we feel. Keeping track of your diet has proven to help people reach weight goals quicker. If you are interested in changing your eating habits, you need to accustom yourself to keeping a food diary (R). This will help you log all of the food you consumed, discovering new things about your own health.
How to Keep a Diet Journal
Congrats on taking the first step in improving your health using a food diary app. You can use your journal to record every aspect of your diet and set up reminders. Reminders added in the app can help you eat your meals on time and in the right portion. Use our app to identify triggers that cause certain symptoms to trigger in your body.
It offers an excellent opportunity to analyze your food choices, as well as the reasons for preferring a certain diet. You can add commonly eaten foods and figure out potential reasons for which you might break your weight loss programs. The application can be a useful tool in sticking to a certain diet and achieving your weight loss goals.
You can create multiple care plans for each diet plan you may have. Create separate check-ins with regard to your weight loss goals, entering potential solutions (diet, physical exercise, etc.). You can use the application to keep track of the overall intake of calories, as well as watch your carb, fat, sodium or fiber intake.

In the situation that you suffer from chronic conditions, such as diabetes or celiac disease, you can trust CareClinic to gather information about a specific nutrition plan in one single place. For those with diabetes, keep track of blood sugar levels and prevent insulin spikes/crashes.
Help make things easier
For a lot of people, overeating occurs as a result of stress, lack of time and other unforeseeable factors. By keeping a food journal online, through the help of CareClinic, you can easily follow your diet and prevent overeating. The health app allows you to be in control of your diet, eating healthier and opting for better food choices.
In order to make things easier, you can record your current and target weight, as well as your waist circumference, BMI, height and age. As mentioned, you can also add details about your activity level and exercise regimen, as all of these data can be useful with regard to your weight loss goals.

Why is it important to keep a food journal?
The answer is simple. By keeping track of everything you will eat in a day, you will be able to identify whether you are making healthy choices or not. More importantly, you will clearly see if your diet helps you lose weight or leads to additional weight gain (progress monitoring).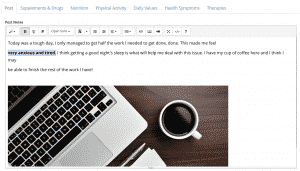 From another perspective, food tracking is useful to those who are underweight and often end up skipping meals. As you monitor your eating habits and be reminded to eat, you will reduce the risk of developing a eating disorder. These reminders will ensure that you eat regularly, thus feeling more energetic for the rest of the day and avoiding hypoglycemic states.
The online food diary helps you maintain a balanced diet, entering various meals and snacks. You can go one step further and break every meal into different food groups. The application can be used to keep track of daily vitamin and nutrient intakes, as well as to save your favorite meals (highly convenient).
Get advanced insights and analytics
As you will track food, you will be more accountable for your diet and feel empowered to make the necessary changes. The food journal clearly offers a deep insight into poor eating habits and allows you to discover the reasons for which emotional eating occurs. You can easily use it to eliminate unhealthy patterns and improve your nutrition overall.
As you will analyze your diet and associated eating habits, you will also see that it is not as difficult to make some changes. The reminders will help you eat with regularity and the online diary will identify negative behaviors. You will finally be able to see how much you are eating and what causes you to opt for less-than-suitable meals. What matters is that you take your time to log your meals as accurately as it is possible, so that you identify potential problems.
Food Diaries – what information should it contain?
CareClinic is a useful tool – you can even think about it as "my food diary". You can record how much food you are eating, as well as beverages (especially if they contain alcohol, caffeine or sugar – sodas). In describing your meals, be as specific as you can; do not hesitate to add information on extras, such as condiments, sauces or topping.
Mention when you are eating your meals, as this can help you identify, for example, a frequent pattern of late-night snacking. Add details on where you are eating – at home, in front of the TV or in the kitchen; at a restaurant or in the car, on the run. Provide details on additional activities, such as watching TV, working or playing a game, on your mood (happy, sad or bored) and who was there (you were alone, with family or friends).
Rules for managing calories with your food diary
If you decided to use CareClinic as your food diary, do not hesitate to write everything down. Even if you had a piece of candy or a small soda, enter it into the journal and you will soon see that calories do add up. Record your meals on the spot, as the end of the day you might be too tired to remember all of the details.
Be honest about the type of food you are eating, as changing your habits has to come from you. For instance, if you ate fried chicken for lunch, do not say just chicken – the caloric intake differs in accordance with the way the meal was prepared. Also, if you have had gravy or dressings with the meal, these have to be specified as well.
Discovering the connection between eating and mood
You might not be aware of this for a fact but your diet plays a definite influence on your mood. By using CareClinic as a food tracker app, you will be able to identify a pattern between your diet and mood. All you need to do is track what you ate on a particular day and how you felt, identifying a specific pattern in the process.
The meal log is a highly useful feature and you can record a wealth of information about your meals, including specific dishes, the way you ate and how you were feeling. You can make notes of specific behaviors that can impact your diet, such as binge eating or weighing yourself before or after having a meal. It will become easier to see how your diet influences mood. (R)
Recording Symptoms of various Medical Conditions
If you suffer from a medical condition that might impose a specific diet – for example, if you have been diagnosed with diabetes or gastritis – do not hesitate to use CareClinic and record the various symptoms you might be experiencing. This can help you get a better picture of your overall health and also to make the necessary daily adjustments to your diet.
The logged data will be compiled into a comprehensive health report, which can be shared with your treating physician. You can discuss the free food diary and identify potential diet changes so that you can improve your health and reduce the intensity/frequency of experienced symptoms.
Entering Additional Data into your Diet Log
It is important to be aware of all the facts that can influence your diet. However, you do not need to make an effort and remember everything. You can rely on CareClinic as more than a free online food diary. Use it to record facts about your stool, quality of digestion and mood.
Enter your medication and supplements, facts on your menstruation, skin and the presence of specific manifestations, such as pain or inflammation. You can also offer information on your current levels of physical activity and sleep. Based on these details, you can see emerging patterns and make a connection between your health and diet. For instance, you might discover that certain foods give you a rash.
Monitor Progress with Friends & Family
Sometimes, it is easier to make diet changes, if another person is there for you. The application has a specific feature that allows you to add other people – your care team – and save their information. You can then share your progress with the people who are close to you, celebrating your goals and sticking to your diet.
The benefits of smartphone food diary apps
CareClinic can be used as a highly-effective food log. The app provides a novel way to assess your diet and make the necessary changes. You can follow your food intake in real time and observe contextual factors that can influence your diet. You can also estimate the necessary energy intake.
The application is more than suited to identify eating patterns and the context in which these have the tendency to offer. Smartphone technology allows for effective dietary management and the accurate observation of dietary behaviors. Users can log where they are eating their meals. If they are eating alone or with other people or even how they prepared their food.
It is interesting to notice that one can enter additional information within the application. One can record sleep patterns, medication, and dietary supplements and mood changes.
The application offers an innovative way of assessing one's diet and nutritional intake. Thanks to the daily food tracker, you can get a better understanding of your eating habits. However, it does not substitute medical advice and it should never replace the actual doctor appointments.
Maintaining a Food Diary App can help with Weight Loss
People who are interested in losing weight should keep a food journal, recording information on how their food was prepared, what quantity they ate and in which context (R). Applications such as CareClinic can be used to estimate portions and make better meal choices.
You can easily see if your diet is healthy or not. See how many servings of fruits and vegetables you eat every day. Does your die contain any whole grains?. The food log will allow you to see which foods and beverages contain added sugar. Also see how they can influence your mood. You will also be able to see if you are opting for unhealthy snacks when feeling tired or stressed.
Last, but not least, you can use the application to set healthy eating goals. For example, you can set a goal to eat more vegetables, reduce your takeout orders and cook more at home. This will help you choose healthier snacks – such as fresh fruits and snacks – including at work.
To signup and maintain a food diary, click here to get started.


Latest posts by Alexandra V.
(see all)