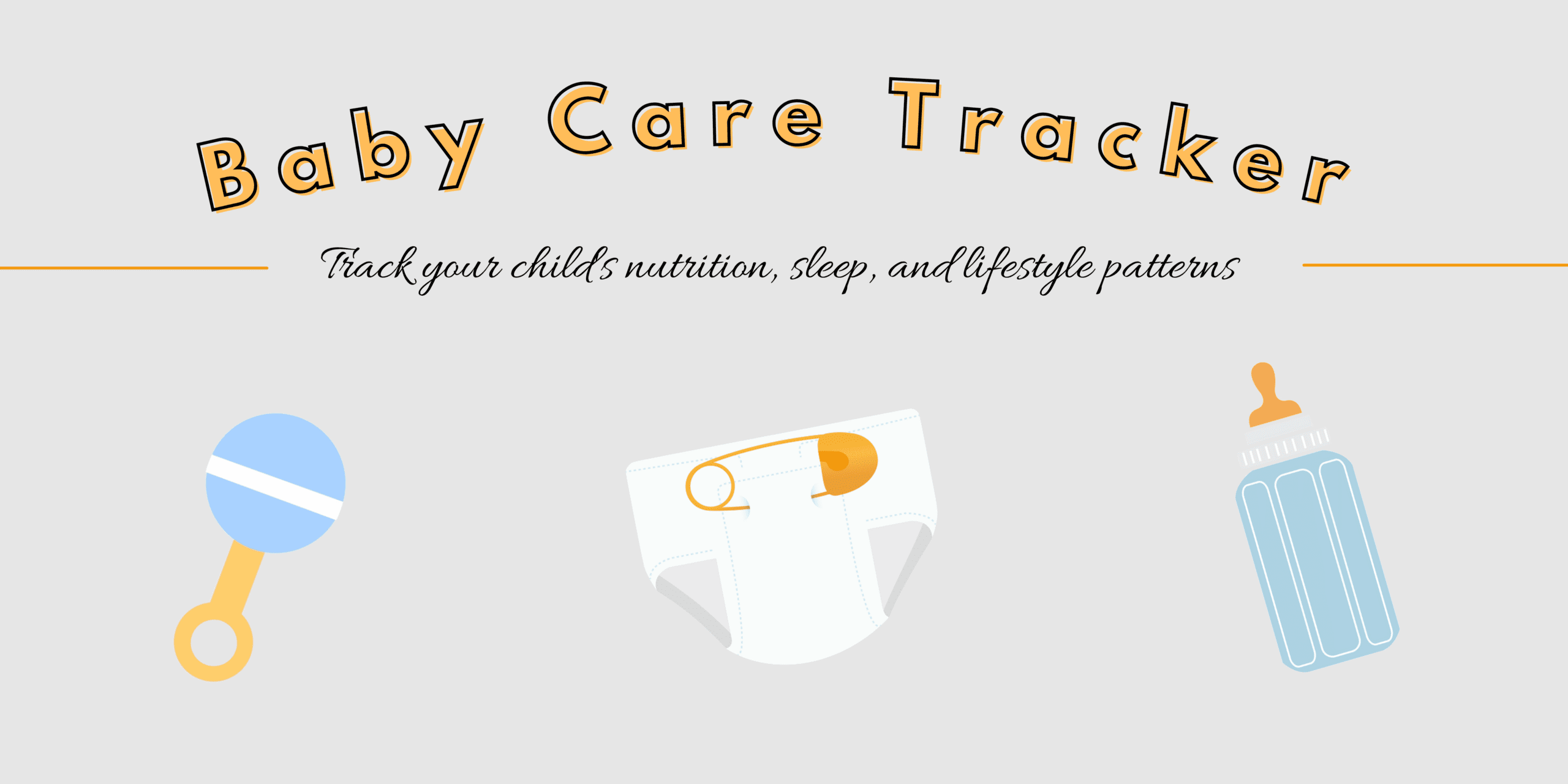 Are you a new parent or a current parent looking who's exhausted of tracking details about your infant? Is it a hassle for you to keep a physical baby log? Are you struggling to keep up with yourself and your baby's routine? Look no further, the CareClinic app provides an interface easy to manage and to keep a baby care tracker. You don't have to remember small details on the top of your head or jot them down on physical paper. The CareClinic application is available 24/7 as a baby care tracker. Present to log all details, small or big. It's user-friendly. Built for your ease.
What is a Baby Care Tracker?
A baby care tracker is an infant log developed for new or adapting parents into parenthood. Having a child can be exhausting and it can be difficult to keep a track of the different needs of a child. You can now skip having to keep physical on-the-paper newborn routines. The CareClinic app sources as a one-stop shop. The user-friendly app makes it easy to keep a baby care tracker in a busy schedule. With adapting technology it's easy to manage your baby log on a smartphone or tablet. The app is essential for all needs related to a child and the parents.
Keeping a log will help you recognize what's normal and what's not normal in your child's routine. It'll also help answer questions the doctor may ask to make sure your newborn is healthy and getting enough to eat.
How to Create a Baby Log
The main purpose of a baby tracker is to efficiently log an infant's socials without a hassle. Using a portable method like the CareClinic app allows you to carry your information and your baby's information everywhere you go. This is beneficial for the constant checkups in the first few months of birth. Aside from medical purposes, a baby log is simply the best way to watch your baby grow. The first few months of an infant are the most crucial periods of growth. Keeping a log of your child's growth not only helps you keep their health in check, but it also premises you to mark their milestones – both big and small.

Tracking a Baby's Medicine In-take
The CareClinic app has many built-in features that enable you to track important details about your child. Some of these features include tracking nutrition, medications, sleeping habits, diaper change routine and keeping up-to-date immunization records.
The first few months of a newborn baby are the most crucial to development. The first few months are spans of reflex. This period is also important due to the accumulating hospital visits and medications allotted to your baby. Babies are vulnerable to changes so it is important to keep a log of the medications as the child grows up. This can be hard to remember as a new parent but CareClinic makes it easy to do so.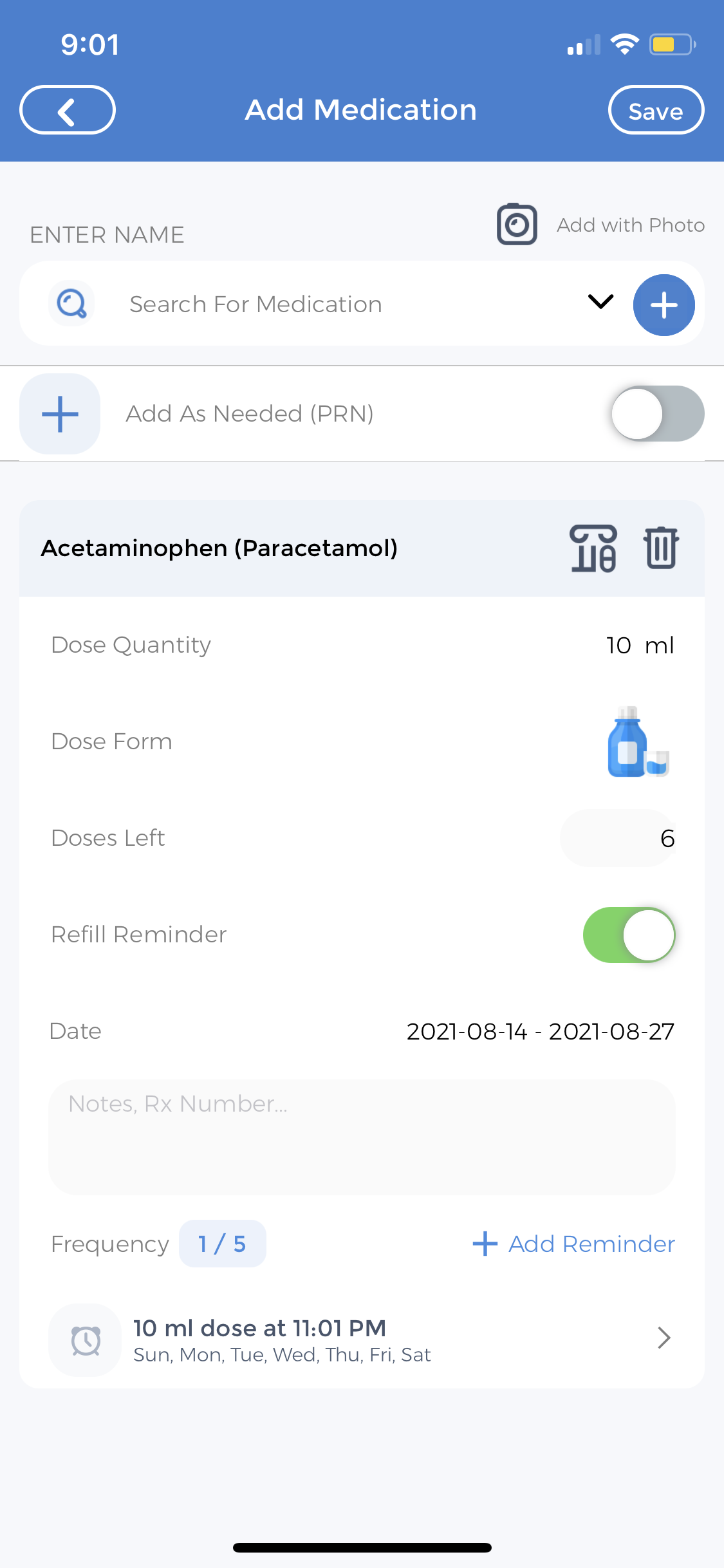 You can record all medications prescribed or non-prescribed to your child using the medications tab. On the screen, you can mention the frequency of the dose, the purpose and the duration of treatment.
The option of recording specific instructions for the particular type of treatment is provided (liquid, tablet, suppository). The in-app tab also allows you to record specific instructions for administering treatment. This is essential for patients with particular requirements within a medication.
Additionally, this is easy for parents to keep a log of details prescribed by a family physician or pediatrician for an infant. If additional rules are to be used with the treatment, such as bottle teats, medicine droppers or plastic syringes, you can make notes of that as well.
Thanks to CareClinic, it is easy to create a customized medication list. You can use the application to keep a history of given drugs, both short and long-term. Over a span of time, you can recognize patterns with particular treatments and their efficacy. Keeping a consistent routine and logging in each dose is important to obtain accurate results. Multiple treatments can be also be opted for in the app based on your infant's prescription.
All medication is recorded and displayed on the calendar within the application. Additionally, the CareClinic app can be used to set reminders for physician appointments.
 Tracking Baby Care's Feeding Patterns
Keeping a log of your baby's hunger patterns helps you create a routine suited to your baby's needs. If your baby isn't gaining the recommended amount of weight for his age, this feeding chart may help a pediatrician figure out why.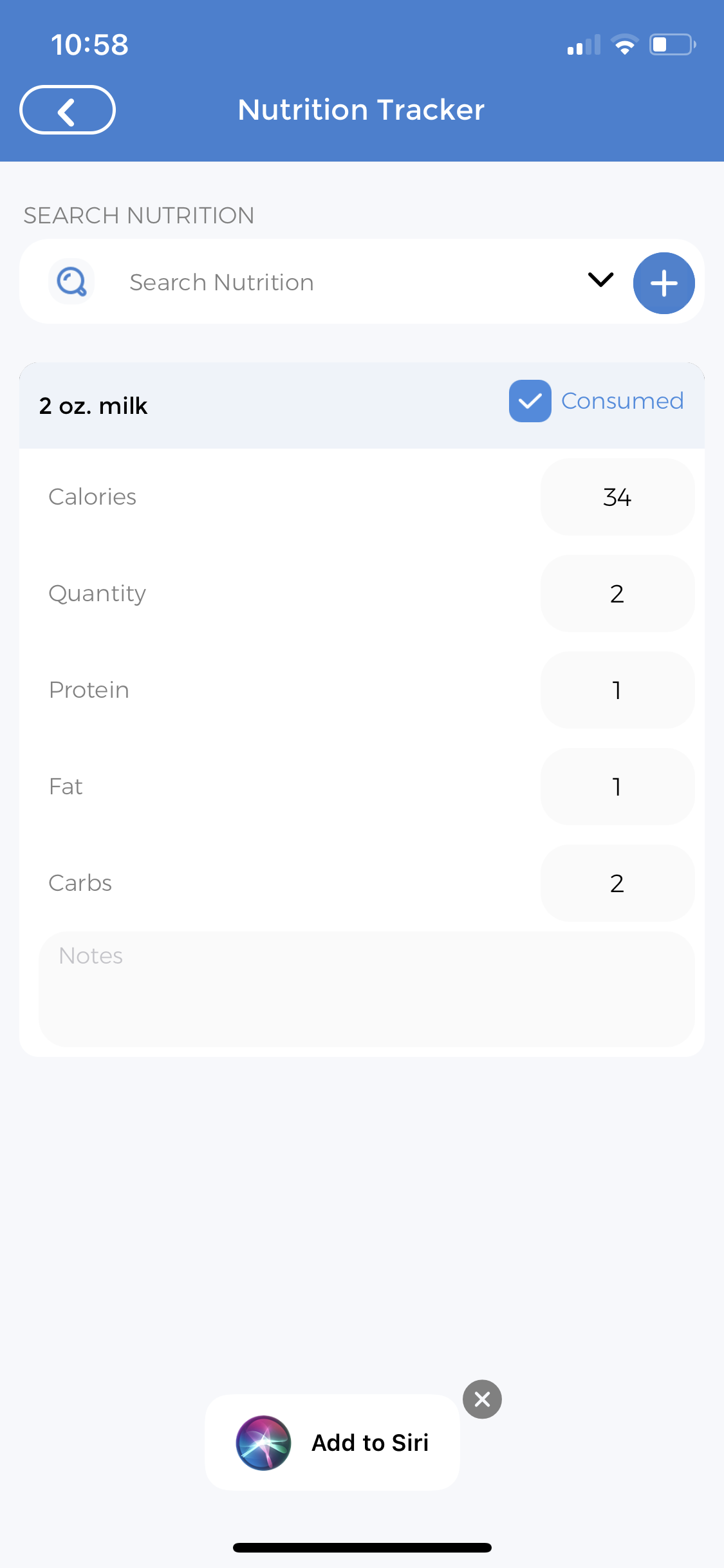 Using the nutrition tracker tab, you can maintain a baby care tracker using your child's feeding schedule. The search tab allows you to look for ingredients or pre-made foods with a caloric value. The adjustable quantity allows you to customize the consumed amount. You can also input meal plans in advance and mark them when they are consumed.
The CareClinic app is easy to use. Made for your convenience. Even for the new mothers, keeping a nutrition log will help you manage your child's and your food intake without the fear of skipping meals. By maintaining a nutrition log, you will get a better outlook on the diet changes and adjustments of your child.
Documenting meals will not only give an insight into the nutritional value associated with a meal, but it will also allow you to make finer adjustments over time suiting your child's needs. Within the application, you can record how healthy or specific each meal is. Overall the correlations will allow you to analyze meal patterns and keep a track of related complications in your child's routine.
As part of the baby care tracker, you can enter additional health information, such as your child's weight, height, blood pressure, blood glucose values, sleep information and so on. These should be monitored and updated often so the results given are accurate and up to date at all times.
Understanding Childrens' Sleeping Routine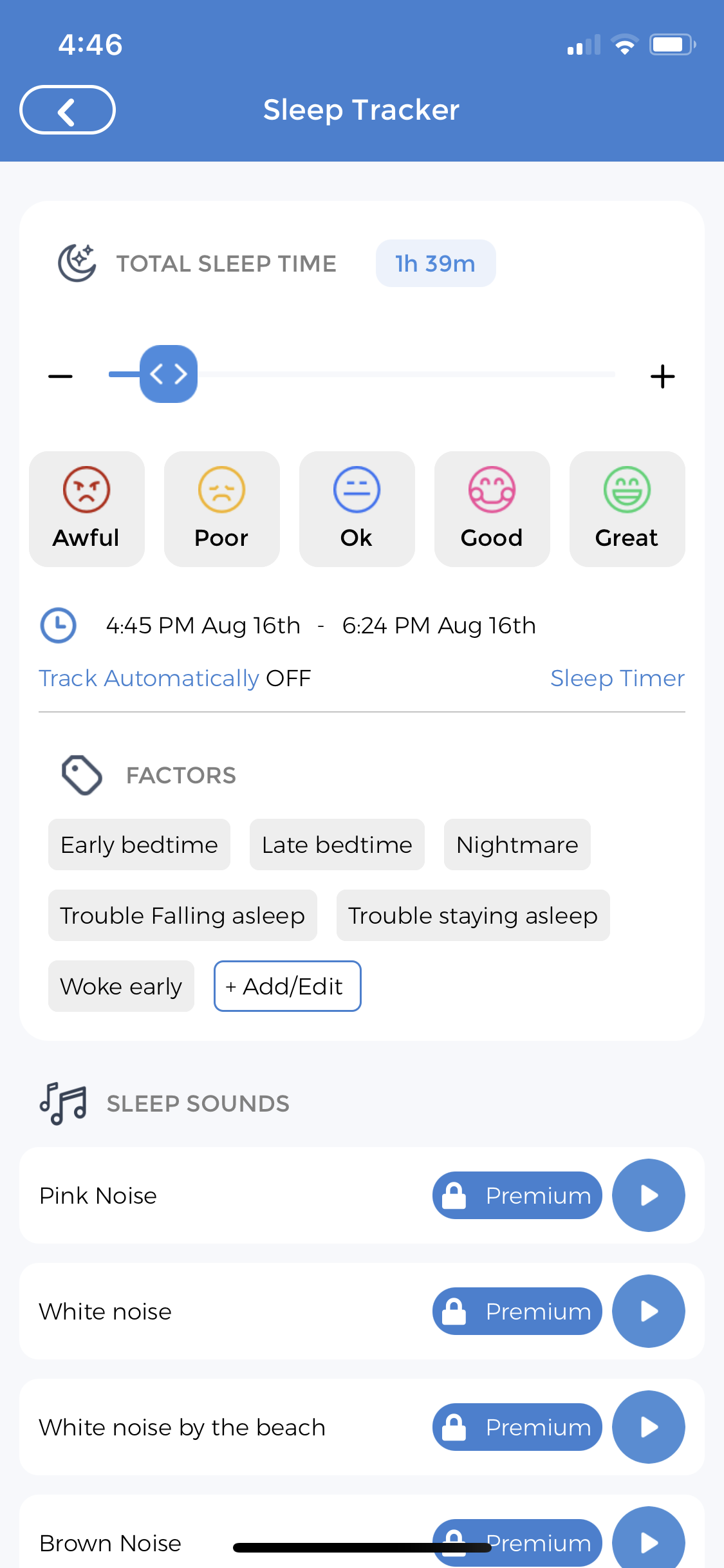 Tracking your baby's snooze habits will let you know if they're sleeping the recommended number of hours for their age. This can help you and your pediatrician come up with a plan to prevent any setbacks from becoming habits. Disrupted sleep can also clue you into certain health issues. As with feedings, tracking a baby's sleep will also help you create a routine suited to his or her needs.
The one activity babies are subject to is sleep. They need it the most and often it can be a headache to have a jumbled sleep schedule. The CareClinic app provides all the resources to manage your baby's sleeping pattern. You can add the start and finish timing to each sleeping session. Over time, you can view graphs and correlations regarding your child's activity and inactivity to identify the best schedule for your infant. Additional qualitative details can also be inputted through the app such as co-sleeping and sleeping in a crib.
Most new parents are worried about small details regarding their child. It is normal and a parental instinct. Is my child sleeping well? Are they sleeping the regular amount? Is it on the right side? These questions can be hard to answer without keeping an infant log. A baby care tracker is crucial to draw conclusions regarding your child's particular needs. These patterns and logs can then be further discussed with a family physician or a pediatrician.
With the CareClinic application, you can also access sleep sounds for yourself or your infant. Disturbed schedules and irritation can cause disruption in sleeping habits. Sleep sounds are said to improve the lack of sleep and promote restful sleeping.
Tracking Baby Vaccines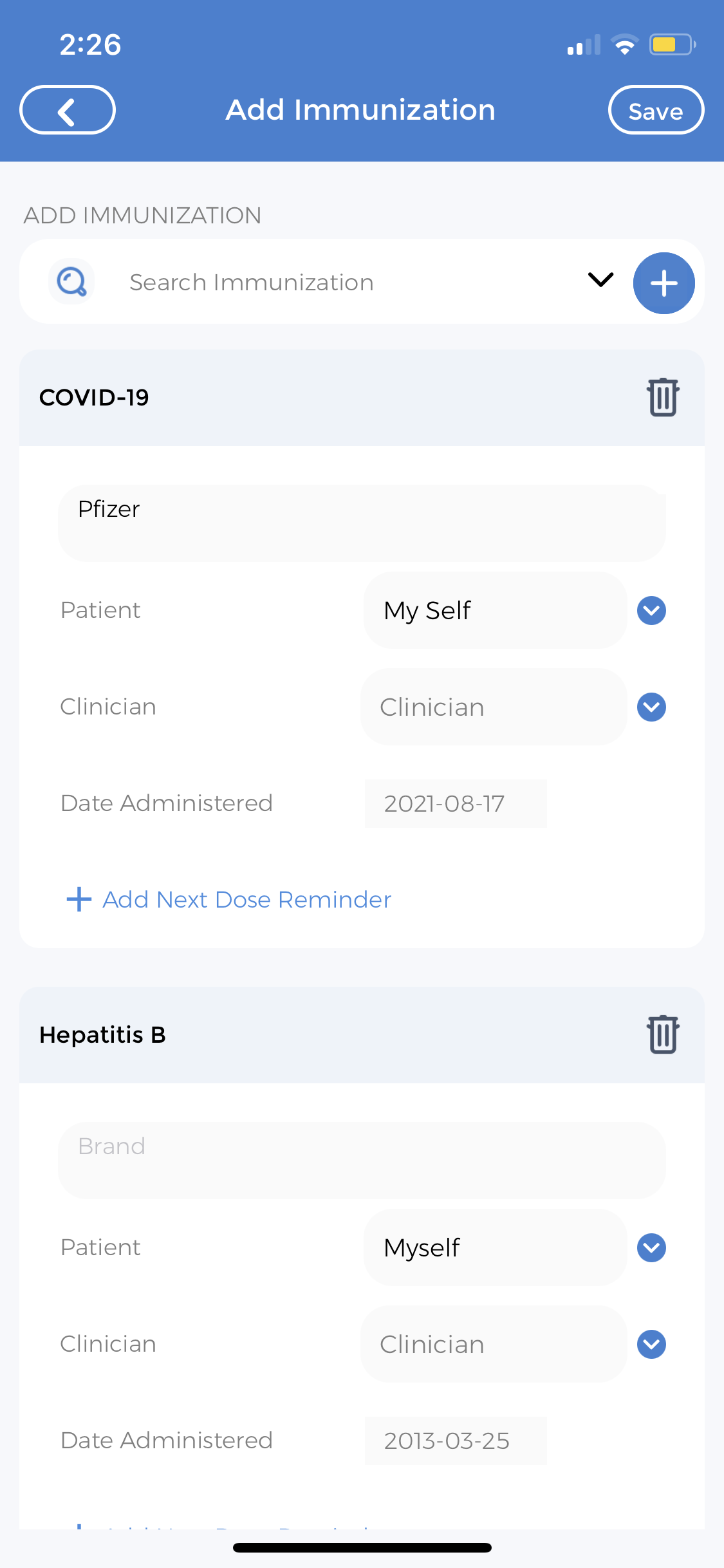 Babies require multiple vaccinations and doctors visits in the first few stages of life. Recording and keeping a log of these vaccinations is essential. This ensures all necessary immunizations are complete and the scheduled vaccinations that lie in the future are programmed accordingly. This information is also useful in the situation that you have changed physicians, as the new healthcare professional will be able to review the immunization schedule easily.
To update or add to your child's immunization records, use the virtual care portal in the CareClinic application. Locate the immunization records tab to update your child's medical history as time progresses.
Among the most important health measurements like immunization records that you can record, there are many other measurements to record for your baby care tracker. Weight, sleep quality and frequency, body measurements and food consumption are among the few recordable characteristics. You can refer to these from time to time, and see how these have changed in accordance with your child's growth.
Every child has their own needs. Babies can suffer from various health issues. This means certain medications and vaccinations cater particularly to them. If your baby has received a specific treatment, you can record it within the application and set up reminders for medications as well. You can add the frequency, type and any other detail useful.
Tracking Baby's Diaper Changes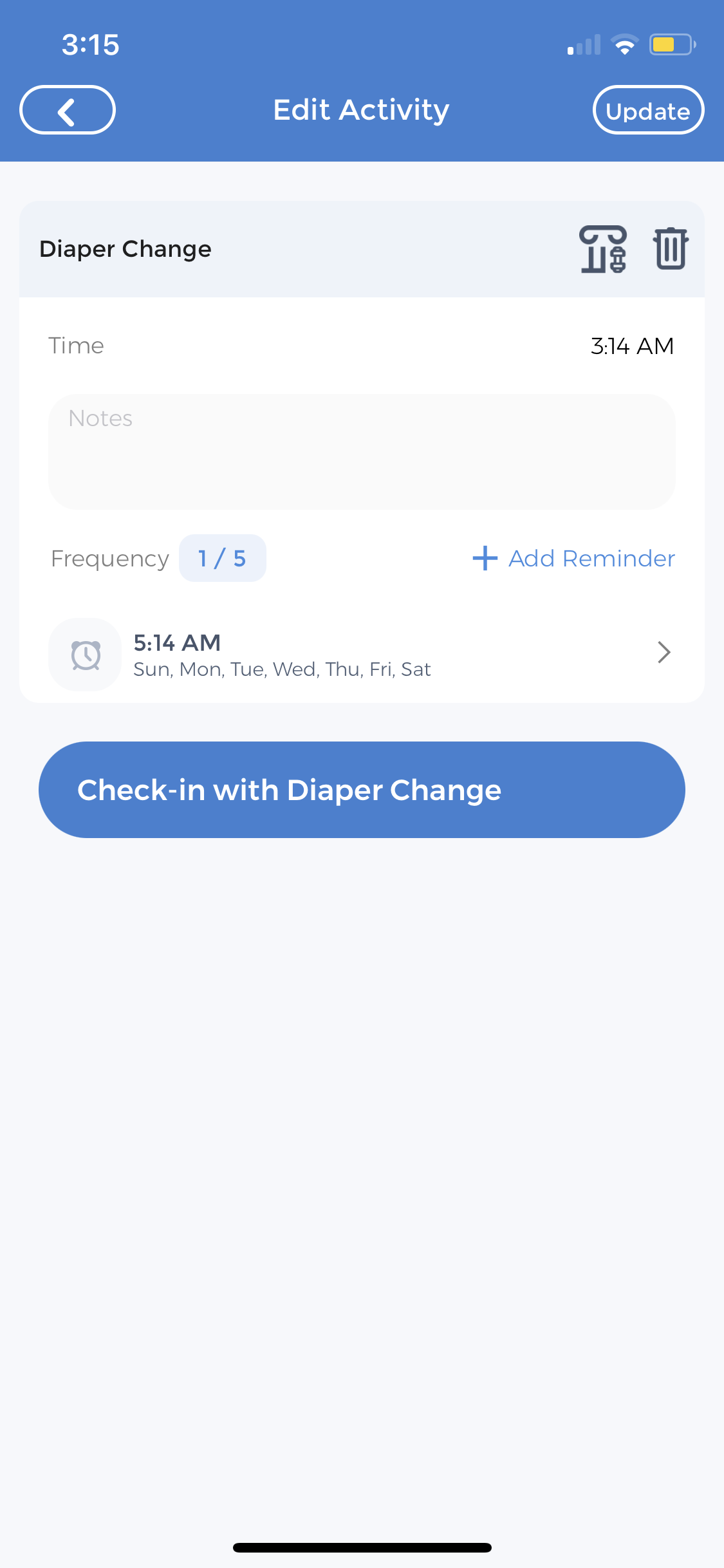 Are you a parent who is always worried about your child's diaper changes? You can't keep a track of when to check up on diaper changes? Now just picture how relaxing it could be that a baby feeding and diaper app is reminding you about your diaper chores. This means you don't have to remember when to check back on your child's diaper. Reduces the risk of forgetting and decreases room for potential infections and problems.
In diaper change activity, it is very important to record the reason for a diaper change. This is crucial information to the parents in order to record the baby's time of urine or solid discharge to understand the timing.
To use the CareClinic application to track your child's diaper changes, use the activity reminder log. Setting in reminders to check up on your child will aid in parents struggling to remember details. These reminders are also extremely useful to identify any potential health care concerns within a child with a disturbed schedule.
CareClinic also provides customized charts and logs to see correlations that can help you and your physician identify specifics. It is important to keep all information up-to-date. Correct records help in faster response time for any concerns related to baby health like dehydration or constipation. You can also track with caregivers and automatically sync on all devices so everyone that watches or engages with your baby knows exactly your baby's habits and schedule. Your personal care team allows you to keep your people updated in your loop regarding all specificities.
Maintaining a Baby Journal
Keeping a baby journal not only gives you access to details about your baby, but it is also useful to keep a track of your child's milestones. You can do so using the CareClinic app and upload photos within the in-app features. CareClinic also offers curated care plans, parenting guides and blog posts on age-appropriate tasks, articles related to your baby's growth and development.
Babies grow up so fast it is so hard to keep a track of small details no matter how hard you try. This is why the CareClinic app is a great resource for those who want to keep the most important moments in the baby's life and have a secure place to save them. CareClinic application is built for your comfort. It is safe and easy to use. These are priceless memories you can look back at and cherish.
The daily baby journal can include small accomplishments for a baby such as saying their first words or performing an action. Each day, you are recording information on your child might seem like a repetitive thing. Although noticing small details might seem redundant, over the large picture these are priceless memories preserved. Taking some time to journal and reflect can be therapeutic in hefty parenting life. It helps you realize how precious it is to be a parent and allows you to familiarize yourself with your baby more.
Leveraging CareClinic to Maintain a Baby Journal
Journaling helps parents feel more confident about their parenting skills. As you get better at tracking the baby's health and development it will also be easier to get into a rhythm. You can even use the baby journal to add details about your life to feel more in control.
Using the diary entry tab on the CareClinic App you are able, to sum up, all your thoughts in an unlimited number of entries per day. Oncoming stress and being overwhelmed as a parent is very common. Use the diary entry tab to ensure all thoughts are kept in one place. You can also jot down details associated with your child for your health care provider. To manage stress, this feature can be used as a journaling prompt. Read more on the benefits of journaling here.
Leveraging Diary Entries to Personalize your Child's Journey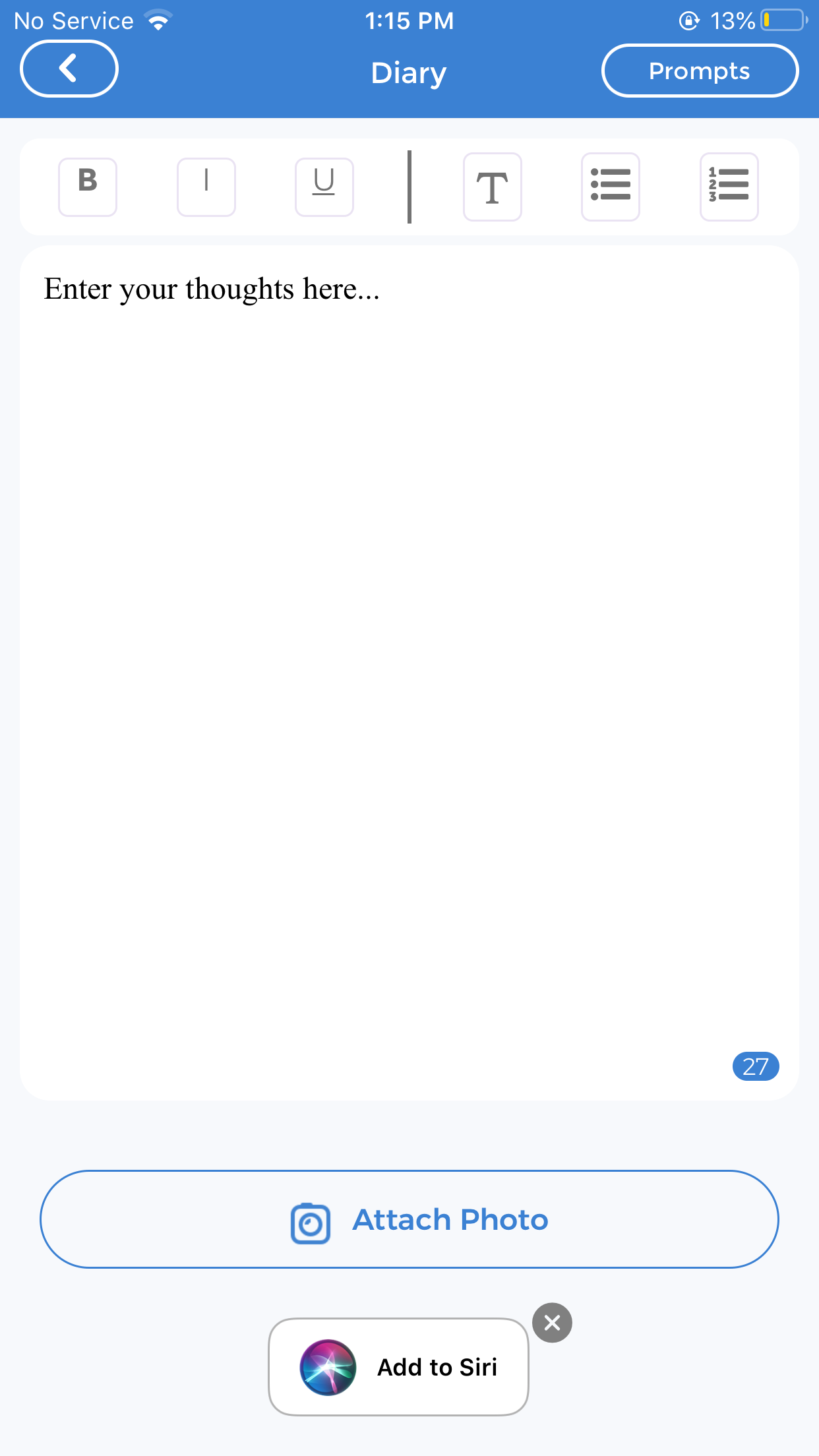 You can turn to journal into a daily habit. The CareClinic app allows you to add in unlimited entries. Use the app to write journal prompts in the morning and before going to bed. The feature is safe and reliable. Journaling is highly beneficial for stress release. It allows you to fight irrational or dysfunctional thoughts.
Use the built-in journal to get more organized and effective in identifying emotions. Strive to be as descriptive as you can. This might seem repetitive but keeping detailed logs gives you and your healthcare provider the most information. All the information you have recorded in the journal is summarized in charts and reports, which you can keep for personal reference. The report can also be exported as a PDF document for future reference.
The layout also provides access to a space where you can also add lists, bold, italicize, and underline important statements. In-app users are also able to add photos to personalize your diary. The best part? CareClinic App users are able to add in as many entries to meet their needs. Diary entries automatically save to return to and work on the next day.
A very useful feature built in the diary entry tab is the ability to add pictures. This is effective when trying to jot down accomplishments and milestones for your child. Don't hesitate to write down small details! These are priceless memories saved in an efficient manner.
Understand Baby Care Tracking Reports & Correlations
The reports section is an amalgamation of not just your and your child's wellness diary but all other objective and subjective measurements. Some interesting things to look for include: discovering correlations between various health factors. An example would be finding correlations between nutrition and disturbed sleep.
Other interesting things to pay attention to could include charts for medical adherence and vitals. Custom measurements, mood and symptoms are also beneficial to look over.
Providing a Safe & Secure Experience
The CareClinic app is customizable according to what you want to track and monitor. With its varying features, there is no doubt you will be able to find the best way to take control of you and your child's health journey. Whether it is a health concern or an efficient way to track your child's routine, the CareClinic app will be useful for you. So what are you waiting for? Download the app and get started!