For the majority of the medical conditions out there – whether acute or chronic – medication represents the standard treatment. Treatment adherence is an important objective for physicians of various specialties, as it can guarantee the partial/complete relief from symptoms and the return to regular health.
People who suffer from chronic conditions or multiple illnesses require complex treatment regimens, with several different types of medication, which needs to be taken at various moments of the day. Even when forgetfulness is not an issue, it can be difficult to keep track of all the treatment.
Improved Medical Adherence
CareClinic is a health app recommended to those who have to follow a specific treatment schedule. Its medication calendar is one of the most useful features to consider, guaranteeing the necessary treatment adherence and reducing the risk of non-compliance. (R)
You can put your trust into this application, using it to organize your treatment calendar. On this calendar, you can enter all of your medication and supplements; taking advantage of the customization features, you can make notes regarding your treatment. For example, you can mention which drugs are branded or generic, so that you can easily make the difference between the two types.

Upon using the medication schedule template of the CareClinic health app, you will become more efficient in managing your own treatment. The app will help you monitor your performance so that you can quickly analyze how you've been doing. The moment you mark your treatment as taken, the application will record it and use the information for the monthly report.
As you will see for yourself, the application will highlight doses that seem to be too high/low. It might even provide information on potential negative interactions between various types of medication, as well as highlight potential benefits of taking several drugs at once (synergistic effect).
Note: even though the application offers a wealth of useful and beneficial suggestions, you should never substitute it for professional medical advice. Only a trained physician can confirm that these suggestions are accurate and recommended for your own case.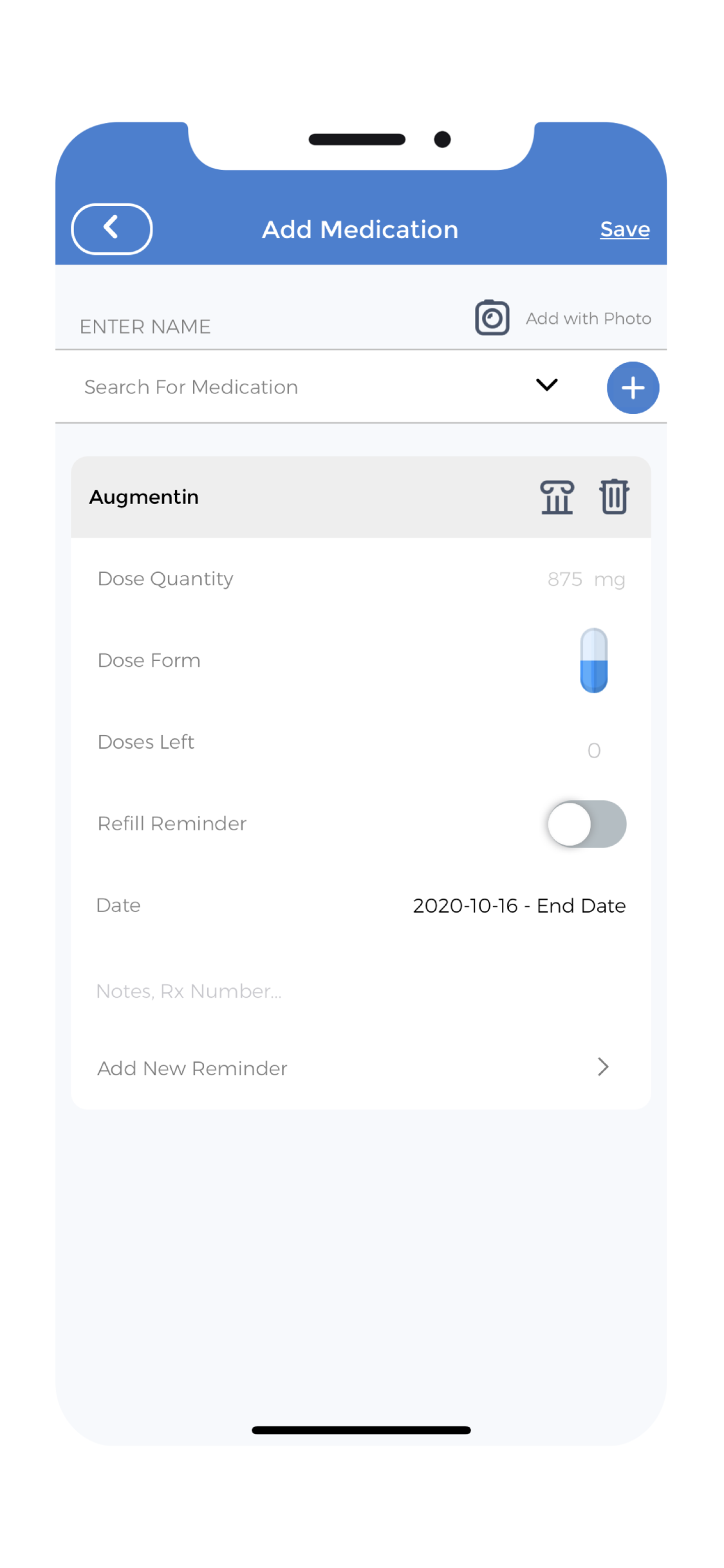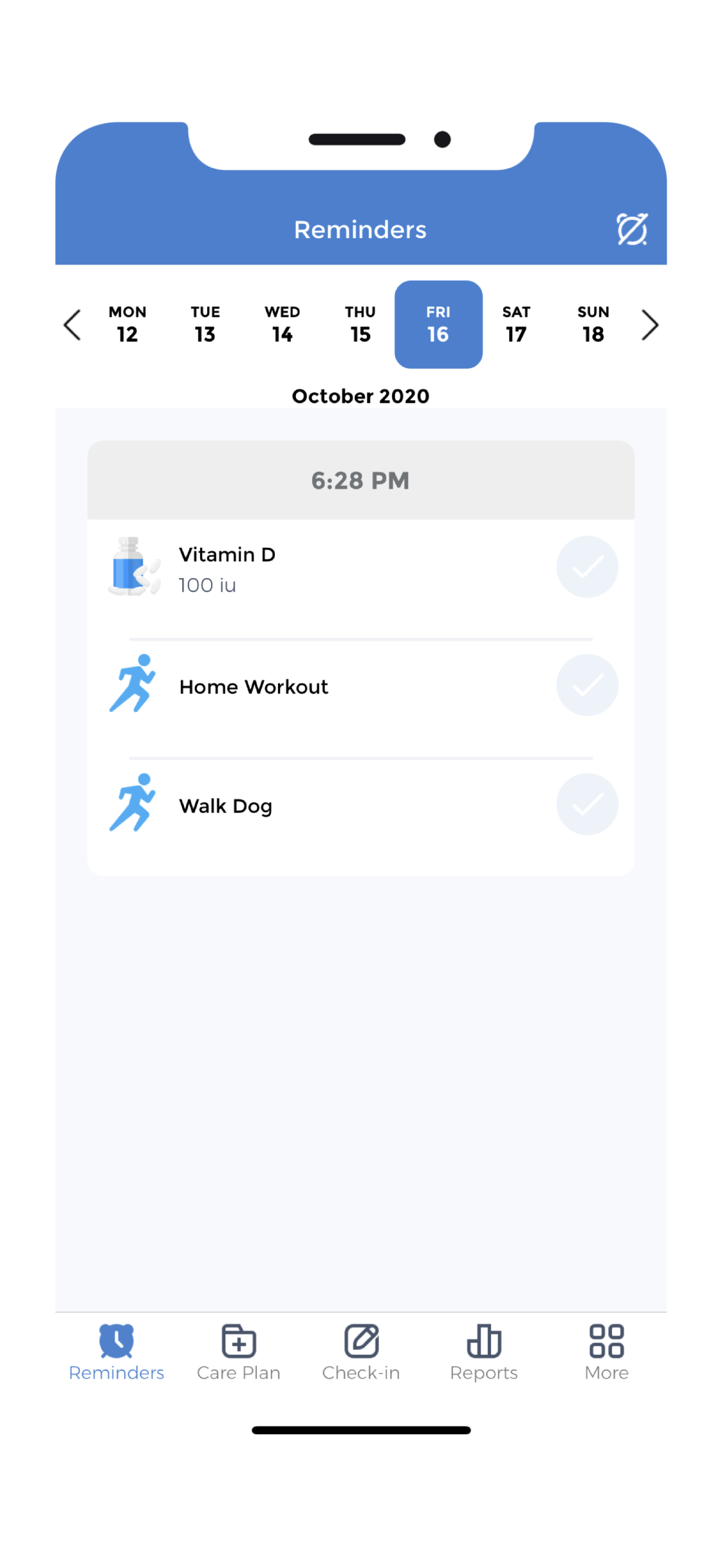 Pill reminders help you take your medication at the right time
Once you have created your pill calendar, you can make the whole process even easier. The CareClinic health app allows you to create reminders for each of your treatments so that you know for certain which pill must be taken at a specific time. You can set up weekly, daily or even weekly reminders, using fun audio alarms or opting for vibrating notifications.
You can add additional information with each reminder. For instance, you can mention the dose and frequency, so that you follow the treatment as prescribed and enjoy the beneficial effects. The reminders can be easily integrated into the calendar, with the application sending notifications as desired (via text, e-mail or mobile notifications).
Stay on track with pill reminders
It is great to have these pill reminders, which are meant to help you stay on the right track with your treatment. You can mark the reminder as "taken" but, upon failing to do so, there is the snooze feature which will be activated. The application will continue to send you reminders until you actually take your treatments. A detailed log of your medical adherence can be found within the application, which you can review any time you might desire.
If you find that it is too difficult to set up a reminder for each medication in particular, you can opt for a general reminder for the entire treatment plan. This is great for those who have to take multiple medications but do not want to be overburdened by information. In this way, you will only have to follow the plan in question, taking the medication as instructed. Note: time zone management is also available for those who travel on a frequent basis.
Review your progress and adjust the calendar accordingly
Based on the daily medication log and other information entered into the application, you will be given a report on your progress. You can review this information and even share it with your doctor – the specialist might need all of these details, in order to review your treatment and make the necessary changes. You can then adjust your calendar so that you follow the new instructions of your physician.
The calendar allows you to stay organized and on top of your treatment. You can make notes about the side-effects or adverse reactions you experienced upon taking the medication, the purpose of each treatment or how effective it was overall. Once again, this information will help you get a clearer perspective about your progress and the efficacy of the recommended treatment.
Why is a medication calendar so beneficial?
All calendars serve the same purpose, meaning to help us stay organized. When it comes to a complex treatment regimen, using a medication calendar is one of the simplest ways to ensure the required adherence. Moreover, it allows one to keep track of treatment progress and make various adjustments, prescribed by the doctor, in an instant.
CareClinic's calendar functionality is a huge advantage, in the sense that it offers information on the overall adherence. Upon opening the calendar, you can see your active and inactive reminders, as well as upcoming treatments. Thanks to the monthly reports, you can compare your current health (and progress) with previous periods and obtain a clear image on the subject.
Managing your medication calendar is simple, the application has been designed with the idea of facile functionality in mind. Whether you use the app on iOS or Android, you will discover similar features. If you are not a fan of smartphones, you can always opt for the web-based version, which is just as simple to use.
As you enter information about your health into the application, you might discover new facts about your conditions. For example, you might be able to see which treatment works best and what changes need to be made, in order for your health to improve.
Sharing information with your doctor for your own benefit
The medication calendar is not important only for you but also for your treating physician. For your next visit, you can print the medication schedule and monthly reports, sharing this information with your doctor. Of course, you can also export this information as a PDF file and share it in this form. The choice is yours, what matters is that you use your health-related data to improve your treatment regimen.
The physician can rely on the medication calendar to see your adherence to the treatment, as well as that you respected his/her additional instructions (with regard to the dose, how to take the medication – for example, with a tall glass of water or food). The calendar will also reveal information on potential side-effects and general efficacy of the treatment. Adjustments to the treatment regimen can be easily made, in accordance with the information you have provided from the CareClinic health app.
As this is a smartphone application, immediate access to your medication schedule is guaranteed. You can access it wherever you are or whenever you need to. The application is simple and easy to use. This means you will not use a lot of time to access the information you require.
Stay safe and healthy with CareClinic Medication Calendar
If you believe that a medication calendar is not that important, keep in mind that inadequate treatment adherence can have a negative impact on your health. Many fail to take their medication as prescribed, or take it in the wrong dosage. This increases the risk of your medical problems becoming worse and complications to appear.  (R)
Treatment non-adherence, according to the latest statistics, is responsible for an increased number of hospital visits. When people rely on their own memory to follow a complex treatment regimen, this can lead to reduced adherence. This often leads to missed pick-ups of prescriptions and refills. By contrast, with CareClinic's medication calendar, you will never miss a dose or take more than it is necessary. This will help you stay safe in regards to your treatment.
Taking medication can be quite frustrating, especially when it comes to complex treatment schedules. However, thanks to smartphone applications, such as CareClinic, the whole experience can turn into a positive one. It will help you stay on schedule, taking your prescription medication on time and feeling better overall.
Additional features worth exploring
CareClinic should not be considered exclusively as a medication calendar or a reminder app. The health app has a lot of beneficial features to offer, starting with the health journal. You can use it to record symptoms you experience on a daily basis. This will help in identifying potential triggers that make you feel worse or better.
The application also allows you to record important health measurements. Measurements you can record include, body weight and height, blood pressure values, blood sugar levels, cholesterol and so on. You can review them at any moment and see if you should be worried or not. Moreover, as you will record such measurements regularly, you will be able to create healthy habits. Examples include, you might be more inclined to follow a healthy diet, become more active or increase your water intake.
A simple and visual application, CareClinic creates monthly reports about your health. These reports can then be shared with your physician. However, you can also share your health-related information with your care team, which has been added to the application.
Treatment adherence, an important issue
A treatment consisting of medication is generally prescribed to improve one's health and guarantee relief from experienced symptoms and pain. Treatment adherence is something a lot of people struggle with. Many people fail to refill prescriptions. Many others stop their treatment before it is recommended, or take the wrong dose or not at the right time. (R)
Non-adherence is associated with the progression of chronic conditions and moderate to severe complications. The longer it happens, the higher risk of a lower quality of life and even premature death. By not taking your medication as it was prescribed, your health will continue to deteriorate and the symptoms to worsen. The lack of treatment adherence is always associated with a poorer health-related outcome. (R)
The CareClinic app, with its medication calendar, will help you take your medication for as long as it is necessary. You will also be prompted to take the right dosage at the recommended time of day. This is all to to help improve your health. Always remember that treatment adherence guarantees that your medication will serve its purpose, reducing the risk of complications.
Use CareClinic to simplify your medication schedule and keep track of your entire treatment plan. Do not hesitate to update your health-related information on a daily basis. This will help create monthly reports that are beneficial for you, your care team and treating physician(s).


Latest posts by Alexandra V.
(see all)