Looking after our health is something we all should consider. No one can maintain a perfect state of health at all times but, thanks to preventive care and timely treatments, we can improve our well-being. And, with the passing of time, we can gather a lot of information with regard to personal health.
Today, we can take advantage of modern technology and manage our personal health through electronic means. By keeping records of the medication we have taken, procedures we underwent and conditions we suffered from, we are in control of our health and the decisions involving it.
Your Personal Health Record is not just the medication and conditions you have felt, more now than ever, it should also consist of your day to day activities, your nutritional habits, and therapies you may have engaged in. All of this data when combined is what accurately predicts the state of your health and wellbeing. This also helps you learn more about how to prevent disease rather than just controlling it. A personal health record helps you go from a state of "sick care" to actual health care practiced through self-care.
What is a Personal Health Record?
In the simplest of terms, a PHR or personal health record (sometimes also referred to as a patient portal provided by Providers) is a system in which we gather all of the information related to our health. It can be accessed through the Internet, offering a comprehensive view of our medical and family history. The record might include information we have noticed, such as symptoms or complaints, as well as data collected from other apps or devices, or coming from various healthcare specialists. (R)
When it comes to PHR benefits, we have to think about the fact that such a system will allow us to access our health-related data whenever we need to. Moreover, we can rely on it to coordinate such information and share the contents with different healthcare providers. As a result, we can improve communication with the specialists treating us, reaching more effective treatment solutions.
With all of the medical information stored into one, it will be easy to identify health risks and solutions for improving our health. Using the health-related data, we have a wide range of other benefits, including the fact that we can establish a complex medical care plan and pursue early intervention.
What is the best personal health record solution? Well, no solution is necessarily the best and there are different delivery platforms available. The traditional approach involves gathering physical documents and organizing them in accordance to various preferences. While this method is free and accessible, it can be difficult to share the data with diverse physicians and there is also a high risk of loss or damage of the said documents.
A personal health record app or personal health record software can be used for the same purpose, and they represent more effective solutions. Aside from the fact that you can gather all of your medical information in one place and share it with your physician, there are other sophisticated features. For instance, all of the health data is encrypted and protected, and you can always import data coming from other applications.
Creating a personal health record and other PHR Benefits
The first thing that you need to do is get your medical records from your general practitioner, or other physicians involved in your care. You can then review these records and compile them into a personal health record, using the template offered by the online software or app. Creating a personal health record might seem difficult at first but, as you will proceed, you will get the hang of things.
Be sure to include not only your medical records and health history but also your family history. For instance, if one of your parents suffers from diabetes or heart disease, this is important to record. In compiling your medical history, you might want to talk to your doctor about the kind of information that should be included.
You can always download a personal health record app and follow the guidelines included within the application. Such apps are available on both iOS and Android, so you can use them on any smartphone, including the iPhone. As you will see, there are many health apps which allow you to record health-related record, very much like a PHR. The Google Health service might be of use in this department, and there is an associated app to consider, Google had a PHR of a sort but is now discontinued.
Why you need a personal health record and how to do it?
Let's discuss some of the most important reasons below.
First and foremost, an electronic personal health record can be taken anywhere. It is simple to bring up-to-date, has a user-friendly and intuitive interface, not to mention it is quite simple to share your medical information. You can just export it from the app/system, transmitting it to the concerned specialists. It is secured, so you do not have to worry about being accessed by others.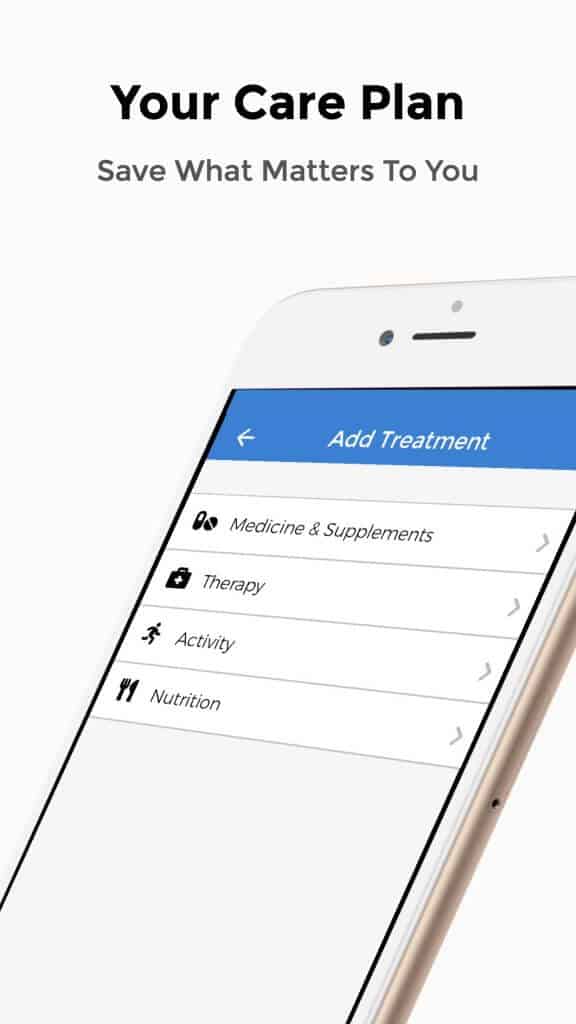 Engaged patients have a personal health record, therefore you are responsible for maintaining a personal health record. And, even though creating a PHR takes time and effort, it will help you to pay more attention to your medical care (and how safe or effective it is).
You will become an active participant in any healthcare decision, feeling empowered to discuss procedures, diagnoses, and treatments with various healthcare specialists. You can coordinate an intervention plan and, in the situation you are meeting with a new doctor, you can offer all your medical information in an instant.
While most of us can recall procedures and treatments we have pursued, we do not have the ability to remember all of the details related to these. With a personal health record, you will no longer have to rely on memory to recall which medication was recommended to you (dosage and frequency), all of the medical procedures you underwent and the entire family health history.
The personal health record delivers an accurate picture of your personal and family health, allowing you to be in control of your well-being and stay organized. You can access it whenever it is necessary, without having to go to the doctor's office and especially in case of medical emergencies. Moreover, you can record your progress with regard to any health-related goals you might have established. (R)
What to record in a personal health record?
If you have decided to create a personal health record, you should first organize a list with all the information to be included.
These are some of the things one should include in a PHR:
Name and date of birth
Blood type – in case of emergency blood transfusions, knowing your blood type could make the difference between life and death
When was the last physical exam (annual checkup) – this will also serve as a reminder for when the next one should take place
Medical conditions both acute and chronic, along with symptoms experienced – when they were first diagnosed, what were the causes, etc.
Treatments recommended and taken for the said medical conditions, including medication, therapies, alternative medicine, natural remedies, etc.

In case of medication, organize a list with every drug you have taken – dosage, frequency, and duration of treatment
Mention if there are any drugs you are not allowed to take

Diagnoses, screenings and test results provided by different healthcare specialists
A complete history of past immunizations
Allergies – mention specifically the things you are allergic to and how severe the allergy is (for instance, if it requires an epi-pen due to anaphylaxis risk)
Procedures you underwent, including minor and major surgery – for which medical problem was the procedure recommended, what was the outcome, etc.
Comprehensive medical care plans – for chronic conditions or terminally-ill patients
In case of recurring health problems, note the dates and circumstances in which flare-ups have occurred (and how many hospital trips they required)
Family history – include conditions with a genetic risk, as this will facilitate preventative care
Medical bills and insurance claims.
Therapies you may have undergone such as CBT or physiotherapy (R)
How can you use the CareClinic health app to record specific values of you and your family?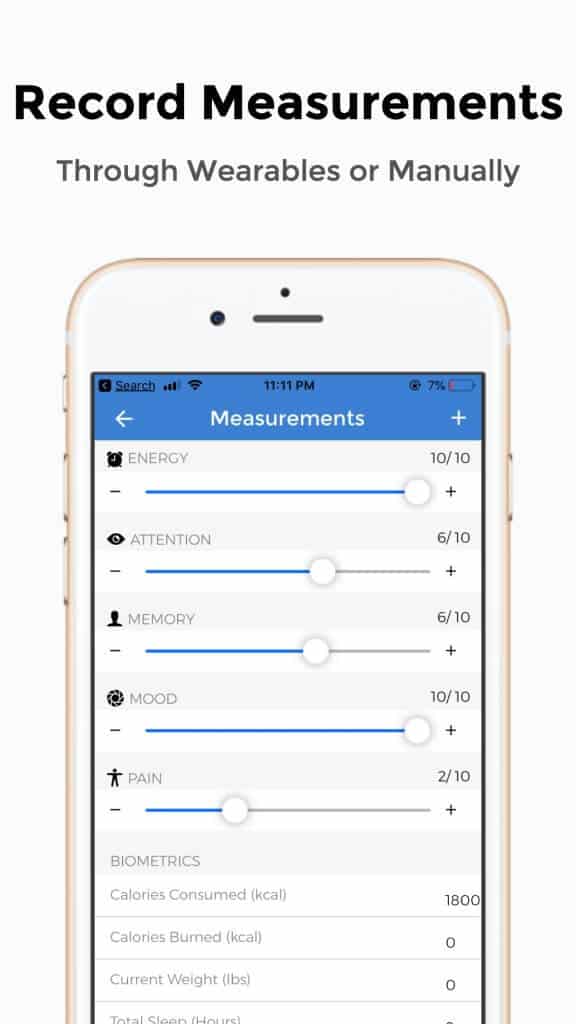 Even though the CareClinic health app is not a PHR, you can still use it to record the majority of your health-related data in a similar system. Thus, it can represent an effective and useful alternative to a PHR.
The first thing that you need to do is create an account within the application. Of course, there is also a web version that can be used, which includes similar features.
Now, you can begin adding information about your health.
For instance, you can add symptoms associated with various medical conditions you are suffering from in a symptom journal.
You can also add health measurements, such as tracking blood pressure, blood glucose, weight, height, thyroid hormone values, etc.
You can make a record of all the therapies you have pursued.
You can create an entire care plan, in which to include all of the treatments you have pursued.
If you suffer from a medical condition or several, you can add these into the application and connect them to your care plan.
These are just some examples of the kind of information you can include within the CareClinic health app. Keep in mind that this application can also be used to generate reminders for medication and doctor appointments, as well as to organize an entire care team to help you with your medical needs.
You can use the application to store health-related data and it is recommended to enter information regularly, as your entries will be used to generate monthly reports. These will pain an accurate image of your health status and it will help both you and your physicians to arrive to the best treatment solutions.
How can on export reports for caregivers and doctors?
Whether you prefer a standard personal health record or opt for the CareClinic health diary app, you will be happy to know that you can export your health-related data and share it with your physicians, caregivers, and other interested parties.
For example, the monthly report generated by the CareClinic health app can be printed and shared in the traditional form with the physician or healthcare provider. This is just one of the ways in which a PHR benefits you. If you want, you can export it as a PDF document and use it for the same purpose. It will contain all of the key health information, allowing the doctor to review your medical and family history, and improve your current treatment plan.
Managing our health with the help of modern technology has saved us from going from one physician to the other, carrying stacks of medical reports and other similar documents. Now, with the electronic PHR, we can go to any specialist and he/she can access all of our health-related information on the spot.
From a different perspective, technology has allowed us to pay more attention to our health and the different aspects involved. We are engaged patients, conscious about the decisions affecting our health and interested in improving our health. We are well-aware of how effective certain treatments are and we are no longer hesitant to become active participants when it comes to our medical care.
To get started, download the CareClinic app today from the Google Play store or Apple App Store for free.