Modern living conditions, access to adequate healthcare and disease prevention programs have contributed to an increased average lifespan in almost all developed countries. However, medical issues cannot be eliminated, which also means that medication use will only continue to increase.
According to recent statistics, women are more often prescribed medication than men. The highest percentage of treatments in the form of medication was occupied by the age group of 75 years and over. A lot of people use three or more prescription drugs on a daily basis, the most frequently prescribed medication including analgesics, antihyperlipidemic agents and dermatological agents. (R, R)
Why should one keep a medication log?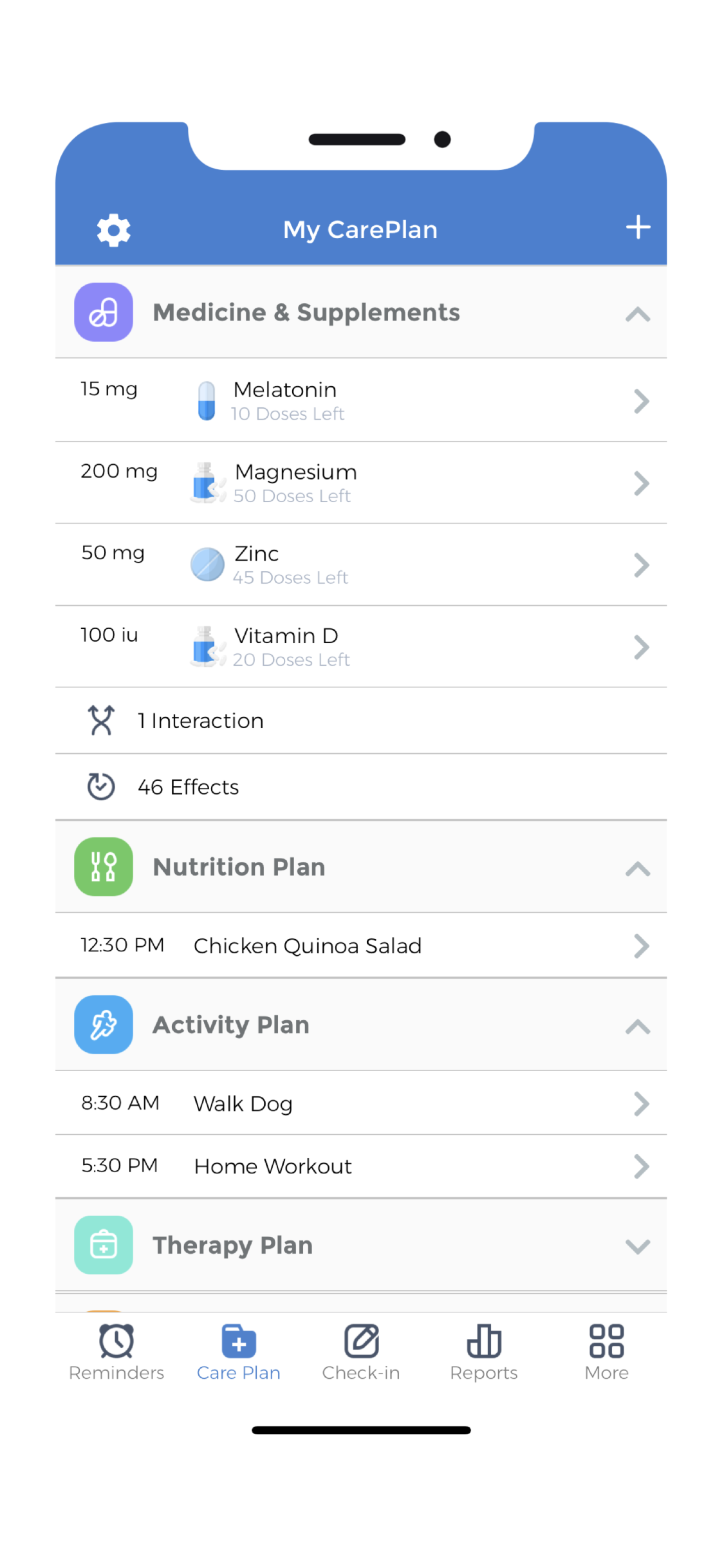 A medication log is the simplest way to keep track of the drugs one is supposed to take on a daily basis. Health applications, such as CareClinic, which is a free app, allow one to record everything related to the medication taken, including dosage, instructions, purpose, side effects and physician/pharmacist(s) who prescribed the drugs, together with the necessary contact information (useful for refills). You can also download a medication log sheet from the Internet, so that you get any idea about the kind of information worth recording.
One might also add the start and finish treatment dates, if applicable, as well as physical descriptions of the medication (size, shape, color, etc.). As you will log all of this information, you will find it easier to manage your medication. You can record additional health information, keeping track of the progress you are making while following the said treatment.

It is great to have a resource where you have included all of your medication history. It serves as a useful reference point, expediting the retrieval of medical information. Moreover, by using CareClinic to record your past and current medication, you will reduce the risk of confusion down to a minimum. You will facilitate the progress of your treatment and achieve your health goals.
There is another reason for which you should consider keeping a medication log. It can serve you in case of an emergency. For instance, there are a lot of people who present allergies to various types of medication, with penicillin allergy being quite common. Within the application, you can list all known allergies, along the symptoms you have experienced (rash, inflammation, breathing difficulties).
Health apps can help you maintain accurate medication record, which in turn will have a positive influence on the medical care you are receiving. The printable medication log will come in handy when visiting the doctor, as it will contain valuable details on your medical issues and health in general. (R)

What kind of details should you include?
As it was already mentioned above, you can list all the drugs you are taking – prescription medication, OTC remedies, and supplements – mentioning the dose, how they should be taken (with/without food, with water, on an empty stomach) and the frequency. You can add details on the reason (illness) for which these were prescribed, potential side effects or adverse reactions. For each medication, you can specify whether it is brand or generic, and how strong it is. A medication list template can be found online, serving as a useful resource.
You can add details on how often a refill is necessary, or whether a new prescription should be considered. Be sure to mention the type of medication, such as a tablet, liquid or injection. You should also enter the medication you are allergic to, as this can be a useful matter. The list of drugs should be updated on a regular basis, and it is a good thing that the application is available on both iOS and Android smartphones (you can carry it with you at all times).
In organizing your clinical drug log, try to think outside the box and include everything you are taking. A complete list might include past immunizations, intravenous solutions, agents used either for diagnostic/contrast, parenteral nutrition, vitamins, minerals or other nutritional supplements. Many physicians make the mistake of recording only medication, however other treatments matter just as much.
By recording everything you are taking, you will reduce the risk of treatment errors and become more familiarized with how each medication/supplement affects your health. It might be easy to overlook certain treatments but these play a role as well. For example, you might want to include nicotine patches, birth control pills, inhalers and eye drops. (R)
App also useful for children & parents (treatment monitoring)
In case of children, the application becomes even more useful, as parents need resources to keep track of the treatments their kids are taking. For instance, if a child has been diagnosed with ADHD, one might use the CareClinic health app to record the medication prescribed for this condition.
Parents can rely on the application to mention whether a certain drug led to a rebound effect, or if the treatment interfered with meals, sleep, etc. One can record the targeted behavior (improved), as well as mention if the treatment helped the child become more attentive and focused (capable of following directions).
Regardless of the diagnosis, one can use the application to record the medication taken by the child and the dosage that works best. The careful monitoring allows for treatments to be fine-tuned; the physician can adjust the medication to reduce the risk of side effects and avoid medication rebound.
What are the advantages of a medication log?
First and foremost, it forces you to stay organized and in control of your treatments. It increases medication adherence, as you will be able to track the efficacy of your treatment and the impact over general health. In case of emergencies, it will allow first responders to quickly identify the medication you are allergic to and save your life.
In today's modern world, most people receive multiple treatments from different physicians. They must follow a complex treatment regimen, paying attention to the interaction between medications. This can be a true challenge, especially for those who are older in age. Well, the CareClinic health app can help with all that, allowing you to create a medication log that includes every drug you are taking.
The biggest advantage is that you have all of the treatments you are following in one place. The daily recording of your medication will also help you become more familiar with each drug. You can use the CareClinic health app to set up reminders for your treatments. There is even a snooze feature that can be quite useful in case of a missed dose.
As you will record your medications, you will increase the treatment adherence and improve your health (get the maximum benefit from your treatment & prevent potential side effects). As the application generates monthly reports, based on your entries, you can use the recorded information to improve communication with treating physicians, pharmacists and other healthcare professionals.
If you are getting treated by more than one physician, the medication log created through the CareClinic health app will definitely come in handy. It will allow each physician to visualize all of the treatments you are taking, thus permitting for more effective healthcare decisions to be made. The same goes for refills and new prescriptions, resulting in optimal care. You can also discuss with your physician about logging medication and how you feel in general, knowing that you have digital health solutions on your side.
From another perspective, it is worth mentioning that the medication log makes treatment documentation easier and faster. One requires less time to review the medication history, thus saving a lot of energy in the process. Physicians can find information on medication allergies, recommending alternative treatments to their patients.
The access to a patient's medication history becomes even more useful in the situation one suffers from a recurring problem or suffers from a chronic disease (target – older population, geriatric care). One can refer to the list included in the CareClinic health app, easily reviewing the list of past medications (including incurred side effects or adverse reactions).
By keeping a digital medication log, you will actually help your healthcare providers offer better care. Applications such as CareClinic are easy to use, offering an intuitive interface and plenty of beneficial features. They help those who suffer from chronic conditions, especially since one can integrate a complex treatment schedule into the application and set up reminders for each drug in particular (along with recommended dosage and frequency). (R)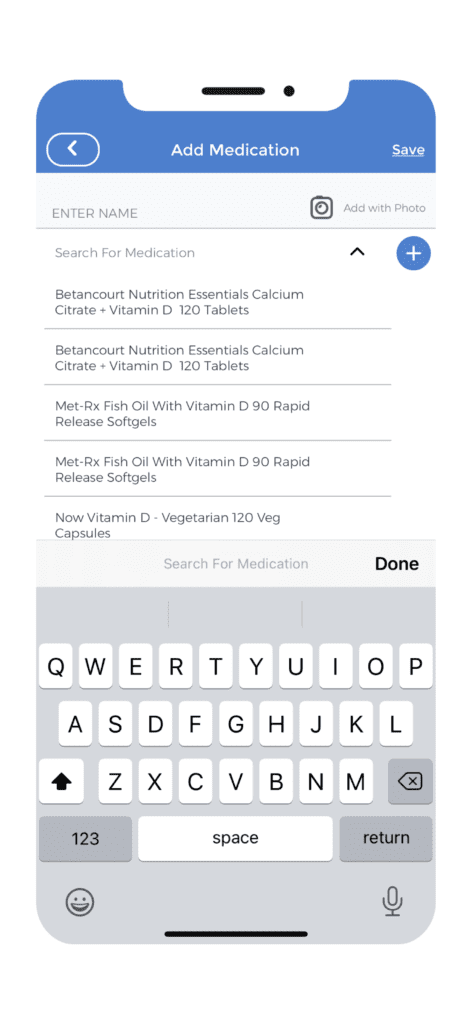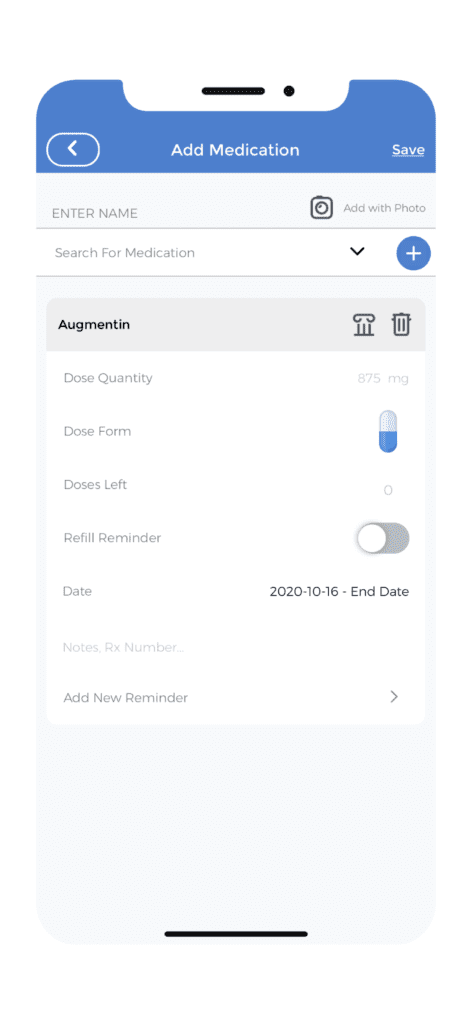 Built-in diary to keep track of your treatment progress
The medication log is not the only attractive feature of the CareClinic health app. There is a built-in diary, which can be used to make entries with regard to your symptoms, treatments and any other information you might find to be useful.
In this diary, you can also record the emotional manifestations you are experiencing, such as depression, anxiety or anger. Many people find writing as a form of effective emotional release and you will probably find it as well. From another perspective, these entries will help you track your progress, and see how well you are sticking to your treatment regimen.
Care team to share your problems
While certain health problems cannot be avoided, this does not mean we should give up on life. Upon using the CareClinic health app, you will discover that the application allows you to enter as many people as you want into your care team. You can then share your data with them, including the medication log. If you want, you can also add their contact information for future reference.
Medication monitoring for improved adherence
Whether for a child, an adult or an older person, medication monitoring is one of the most effective solutions for improving treatment adherence. CareClinic is a health app which allows one to track medication in real time, along the dose, frequency and other useful details.
Digital health has improved medication compliance, being especially of use to those who are suffering from chronic conditions. Self-monitoring increases adherence and helps people follow a complex treatment regimen, feeling in control with regard to their health.
Facts on medication intake
Half of the adult population takes at least one prescription drugs (commonly three or more)
Among the drugs prescribed most often, there are: statins (for lowering cholesterol), antihypertensive medication (ACE inhibitors, for example) and pain medication (NSAIDs)
In the United Kingdom, healthcare costs associated with medication intake amounted to £15 billion
In Germany, only 25% of the population attested the complete adherence to the prescribed treatment; adherence failure was identified in at least 33% of the population
According to the World Health Organization, between 30% and 50% of the medication prescribed is not taken as it was prescribed by the treating physician
Drug misuse is a leading cause of death in the United Kingdom (several thousand registered deaths, highest level since the 1990s)
Older adults present the highest risk for medication non-adherence, misuse and treatment-related complications, especially if they suffer from cognitive impairment or dementia (Alzheimer's disease)


Latest posts by Alexandra V.
(see all)